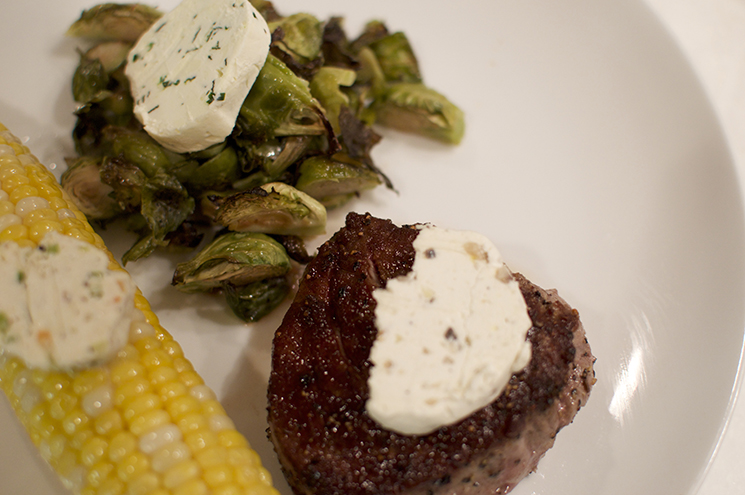 Compound butter is the best.
Don't get me wrong — butter is pretty cool on its own, but when you add awesome flavorings so that the butter melting over hot foods acts as a sauce in itself, it goes from "pretty cool" to "the best." Want to know how to do it?
Good, cause I want to show you.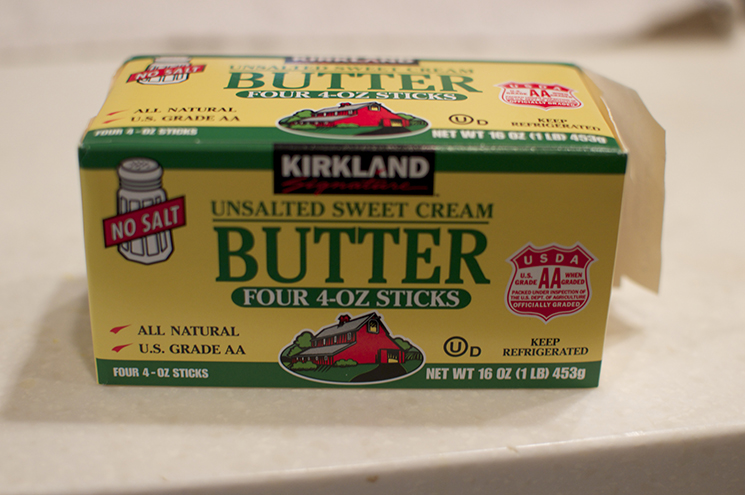 I use unsalted butter all the time, so that I have control of the salt going into my food. Also, salt is a preservative, which means that in salted butter, it's used to extend the shelf life of the butter. I have no use for old butter. I go through it too quickly to buy butter that's already past its prime. This pound came in stick form, but I often buy whole pounds and divide them myself. I'm pretty bad at math, but I've never had a problem quartering a pound of butter.
Next pick your flavors. I'm making 4 different types of compound butter here, so the amounts of additions in each bowl work with one stick of butter apiece.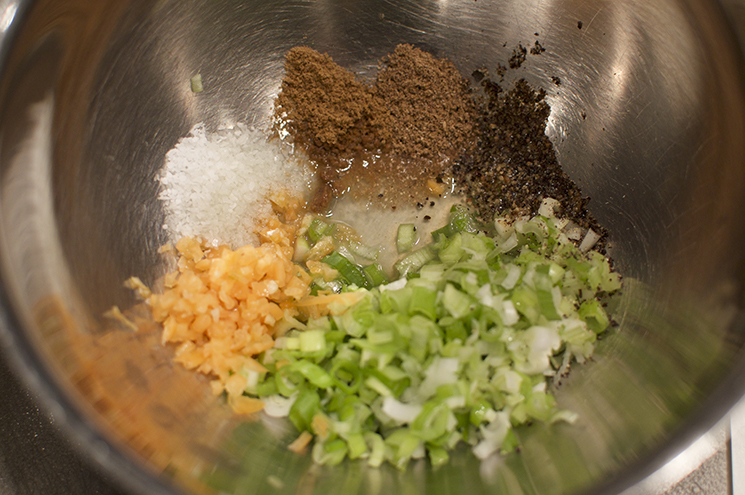 For chile lime butter, place 1 seeded, stemmed and minced habanero pepper, 2 minced scallions, 1/2 t coriander, 1/2 t cumin, the juice of half a lime and 1 t salt in a medium bowl. The butter will join in later.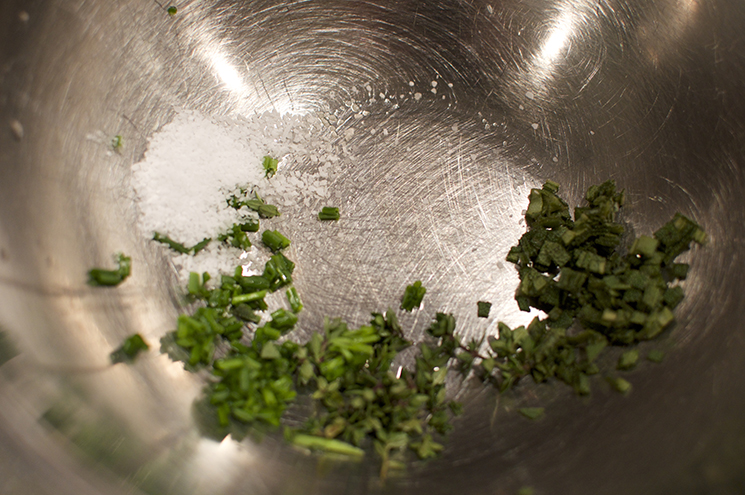 For herbed butter, I've got 1 t salt, 3 minced sage leaves, 4 minced chives and 1 sprig thyme leaves.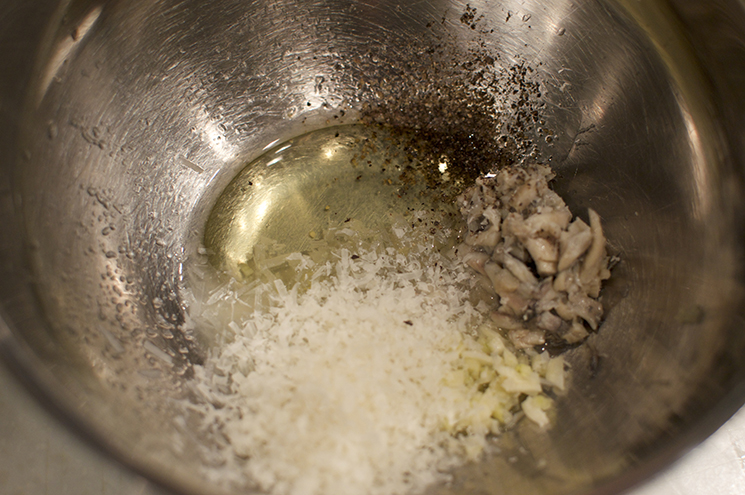 For Caesar butter (a riff on Caesar dressing), add 2 T grated Parm, 2 minced garlic cloves, 1 minced white anchovy (milder and more approachable than its standard, dark counterparts), juice from half a lemon, 1/2 t salt, a generous grind of black pepper and 1 T olive oil.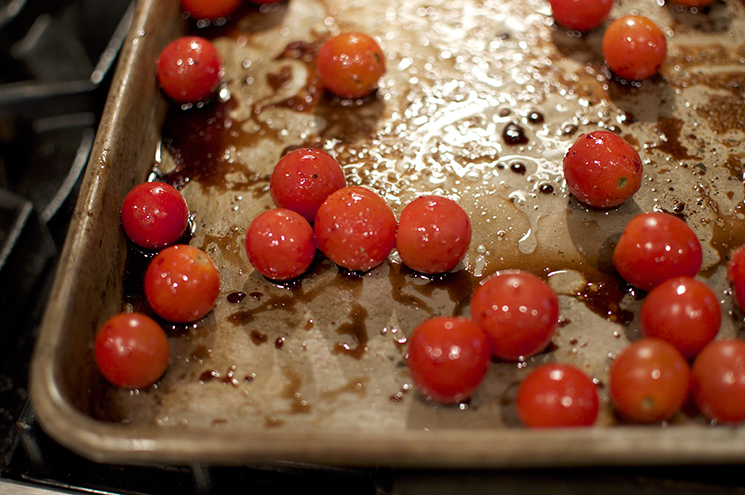 And for the last one, to complicate things: balsamic-roasted cherry tomatoes with olive oil, salt and pepper. Roast a pint of cherry tomatoes, combined with 1/2 t salt, 1/4 t pepper, 1 T Balsamic and 1 T olive oil at 400 degrees til they burst and caramelize. Allow to cool. In the fridge if you're antsy.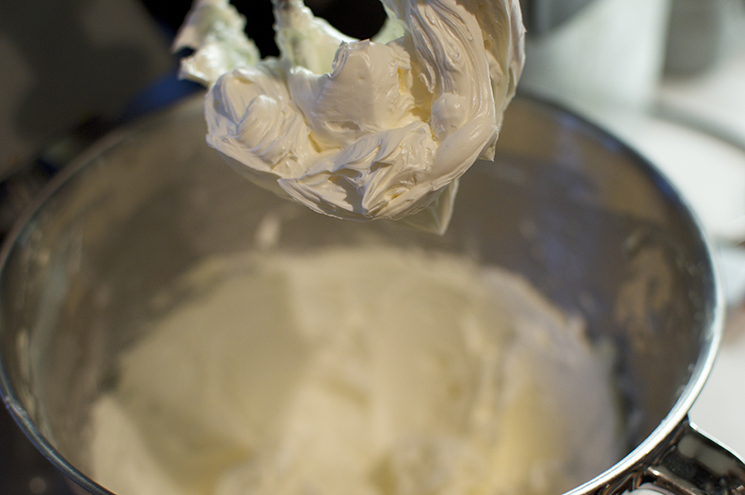 Now that you've decided on your flavorings, you need to get that butter ready for business. Add the entire pound of softened butter to the bowl of a stand mixer fitted with the paddle attachment. Beat it til it looks like the picture. It needs to be super soft. Warm, pliable, anxious to take on partners. It's never good to force an emulsion. Whoo, moving on.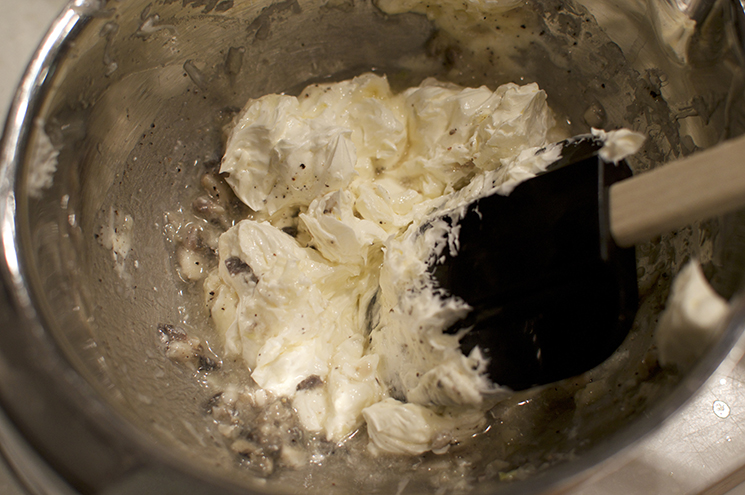 Transfer a quarter of the butter to each bowl of flavorings, leaving a quarter of the butter in the stand mixer to use for the balsamic-roasted tomato butter. This is the Caesar butter. Start by folding the butter into the flavorings with a spatula, then fully incorporate by beating the ingredients together a bit more forcefully with the same spatula.
Plop (that's the official word for this culinary technique) the finished mixture in the center of a piece of parchment paper.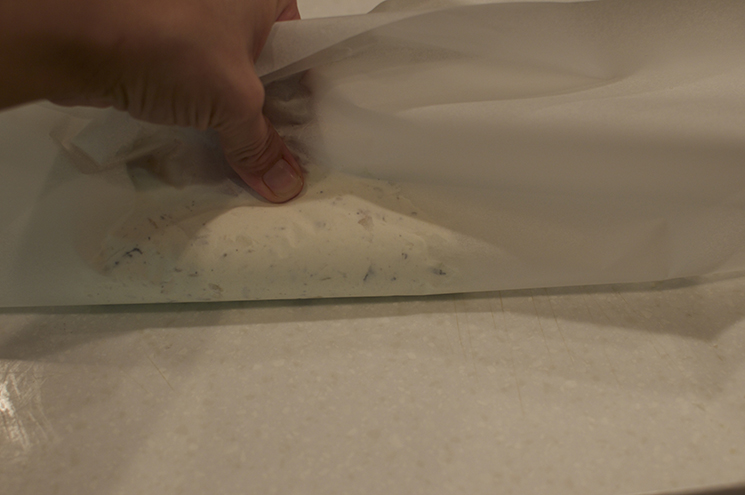 Fold the paper over the blob of butter mixture and shape the mixture into a log by molding it with the paper.
Twist the ends of the butter, then transfer to your freezer for about 30 minutes, to firm up the mixture.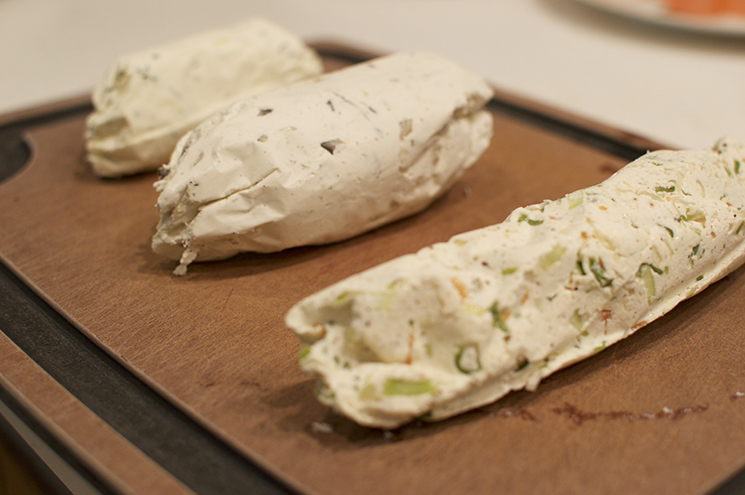 Unwrap the butters and revel in the glory of having many, many meals worth of easy sauces at your beck and call.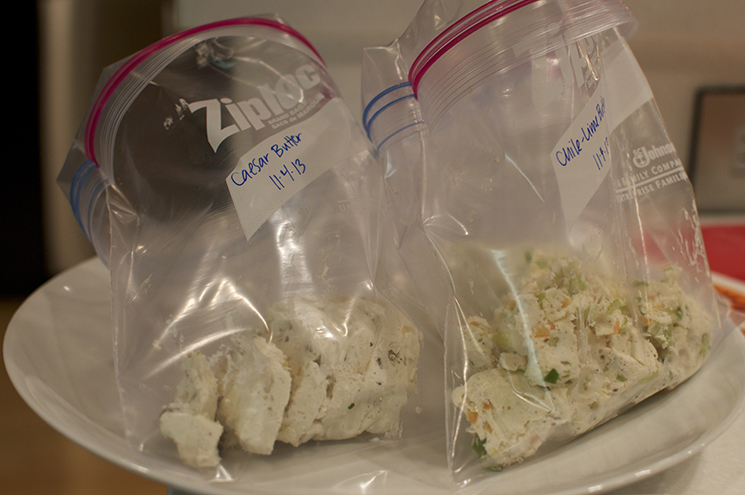 Using a sharp knife, cut each log into eighths, then transfer to a freezer bag and return to freezer. Unless of course, you intend to use the entire pound of butter right now. I'm not judging, it would just be surprising.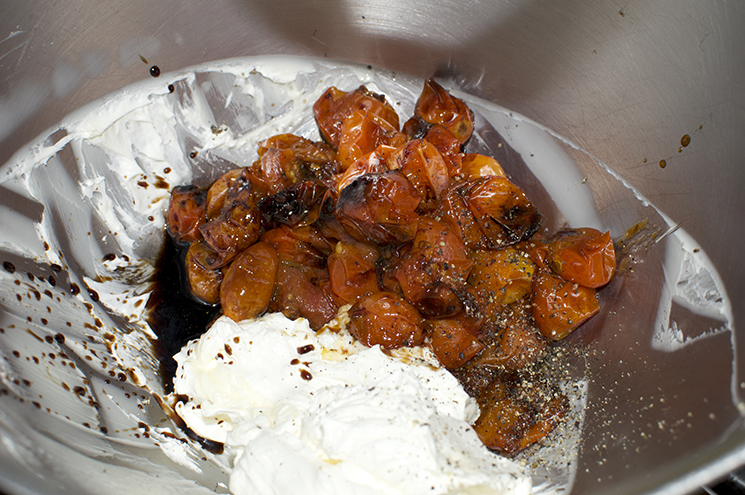 Oh yeah, there's still the tomato one. So, add the cooled tomato mixture to the butter in the stand mixer. Add a grind of pepper and a tiny splash more Balsamic. Beat, starting on low, until the mixture comes together. Then increase speed to high to fully incorporate all ingredients and thoroughly break down tomatoes. Continue the rest of the process just like the other compound butters.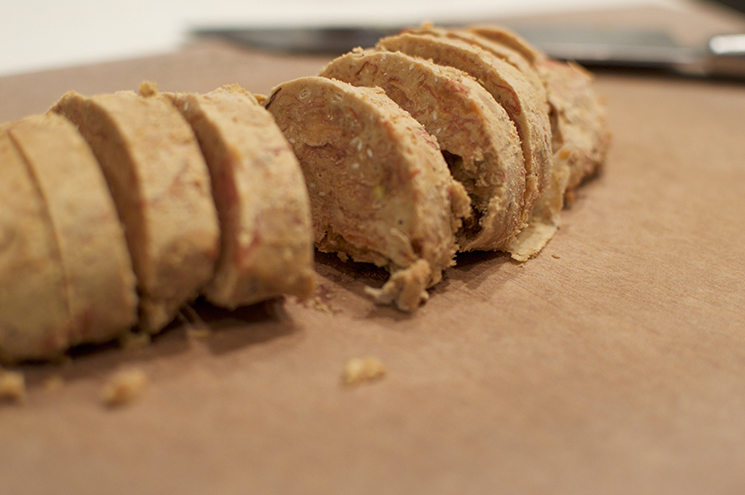 This one may not be quite as pretty, but yum. It's great on top of broiled salmon or stirred into wilted spinach or other sturdy greens.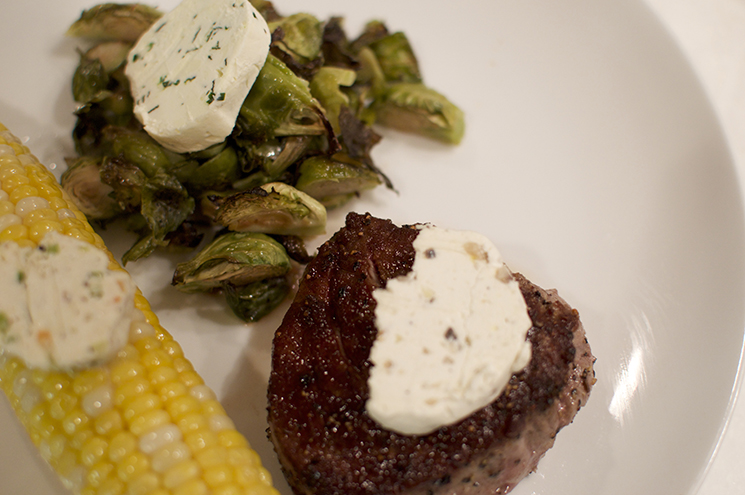 The chile lime butter pairs perfectly with corn on the cob and cornbread. The herbed butter is great on roasted veggies, shown here with Brussels sprouts, or just on nice crusty bread. Lastly, the Caesar butter is scrumptious on seared beef tenderloin, but it's also especially lovely on grilled romaine hearts. In the time it takes to walk the food to the table, the butter will begin to melt into an effortless sauce. It's a beautiful thing.
Experiment with whatever flavorings you'd like, but be careful not to add too much liquid to the mix. Adding more than 2 tablespoons of liquid per stick of butter can make an emulsion difficult to maintain. But don't be scared to emulsify! Even if you just do a whole pound of herbed butter and stash it in the freezer, you'll be glad to have it on nights when work goes late and your prep time is limited, or when you've just run out of steak sauce. Like I said, compound butter is the best. Just try it once and you'll see.