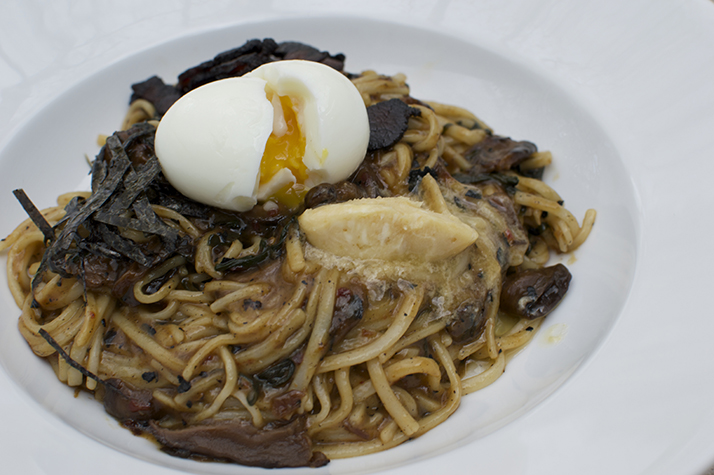 Balance. It's probably the most commonly overlooked aspect of a good dish.
But looking to the Asian flavor profile, balance is everything. So I like to steal from the East, even when I'm not using traditional Asian ingredients. The idea is: if it's fatty, salty, sour, sweet and hot — and those flavors are all balanced — your dish is going to be good. It doesn't matter if it's a vinaigrette or a soup. Balance is key.
For this riff on my site classic, ramps, shells & cheese, I decided to use ramps, udon and miso butter. It's still fatty, but instead of cream there's bacon, eggs and butter. It's still salty, with the miso (and the bacon again). It's sour from a little hit of lime juice at the end. The sweetness comes from the bacon and caramelization of the ramps. And it gets some heat from chile sauce. So the flavor profile is completely different, but the balance is similar. Let's jump in.
Udon with Ramps
6 eggs
1 stick butter
2 T shiro miso (white miso)
1 Lb bacon, chopped
2 bunches ramp whites, sliced on the bias
1/2 C sake
1/2 C mirin
1/2 C soy
2 T katsuobushi
2 T chile sauce
1 Lb shiitakes (or 20 oz frozen)
2 bunches ramp greens, shredded long
1 Lb udon noodles
1 sheet nori, shredded
2 limes, halved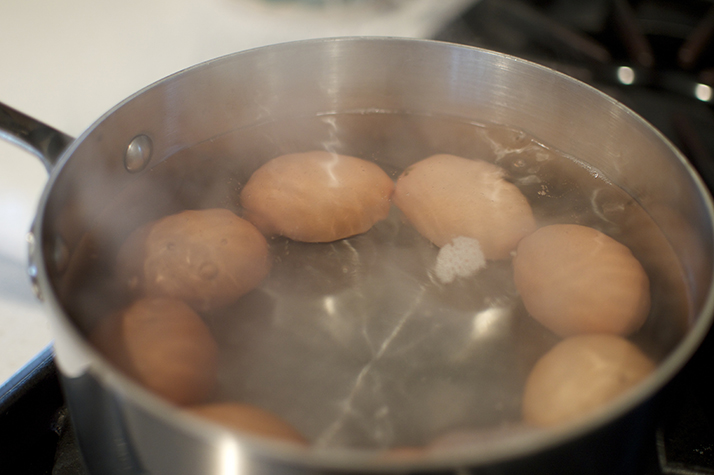 Cover as many eggs as you'd like to soft boil with cold water in a large saucepan. Add a generous amount of salt. Bring to a boil. As soon as the water starts to boil, cover, remove from heat and let sit 3 minutes.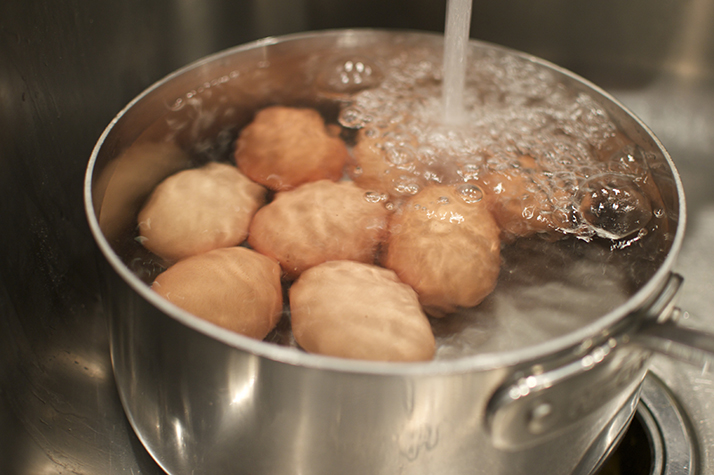 Immediately pour off the hot water and set under cold running water for about 5 minutes, until chilled. Refrigerate until ready to use.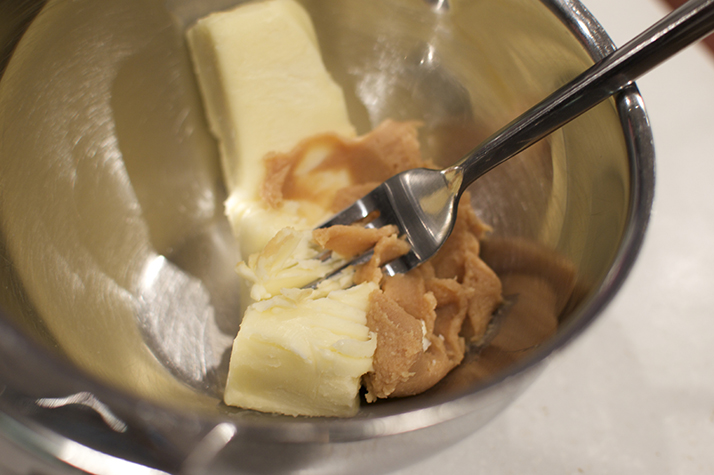 Combine butter and miso in a small bowl and mash together with a fork until thoroughly combined.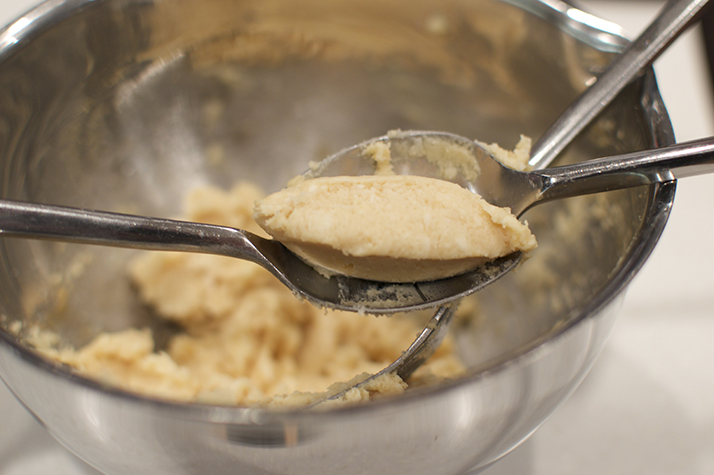 Using two spoons, form tablespoonfuls of the miso butter into football-shaped "quenelles."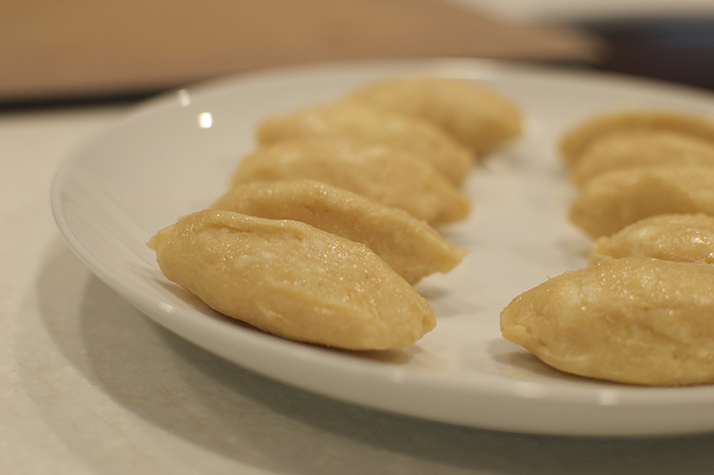 Place quenelles on a plate and refrigerate until ready to use.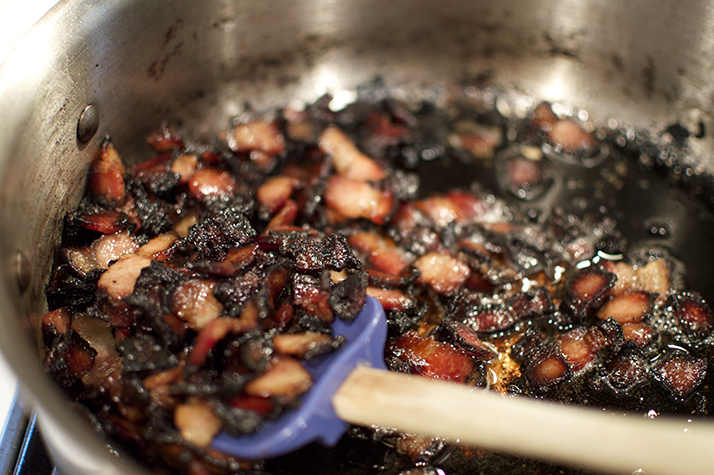 Render bacon in a large saute pan set over medium heat. Remove from pan and set aside.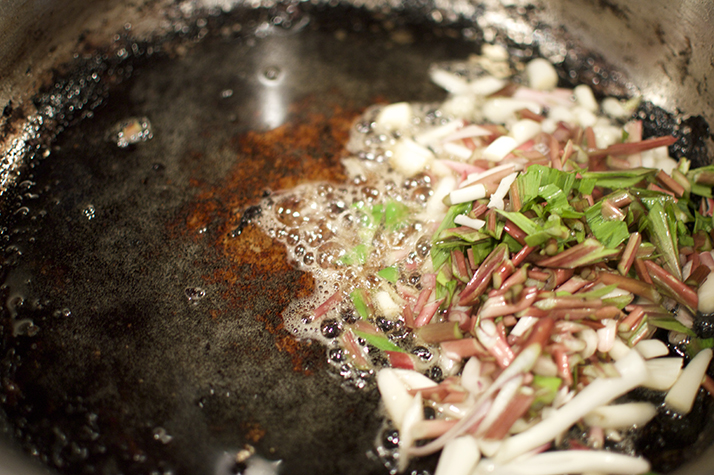 Add ramp whites and cook until translucent.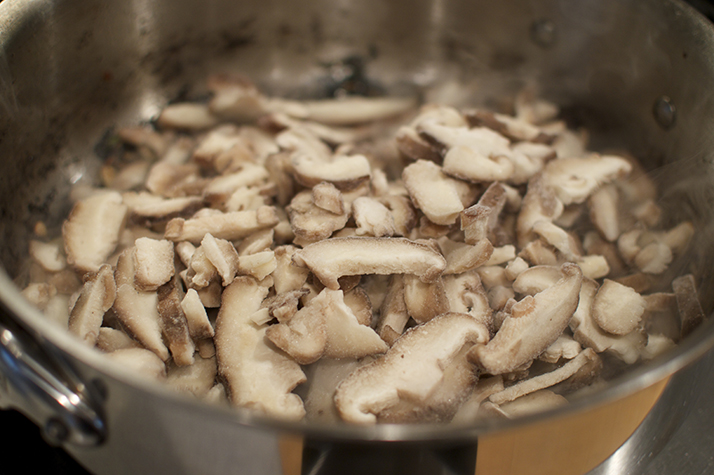 Add shiitakes and cook until they give up moisture and brown.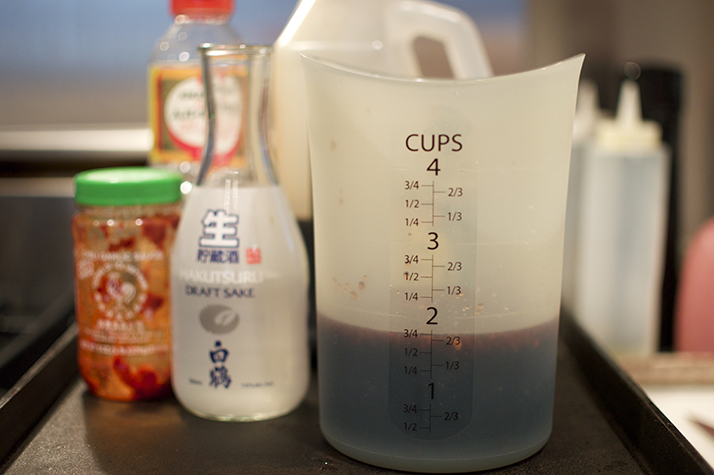 Add sake, mirin, soy, katsuobushi and chile sauce. Cook 5 minutes, until reduced.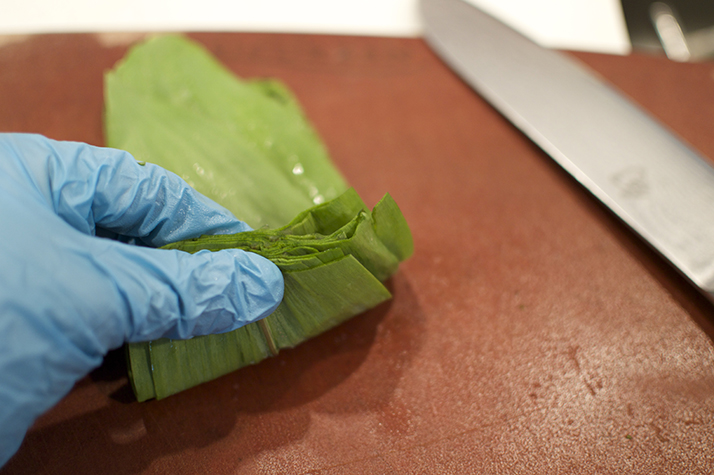 To long chiffonade the ramp tops, stack several leaves on top of each other, then cut away any remaining thick stem.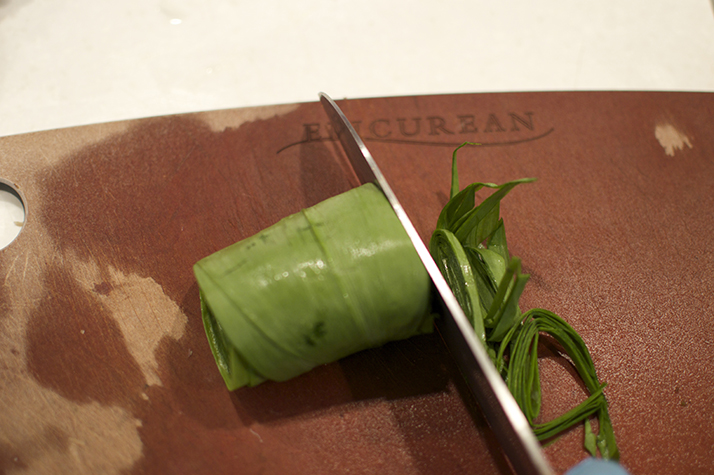 Roll them up together, then thinly slice.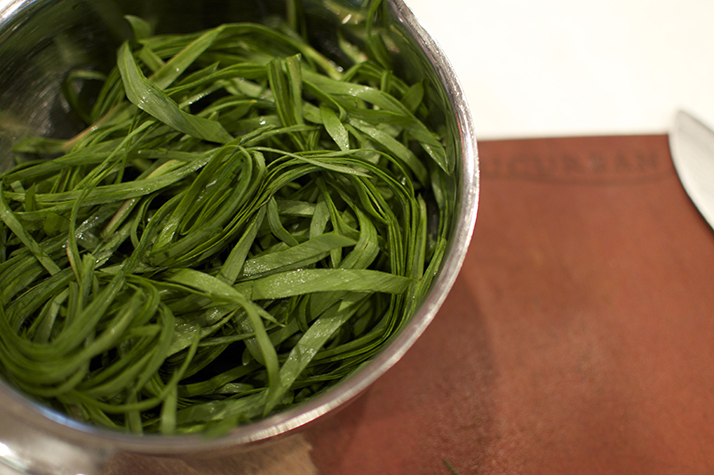 You should end up with noodle-like strands of ramp tops.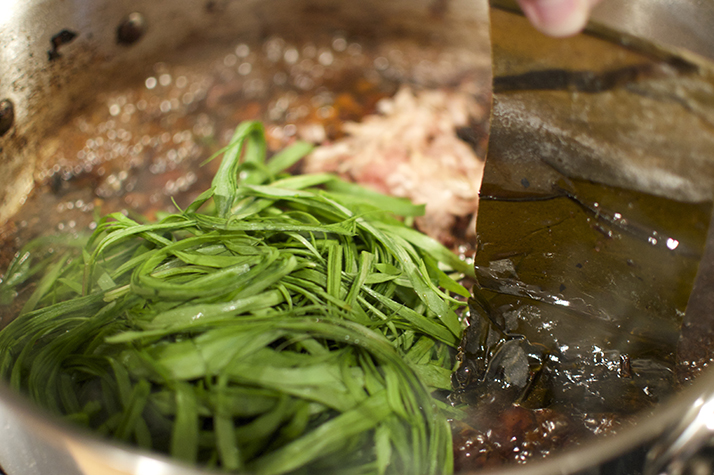 Add ramp tops and a large piece of kombu. Cook until ramp tops wilt. Cover and remove from heat. Before adding noodles, remove the piece of kombu and discard.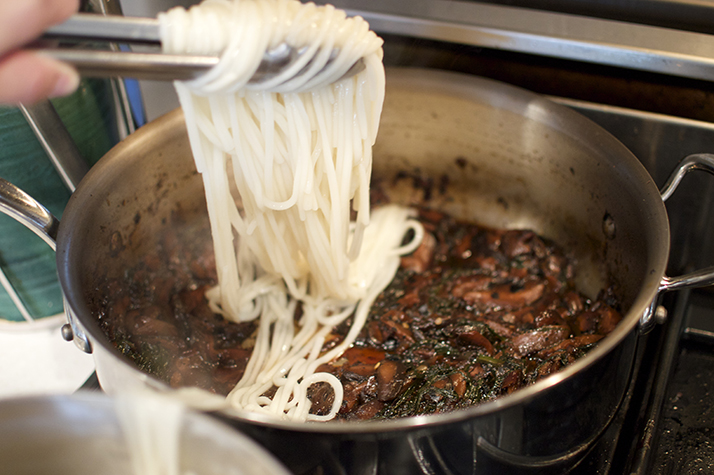 Cook udon according to package instructions, remove from heat, then add to the sauce. Don't drain the water. And don't worry about a little bit of the water getting into the saute pan. It will help make the sauce.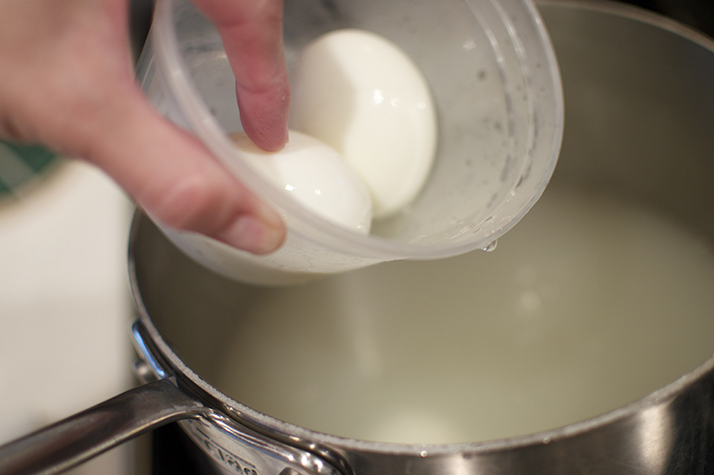 While the udon cooks, peel the eggs. Then as soon as you transfer the noodles to the sauce, place peeled eggs in the still-hot pasta cooking water (no need to turn on the burner) to reheat.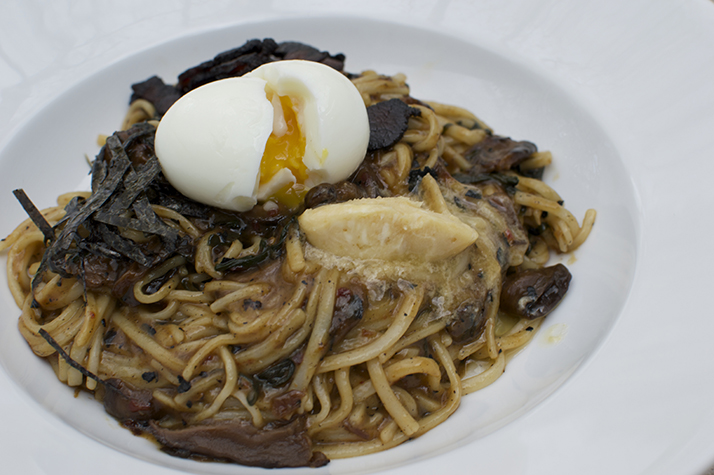 Plate the noodles with sauce, top with the bacon, miso butter quenelle and shredded nori, then place a rewarmed egg in the center. Gently break open the egg to release the yolk. Squeeze with lime juice as desired, and serve.
Whether your next meal is simple or extremely complex, make it perfect simply by giving it balance. Just remember: fatty, salty, sour, sweet & hot.