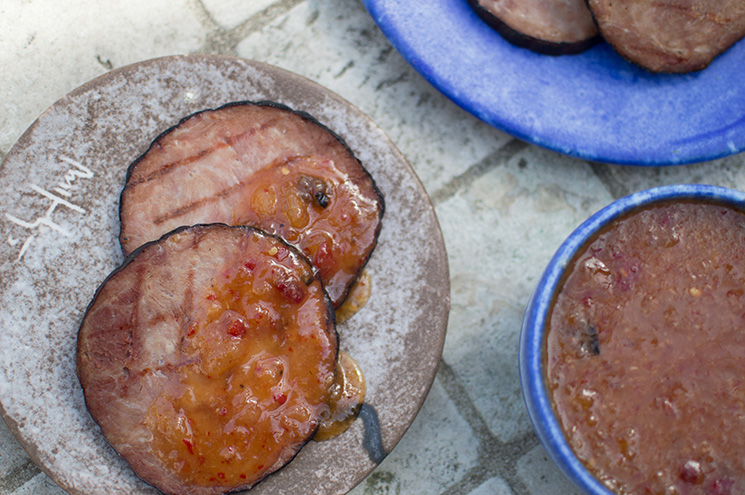 Jezebel. Gotta admit, don't really remember a lot about her from Sunday school. I think she was supposed to be kinda terrible, right? Whatever, I don't care about the Biblical figure; I'm here to talk about the sauce.
Though it's much maligned — by many — I'm a big fan. This miracle concoction rises like a phoenix from the dead, dried, canned ashes of the pantry and comes together to create what I think of as cocktail sauce for meat. Pork, specifically. And I don't hate it on chicken either. But more often than not, below the Mason-Dixon, it ends up poured over a block of cream cheese as an app.
Generally, it's equal parts pineapple preserves and apple jelly, melted in a saucepan, with horseradish, dry mustard and pepper stirred in off the heat. Honestly, the apple jelly does nothing for me, so I like to sub in hot pepper jelly. And the dry mustard freaks me out a bit, so I use Dijon. Then, once you have real heat from the pepper jelly, ground black pepper is a sad kind of redundant. That leaves us with:
1 C pineapple preserves (12 oz jar)
1 C hot pepper jelly
1/4 C prepared horseradish
3 T Dijon
Heat the preserves and jelly until warm and whiskable. Wanna use the microwave? I won't judge. Whisk those together, then add in the horseradish and Dijon. Transfer to the bowl you'll use for serving, then cover and refrigerate for at least an hour, to re-jellify, which is a professional culinary term, in case you were wondering. I grilled up some thick slices of ham to go with it, but as I mentioned earlier, you can't go wrong putting it on a bunch of other stuff — like my favorite, sliced pork tenderloin on sweet potato chips with scallions.
Hey, maybe Jezebel got in such bad graces with Yahweh for creating a sauce that makes pork taste even better? Yeah, I'll go with that, give her the benefit of the doubt.