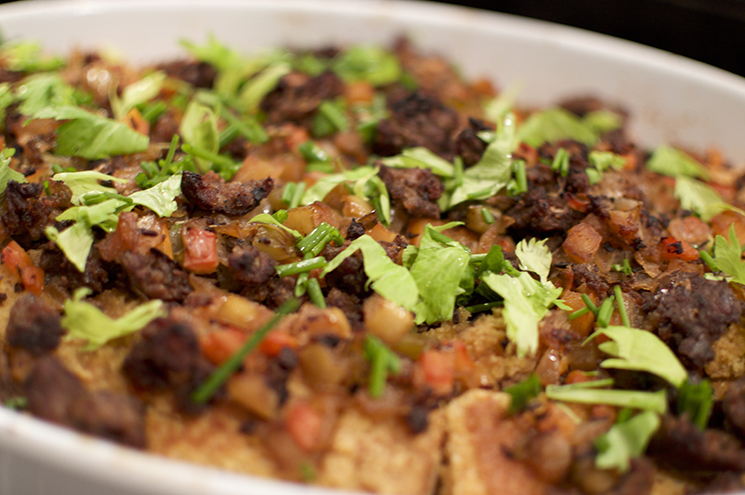 Pretend this delicious mixture was inside of your turkey, but know that it wasn't, so you don't have to worry about food poisoning.
This pretty much sums up the stuffing versus dressing debate for me. And like most times when asked: food poisoning or not? — I choose not getting food poisoning.
Now that you're hungry, let's talk about how to make the most delicious dressing ever. Spoiler alert: the most delicious dressing ever contains cornbread. Okay, let's make it!
Cornbread
2 C cornmeal
2 C all-purpose flour
2 T baking powder
½ t kosher salt
2 C buttermilk
1 C maple syrup
2 eggs, lightly beaten
6 oz butter, melted
Sausage and Vegetable Mix
1 Lb mild Italian sausage
2 T butter
2 onions, diced (3 C)
½ t kosher salt
2 apples, diced (unpeeled, about 2 C)
2 carrots, peeled and diced (1 C)
3 celery stalks or ½ celeriac, diced (1 C)
1 C apple cider vinegar
1 Qt chicken stock
Coating for Cornbread Squares
6 eggs
½ cup maple syrup
¼ cup Worcestershire sauce
1 T hot sauce
¼ cup chopped herbs (such as celery leaves, parsley, thyme, sage and chives)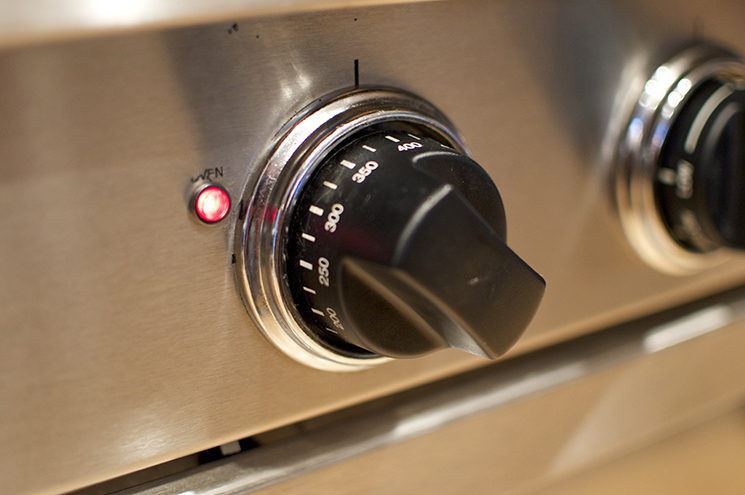 Preheat oven to 400 degrees. Spray a half sheet pan (13×18") with nonstick cooking spray and set aside.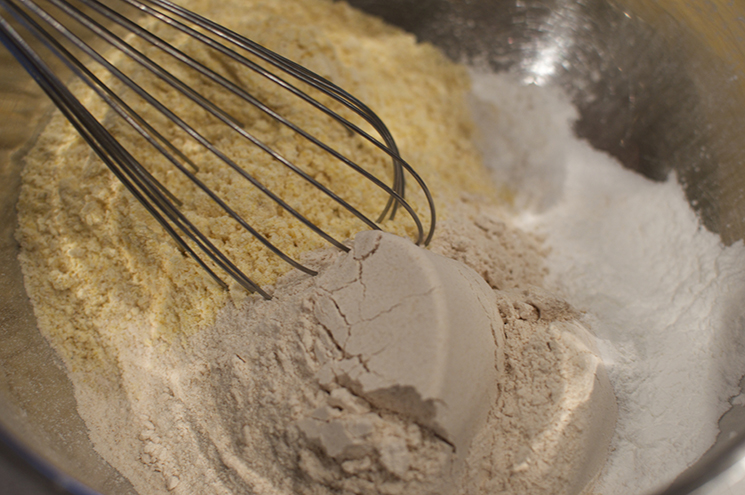 In a large bowl, whisk together cornmeal, flour, baking powder and salt.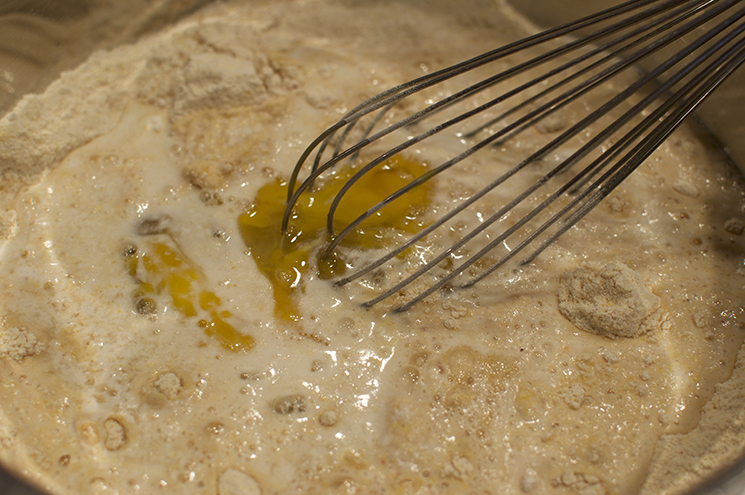 Add buttermilk, maple syrup and eggs and whisk until smooth.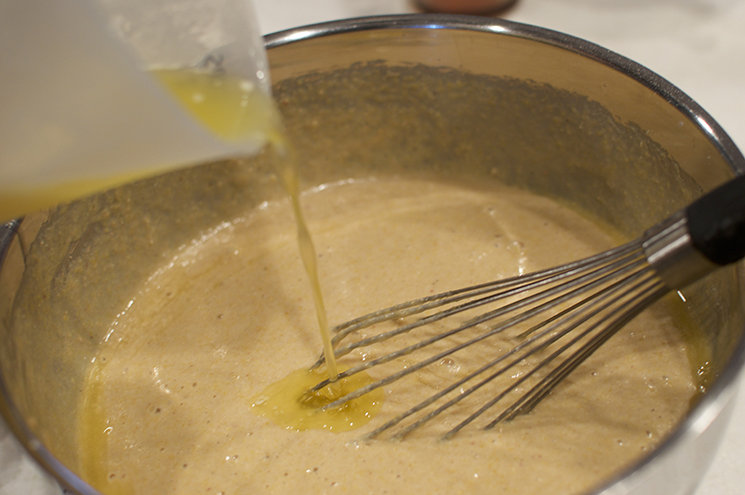 Then whisk in melted butter until combined. The mixture will be quite wet.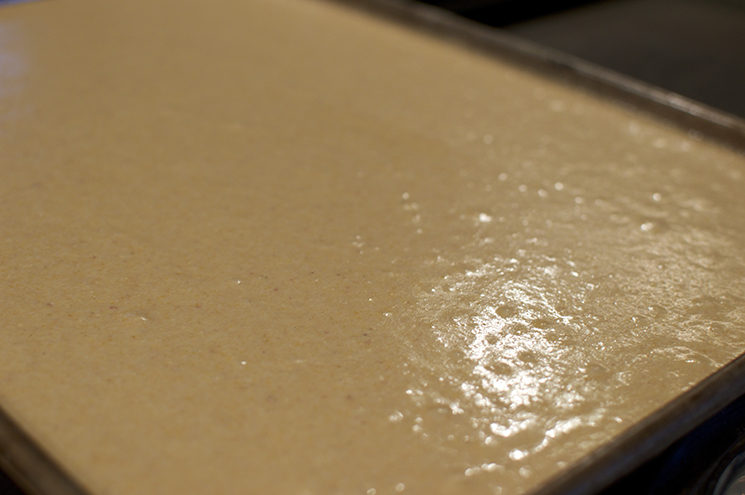 Pour into the sheet pan and bake until set and browned on top, about 22-25 minutes.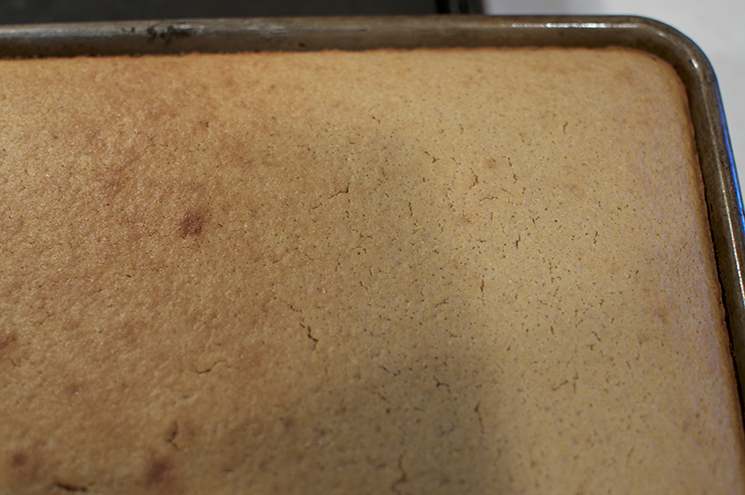 If you have time to let cornbread cool completely in the pan, that's great, but it's not a dealbreaker if it's still warm when you have to cut it. You can also make the cornbread a day ahead.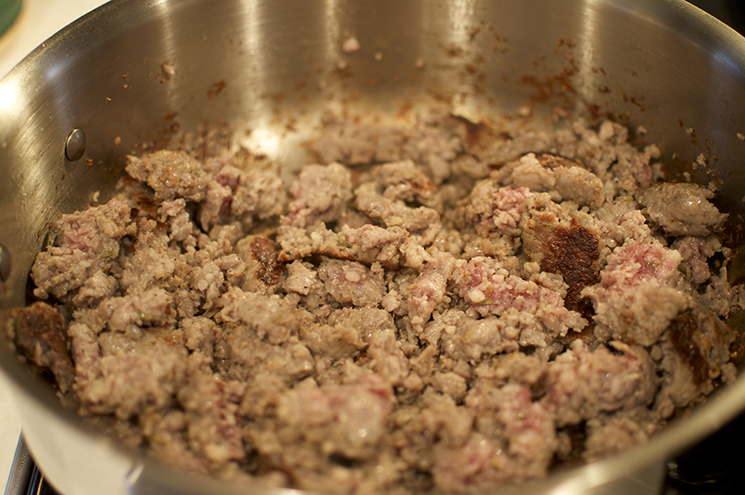 Meanwhile, heat a large sauté pan over medium-high heat until hot. Add sausage in small pieces and brown all over, turning often, until cooked through.  Transfer sausage to a colander set over a bowl to drain. Discard any fat remaining in the pan.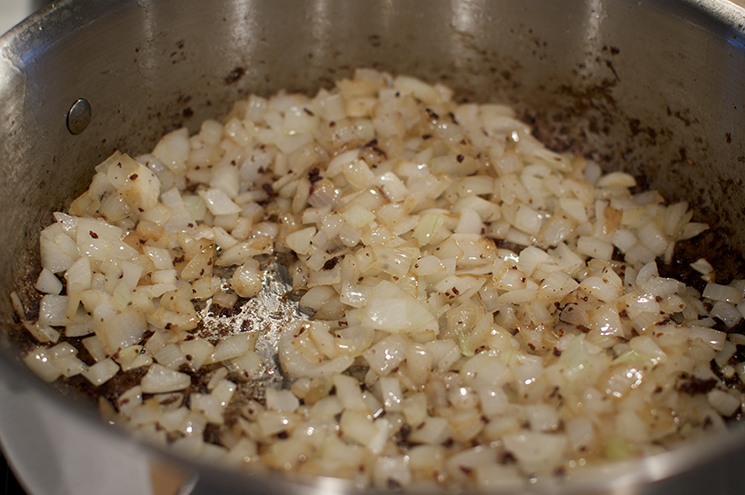 Add butter and melt. Add onions and salt and cook until translucent and slightly browned, 4-5 minutes.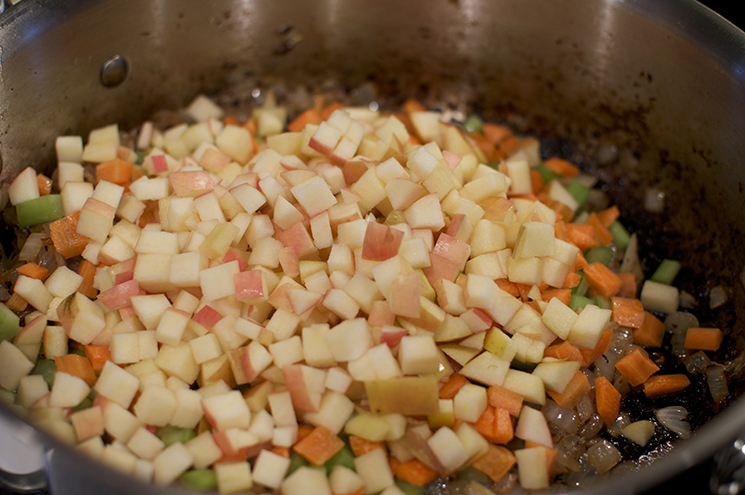 Add apples, carrots and celery/celeriac and cook, stirring often, until softened and browned, 5-8 minutes.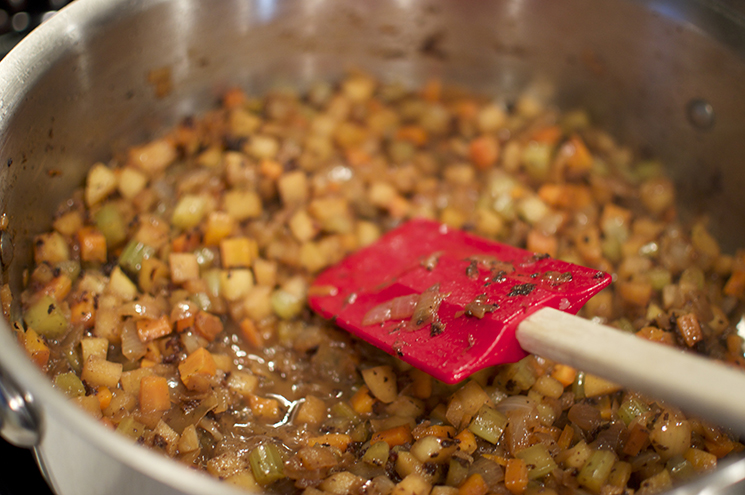 Add vinegar to deglaze. Stir constantly, scraping up browned bits on bottom of pan, until vinegar is absorbed.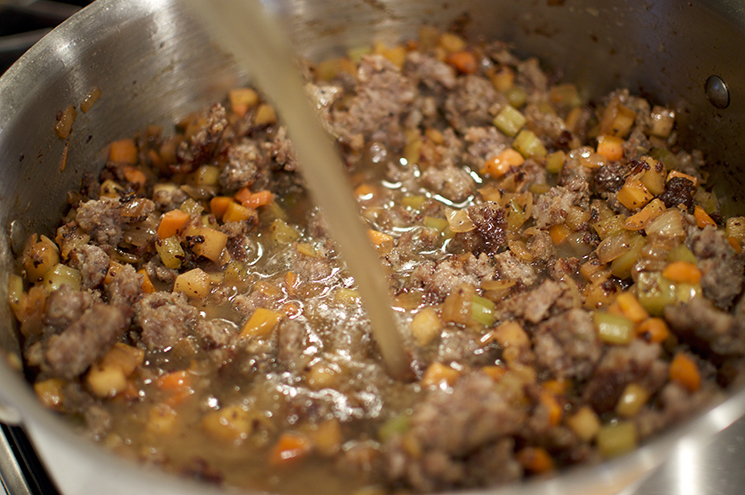 Return sausage to the pan and stir. Add chicken stock and bring to a simmer. Simmer 15 minutes, then remove from heat and cool slightly.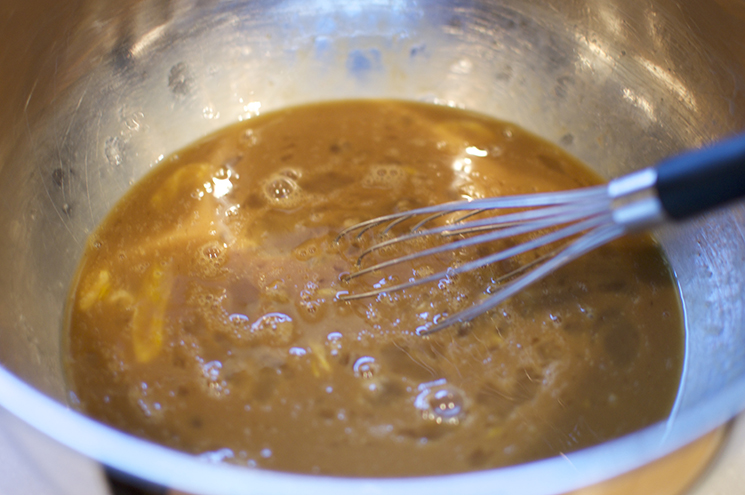 In a large bowl, whisk eggs, maple syrup, Wooster and hot sauce. Set aside.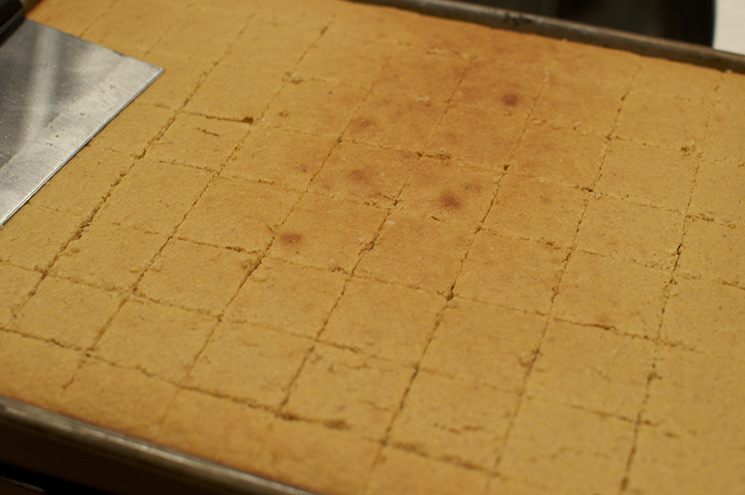 Spray 24 (6-oz) ramekins or 2 (13×9") casserole dishes (or half and half) with nonstick cooking spray and set aside. Using a bench scraper, cut the cornbread in long strips to make 1-1 1/2″ squares. Transfer cornbread squares to bowl with the egg mixture and toss gently to coat.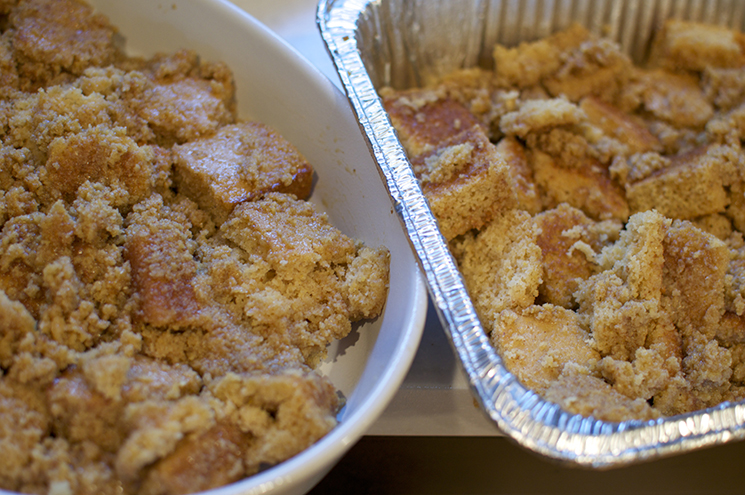 Transfer the cornbread mixture to the prepared dishes, making an even layer.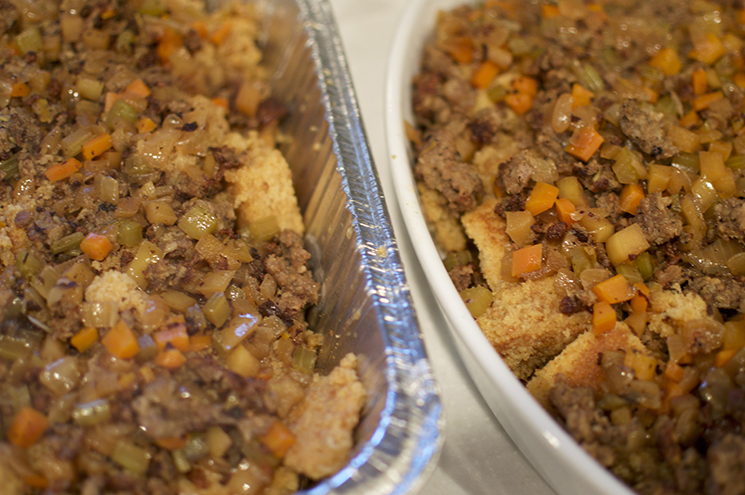 Top with the sausage and vegetable mixture, spreading evenly. Divide any extra liquid between dishes.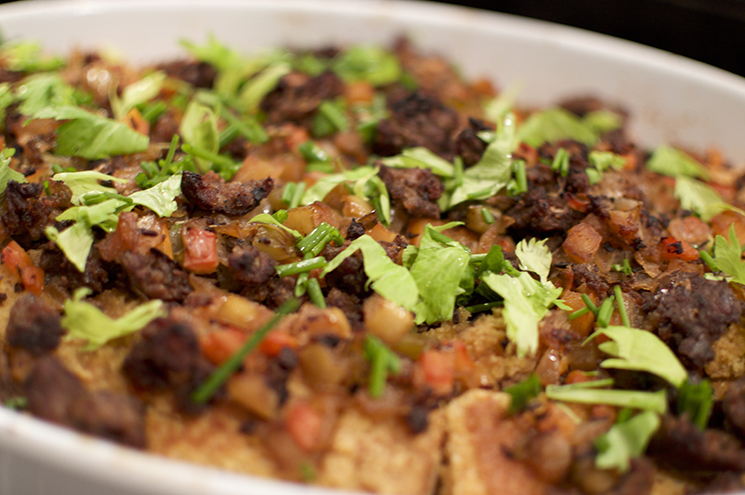 Bake at 350 for 30-45 minutes (depending on whether you're using ramekins or casseroles). Mixture should be nicely browned and set. Remove from oven, top with herbs (this version features celery leaves and chives) and serve.
There you have it — a delicious, half-midwestern, half-southern version of stuffing guaranteed to please, especially since it has a super-low risk of salmonella. Thanksgiving: go!