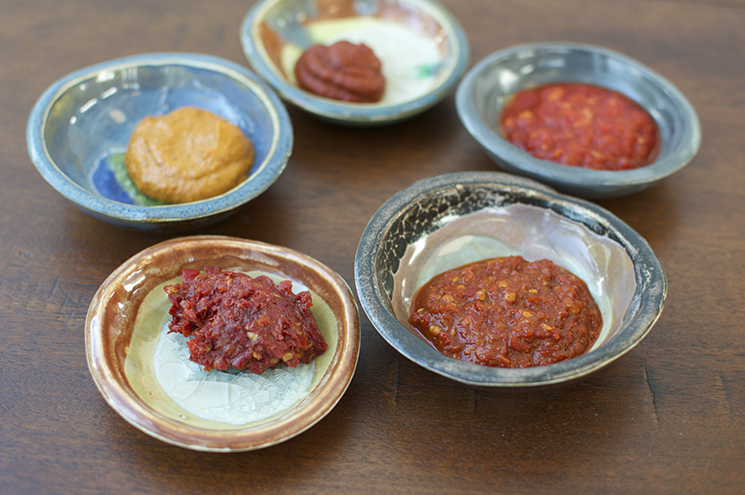 It's the next sriracha. 
Y'know, if I had my way.
Honestly, I'd be fine with just about any complex spicy condiment ousting the reigning rooster sauce. Kimchi, sambal oelek, gochujang, pickapeppa, yuzukosho — whether from texture or flavor, all of these choices are much more exciting than sriracha. But for now, I'm sticking to my guns and taking a good, long look at harissa.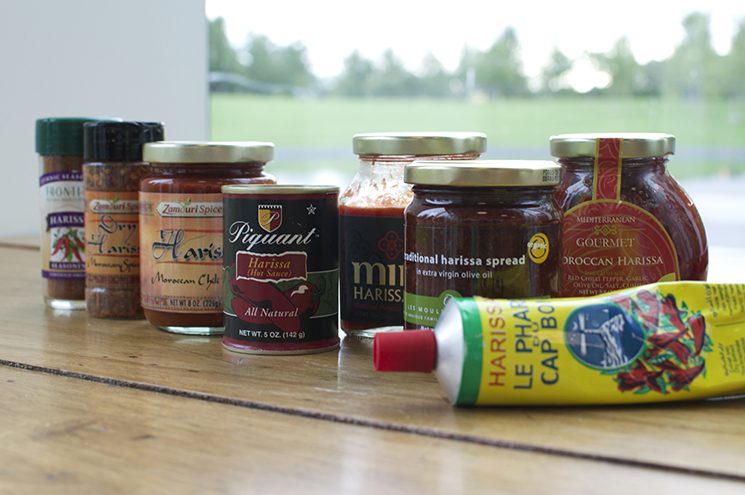 This spicy North African condiment runs the gamut from fruity and chunky to searing hot and smooth. Hot chiles, garlic, spices, oil and vinegar or citrus juice are the key ingredients. Saharan versions even have a little smoke. I tried about twelve, from all over. One had sundried tomatoes which was just weird. One was inedible. Needless to say they didn't all make the cut. Let's look at a few that did.
Clockwise from top left bowl*: Mediterranean Gourmet is a chunky Moroccan style sauce, but the addition of olives gives it a meaty, tapenade flavor. Zamouri is also a Moroccan style, chunky sauce made of fresh, dried and grilled peppers. Mina spicy red (they make mild red and spicy green, too) — my go-to jar — is yet again Moroccan style, thinner than the first two, straightforward and bright with a vinegary bite. Cap bon is Tunisian, where harissa got its start, and thus very traditional when it comes to flavor profile, but its smooth, pureed texture sets it apart. So where's the smoke? That last guy is mine, and I assure you it brings the smoke! Wanna know how I did it?
*Like the tiny bowls? They were sculpted by my wildly talented cousin-in-law, Mandy Stringer. If you are jealous and need some for yourself, leave a note in the comments.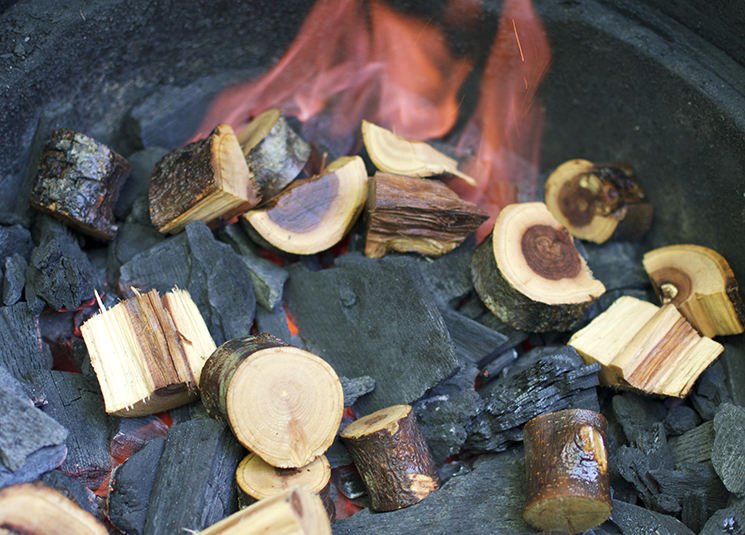 Start a fire. Throw on some soaked applewood chunks and get the grill to 225 or so. I used a plate setter on the Big Green Egg, but it's not necessary. Cut open three heads of garlic and douse them in olive oil and salt. I put them on a little pan to prevent the cloves from falling through the grates if they slipped from their skins during the smoking process. Foil would probably do just fine in a pinch. Then let three orange Ukraine peppers and three orange bell peppers join the garlic on the grates.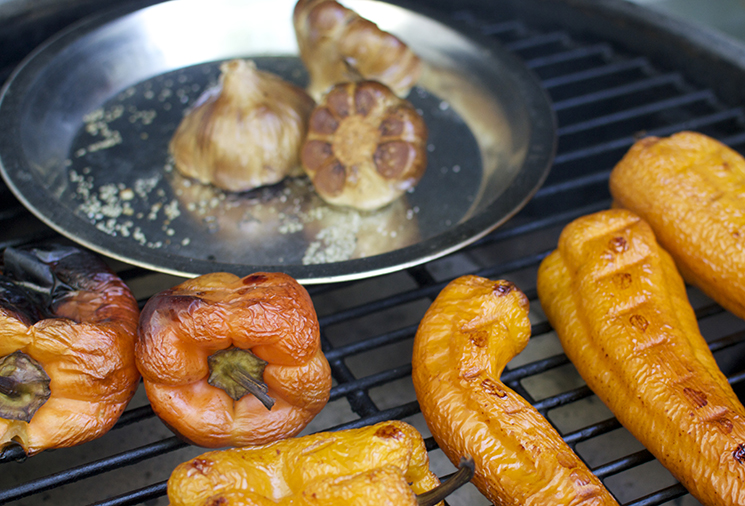 After about an hour, they'll look like this.
Take the garlic off, but open the dampers (remove the plate setter, if using) and leave the peppers to blacken all over. Place the peppers in a bowl and cover with plastic for a few minutes, until cool enough to handle, then scrape off the blackened skin, and remove the stems, seeds and membranes from the interior.
Squeeze the cloves from the heads of garlic.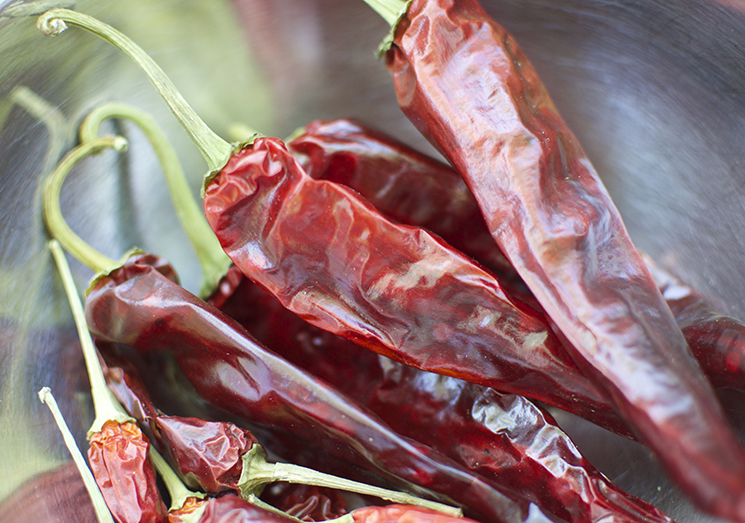 Rehydrate dried hot peppers. I used 20 guajillos (2500-5000 Scoville) and 20 super chilis (40,000-50,000 Scoville). Place in a large bowl and cover with boiling water until softened, about 20 minutes. Remove stems and seeds.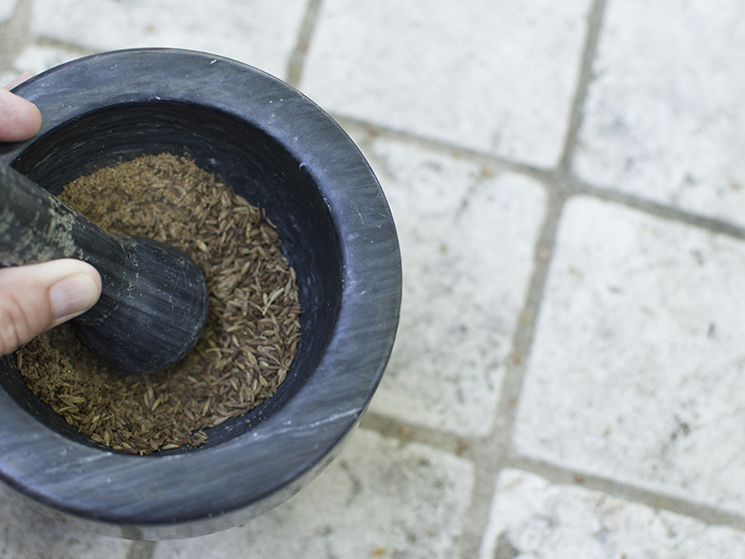 Toast 1 tablespoon each of whole coriander, cumin and caraway seeds in a dry sauté pan over medium heat, shaking pan often, until fragrant, about 5 minutes. Grind to a powder with a mortar and pestle.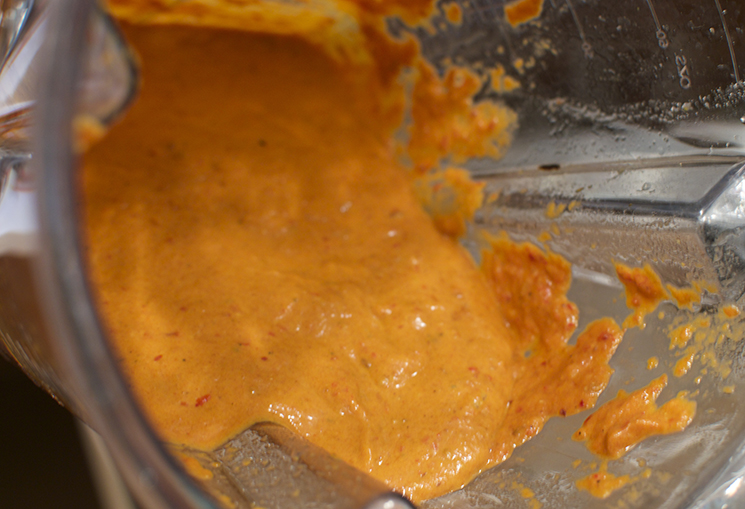 Place garlic, prepared hot and orange peppers, and ground spices in a blender. Add the juice of three lemons. Blend until smooth, then stream in half a cup of olive oil with the blender on low. Add salt to taste and blend again to incorporate.
So what do you do with this stuff? You can use it exactly as you would use sriracha, but you'll enjoy it more. I promise. For a jarred version, I highly recommend the Mina, whether spicy, mild or green. But if you're up for doing it yourself, my smoky version adds an amazing depth and smokiness that ups the flavor power of the condiment considerably, not to mention pairing impeccably with everything southern. For example, it's great over poached eggs and grilled corn cheddar grits. But don't take my word for it. It's the next sriracha, right? You should try it for yourself!