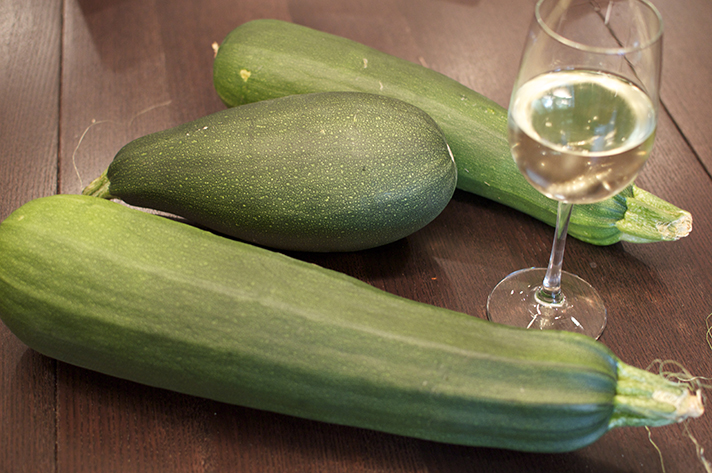 Three gigantic zucchini. The largest, that I used for this recipe, weighed in around 3 pounds. Normal-sized wine glass for scale, because I didn't have a quarter, but I always have wine.
So what are you going to do with that enormous zucchini?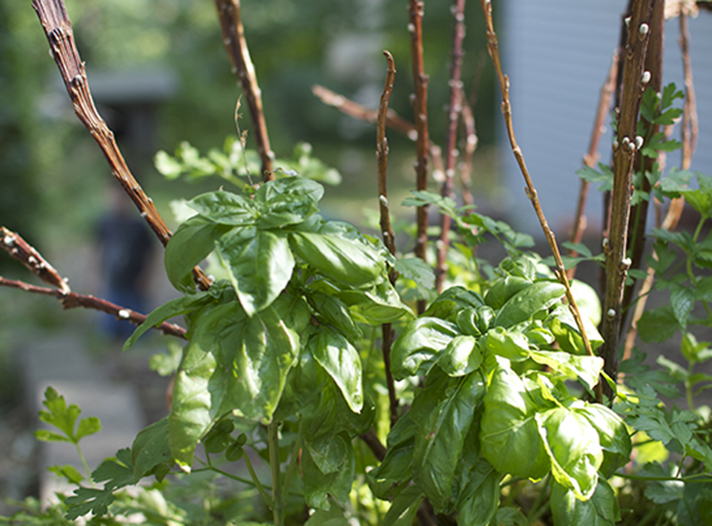 And all that basil out back? No matter what you're growing or picking up in your crop share these days, it's officially the end of summer and the glut has come. A dear friend delivered these three enormous, intimidating beauties to me this week, thinking perhaps I'd have an idea of something to do with them besides zucchini bread.
And I did have an idea. Zucchini submarine sammies. As in sub zukes for bread to make a sub. A submarine of substitution. This is less recipe, more technique, so feel free to sub filling ingredients however you want. Make it vegan by subbing hummus for the goat cheese. Or make it carnivore-friendly by stuffing in some shredded chicken or deli turkey. And of course, use whatever veggies you like. If you have a huge yellow squash, give that a try instead of the zucchini. And you can absolutely make this recipe using normal-sized zucchini, just roast the veggies until there's no resistance when poked with a bamboo skewer or paring knife. Play around. I roasted three huge zukes, so what you'll see in pictures is triple the recipe I'm giving you, because a singular giant zucchini sub feeds four.
Not only did it sound like a fun thing to do with gigantic zukes; I also thought I'd throw a bone to the vegetarian, gluten-free, paleo (well, the ones that eat cheese, at least) and low-carb folks. If you're in one of those groups, enjoy this post because it probably won't happen too often. I like bacon fat and bread too much. Life is short, so if you can, you should eat things that taste awesome. Fortunately this goat cheese, basil, roasted scallion and cherry tomato zucchini sub does in fact taste awesome. Let's make it!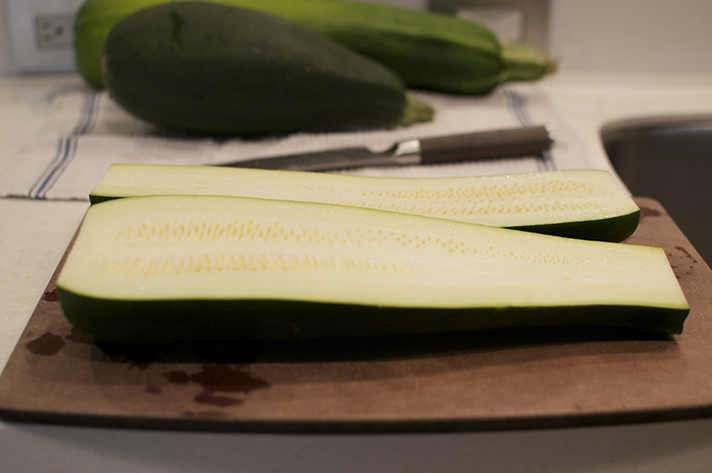 Start by preheating your oven to 425 degrees. Cut the top and bottom from the gigantor zuke. Then halve it lengthwise.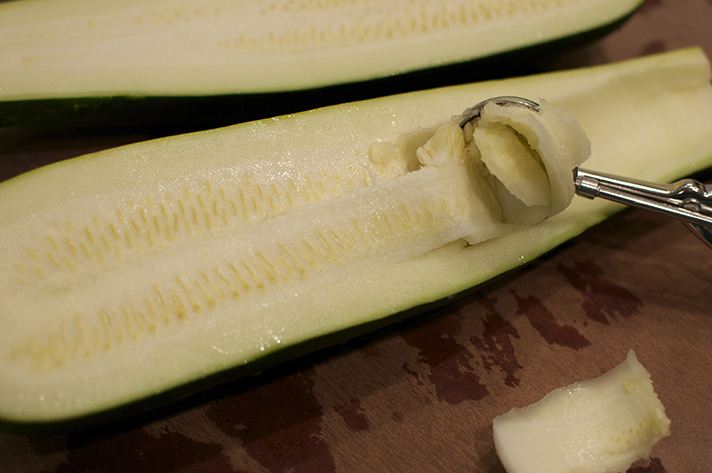 Using a large spoon or ice cream scoop, scoop out the seeds and flesh in the center of each half. Leave at least 1/4 inch flesh on bottom and sides.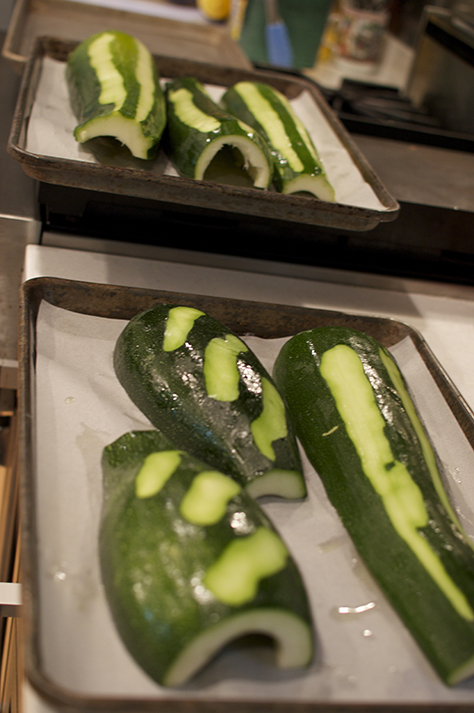 (Since I was trying to mimic a baguette, I "slashed" my zukes to look like the slashes you'd see on actual loaves, by peeling sections of skin off with a vegetable peeler. It's just cute though. There's no culinary reason to do that, so you can skip that step if you'd like.) Rub each piece with olive oil and sprinkle with salt. Then place them on a parchment-lined sheet pan, flesh side down, and roast in preheated oven for about an hour, or until flesh offers no resistance when pierced.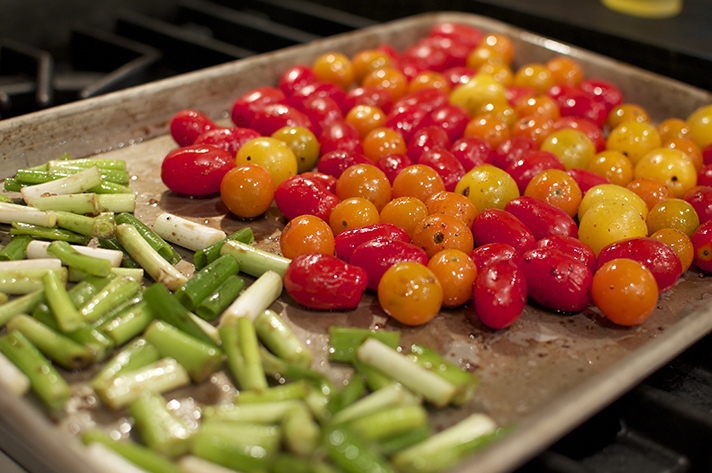 Meanwhile, first toss 3 scallions (cut into 1 1/2″ pieces), then 1 cup cherry tomatoes, separately in 1 tablespoon olive oil, 1 tablespoon balsamic vinegar, salt and pepper to taste. Spread in a single layer on a sheet pan and add to oven with the zucchini. Scallions should roast about 30 minutes; tomatoes, closer to an hour. Some of the tomatoes should burst but you don't want them all to caramelize, get too dark and burn. It's nice to retain some color.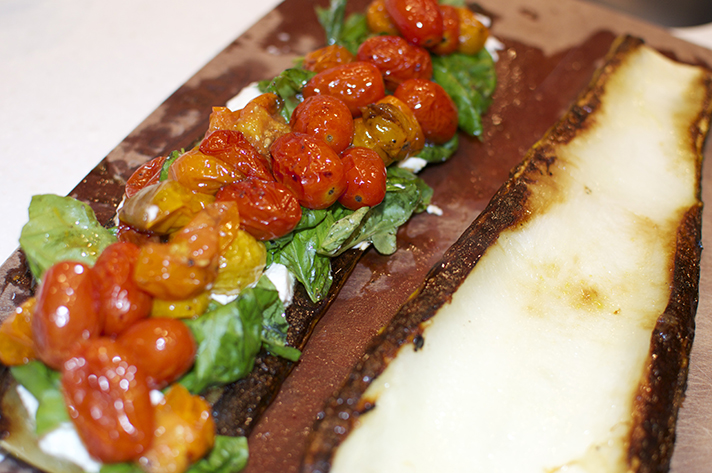 Spread 4 ounces of goat cheese on the bottom half of the zucchini. Top that with the scallions, then about a cup of basil leaves. Add the tomatoes and replace the top half of the zucchini.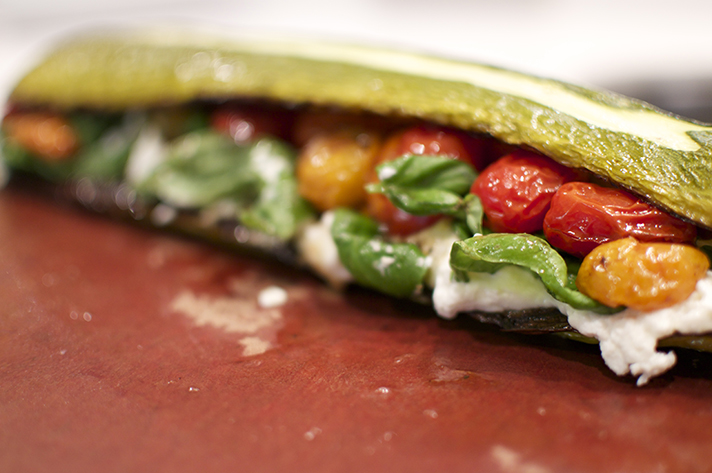 Voila! A delicious, healthful use of the end-of-summer bounty that's pretty fun to put together, too. Enjoy.