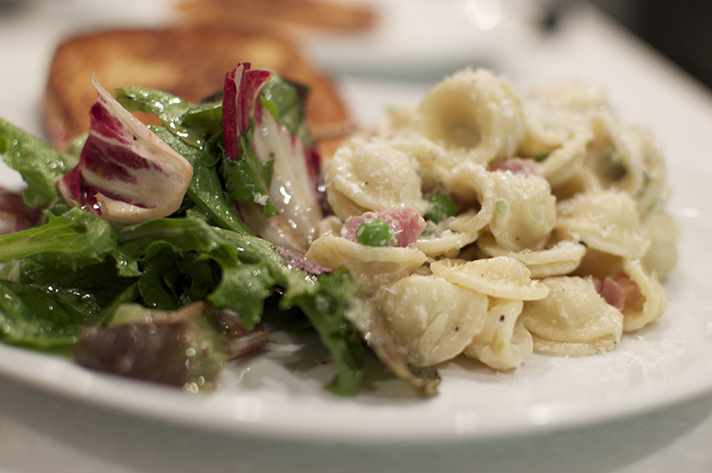 Mixed Greens with Jam Vinaigrette; Orecchiette with Ham, Peas & Cream; Garlic Butter Bread; (not pictured: Devil's Food Cake with Cherry Sauce)
Ain't nobody got time for that.
Lots of food sites have pretty pictures of food that is very difficult or at least time consuming to make, even if you've worked in a restaurant for years. Yeah, well life is short and I'm not planning on going that route. Fair warning.
Here are some things you won't see me prepare:
Homemade pasta dough Every few years I'll make sheet pasta to prepare a very special ravioli. But dried pasta is between 1 and 4 dollars a pound, 10 minutes to prepare, and doesn't get flour all over your floor.
Anything with fresh artichokes Why does anyone even bother? They look gorgeous in arrangements, but what a hassle to turn them into food. This cool thing called division of labor allows us to purchase the yummy part at virtually any grocery store. What a deal!
Homemade mayo There is of course the exception of Caesar salad. That's basically fancy mayo, right? I just use way too much mayo to break out the big bowl and the whisk every time we want a sandwich at our house. Sorry.
Recipes that reinvent the wheel I'm happy to take advantage of the many easy-to-find pantry products that take the effort out of an awesome meal.
On that note, let's make a delicious, easy and pantry-inspired meal Sandra Lee would be proud to call her own, but without any embarrassing use of taco seasoning or cream of mushroom soup.
To start, use your leftover white sandwich bread, brushed with garlic butter and griddled. Then make a lower-fat vinaigrette with pantry supplies, and toss in mixed greens. Our pasta dish combines leftover peas from your freezer (you know you have some), with chopped spiral or deli ham. Dessert is a third the size of a standard iced triple-decker devil's food cake, but it gets sexier with a fresh or frozen cherry sauce.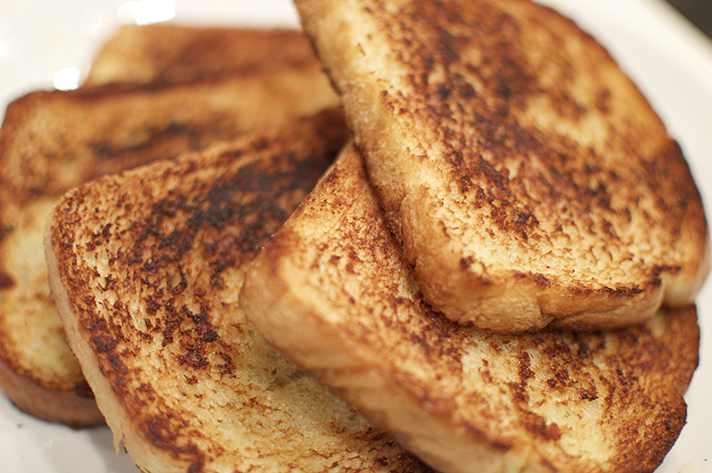 Garlic Butter Sammie Loaf Toast
6 slices white bread
4 cloves garlic, peeled
1 stick unsalted butter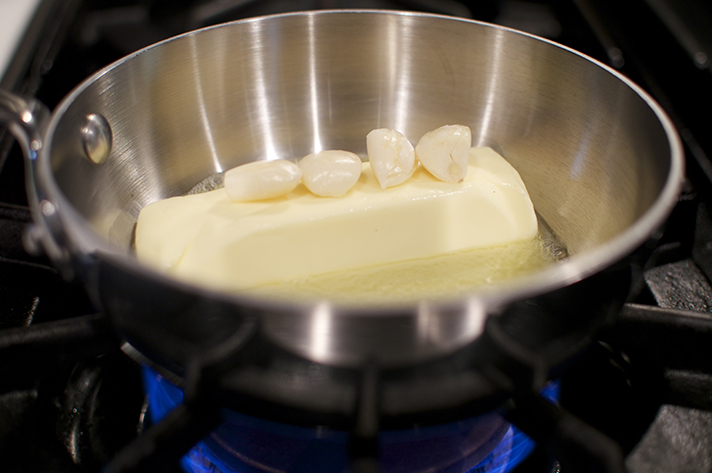 In a small saucepan, melt the butter with the garlic over low heat. Simmer over low for 5 minutes, then let cool slightly.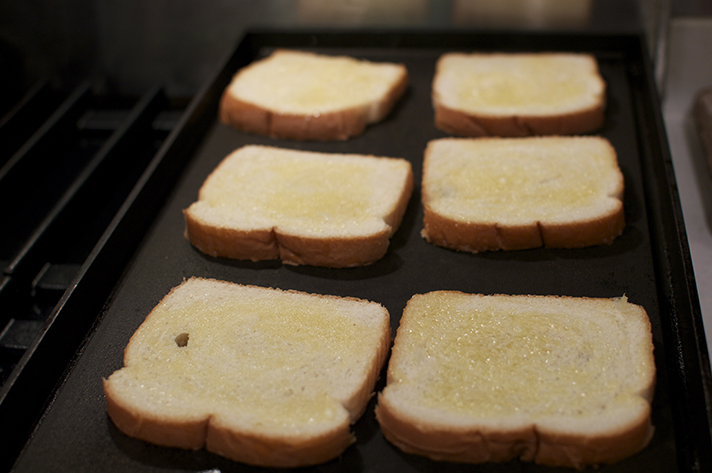 Preheat a griddle or nonstick pan over medium heat. You can remove the crusts if you feel like getting the serrated knife and cutting board out. Brush bread with garlic butter and cook for 3-5 minutes per side, til golden brown.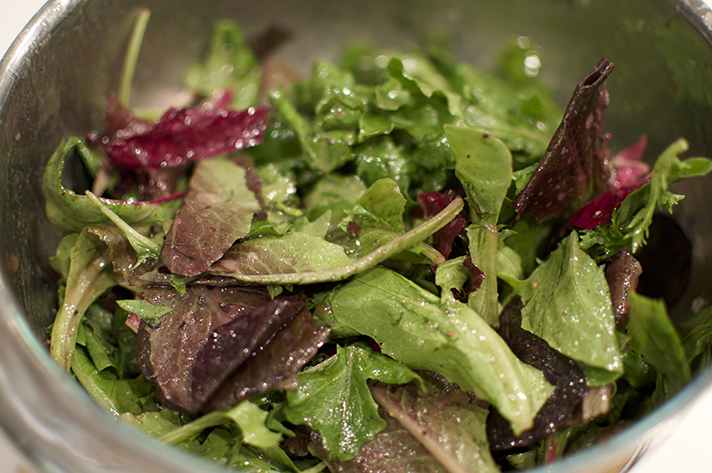 Salad with Jam Vinaigrette
5 oz mixed greens
2 T jam*
1 T Dijon
1 T vinegar*
¼ C olive oil
½ t salt
¼ t pepper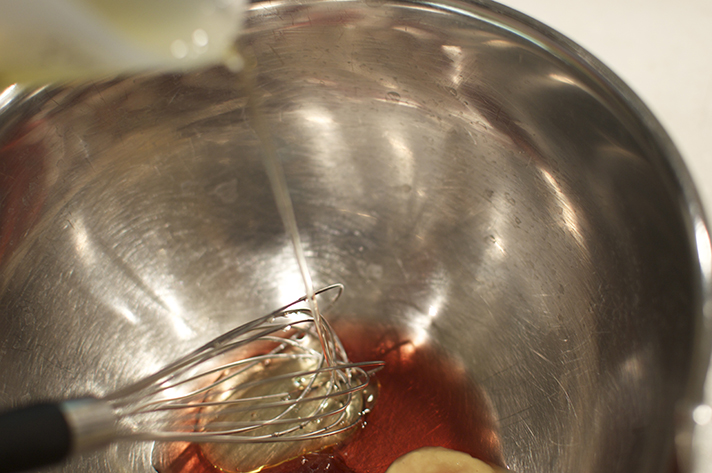 In a large bowl, whisk together jam, Dijon and vinegar. Slowly whisk in oil til incorporated. Whisk in salt and pepper and taste for seasoning. Toss mixed greens in bowl with hands to coat, or refrigerate entire bowl until ready to toss the salad.
*The jam-based vinaigrette possibilities are endless. This time I used strawberry jam with red wine vinegar. Consider experimenting with these other options:
Blackberry jam, honey, vanilla, yogurt
Apricot jam, ginger, orange juice
Raspberry jam, lemon juice, amaretto or almond extract
Hot pepper jelly, cider vinegar
Hot pepper jelly, lime juice, fish sauce, cilantro, mint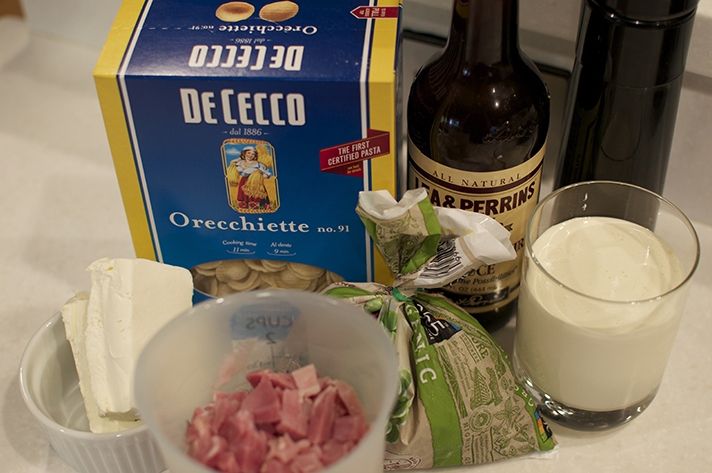 Pasta with Ham, Peas and Cream
1 Lb pasta (shapes, not noodles, are best for this)
8 oz frozen peas (half a bag)
2 C chopped ham (from a spiral ham, or deli ham)
1 T Worcestershire sauce
1 C heavy cream
4 oz cream cheese, softened
¼ t pepper
Parmesan cheese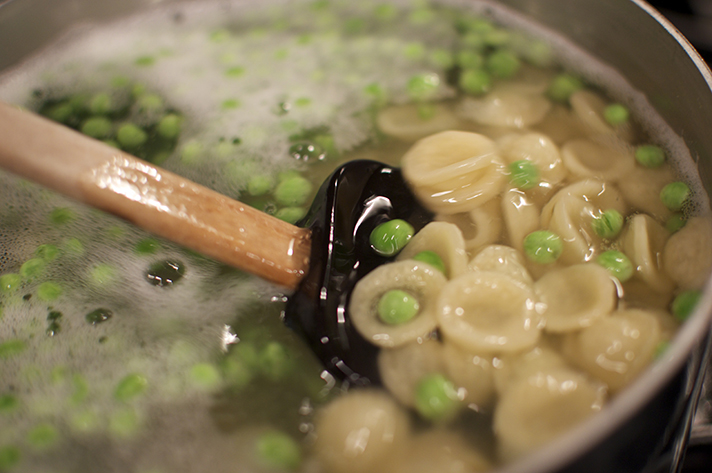 Bring a large pot of heavily salted water to a boil. Cook pasta according to package instructions, adding peas 3 minutes before the end of cooking time. Let pasta and peas sit in water 5 minutes before draining.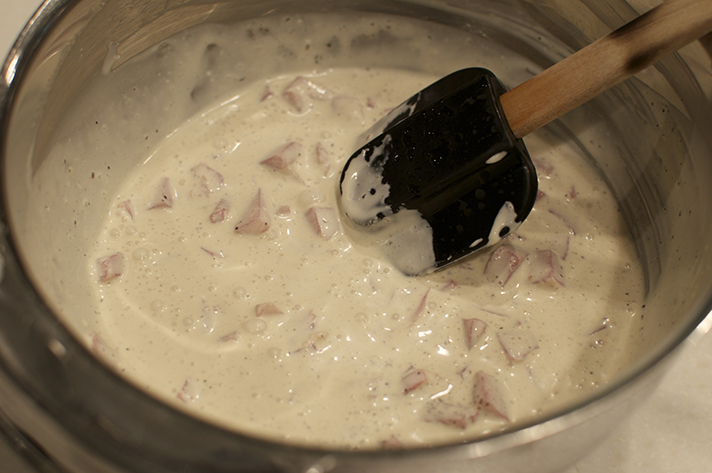 In a large bowl, whisk together Worcestershire, cream and cheese. Then stir in ham and pepper.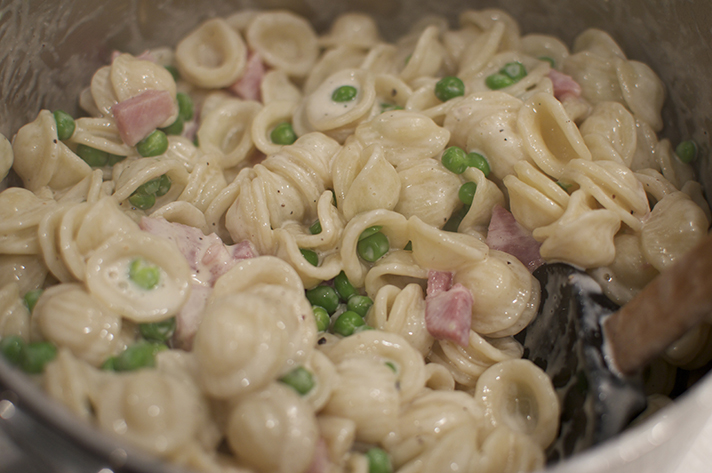 Drain pasta and peas and return to pan. Add ham and cream mixture to the pan and toss to coat. Taste for seasoning. Top with grated Parmesan.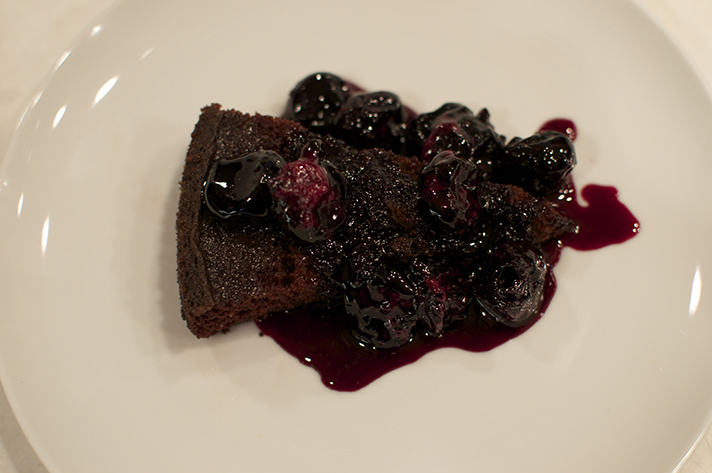 Devil's Food Cake
1 C all-purpose flour
2/3 C sugar
1 ½ T cocoa powder
½ t baking soda
½ t salt
2/3  C cold water
1/3 C vegetable oil
1 t vanilla
Preheat oven to 350 degrees. Cut an 8 ½" parchment circle and place in a 9" cake pan, then spray with baking spray.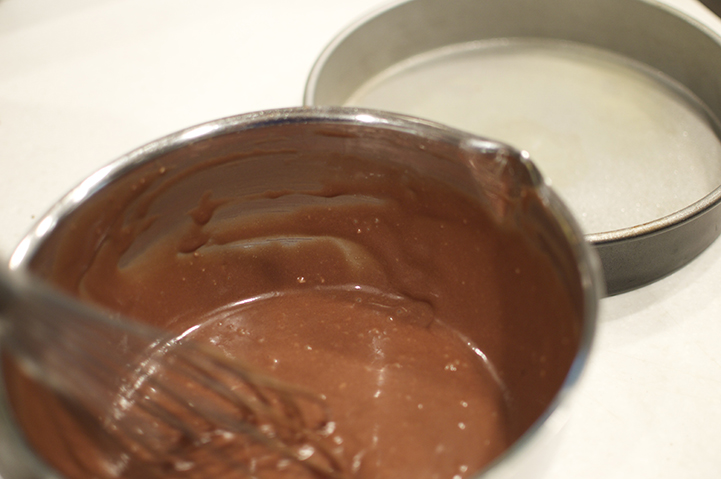 In a medium bowl, whisk together all ingredients.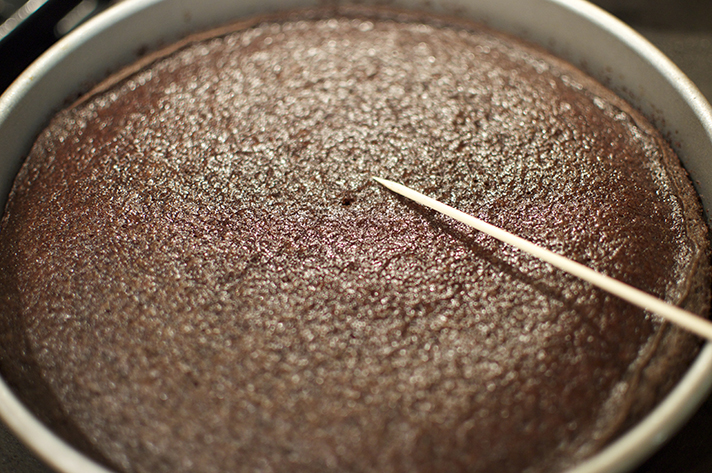 Pour into prepared pan and bake 12-16 minutes, til toothpick inserted in center comes out clean. Cool at least 30 minutes, then run a knife around the outside of the cake and invert onto a plate. Cut and serve with cherry sauce.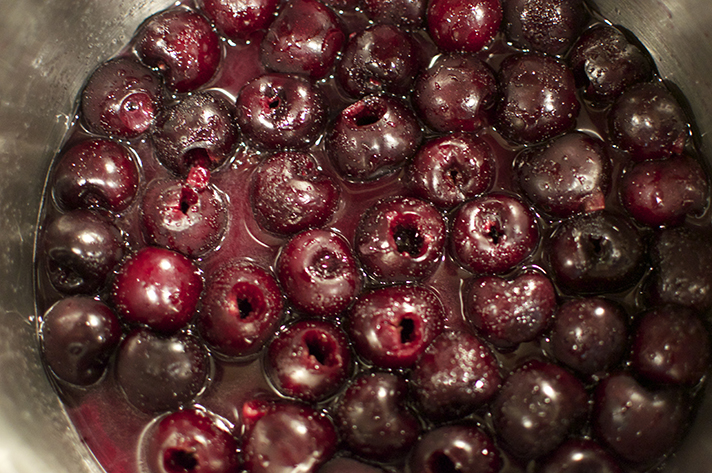 Cherry Sauce
2 bags (24 oz) frozen cherries (or 3 cups fresh; we had fresh cherries from our CSA)
2/3 C sugar
1/3 C water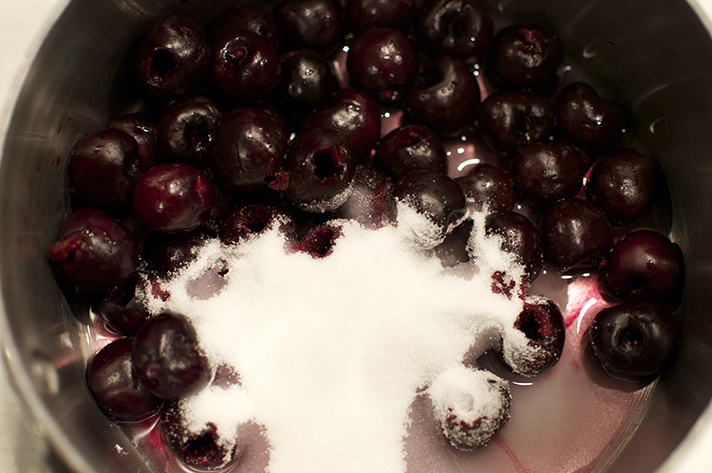 In a medium saucepan set over medium heat, bring all ingredients to a simmer, then reduce heat to medium-low. Continue to cook 30 minutes, stirring often, til fruit bursts and sauce reduces slightly.
Now, enjoy dinner, plus all the extra time you didn't spend shopping for new ingredients.