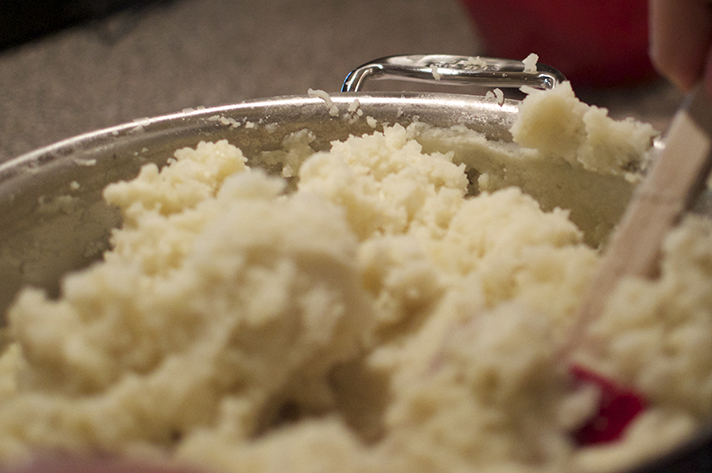 There's cauliflower in those garlic mashed potatoes. Oh, the humanity!
(Photos by Bethany Winter)
Learning to embrace all foods.
Is fennel anyone's favorite food? If so, I've never met them. When I decided to go to culinary school and learn a bunch of stuff about food that I didn't know already, I also decided I'd learn to embrace all the foods I didn't like. I'm lookin' at you tomatoes, olives and fennel.
That's right, I'm not the biggest fan of the ketchup vegetable. But I'm working on it. And I'm liking tomatoes, olives and yes, even fennel more these days. It's all about combining the hated food with foods that flatter them, but those foods also need to be ones you like very, very much.
So today I'm tackling cauliflower for haters. A lot of people hate cauliflower. It's okay though, because it's a little on the plain side, meaning if you're okay with the texture, you can easily tackle the flavor issue.
You could make:
Potato and cauliflower gratin
Cauliflower slaw with apples
Curried roasted cauliflower
Cauliflower steaks with cheese sauce
Cauliflower as pasta (add alfredo or puttanesca sauce to boiled florets)
Roasted cauliflower with barbeque dipping sauce
But we're going to make creamy garlic mashed potatoes with cauliflower. Let's do it.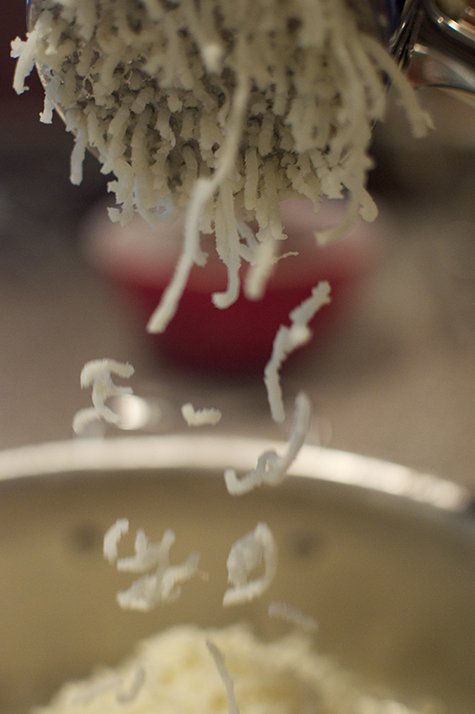 Potato Cauliflower Mash with Cheesy Garlic Cream
4 Lb Russet potatoes, peeled, cut into 2" chunks
2 Lb cauliflower florets
1 head garlic, cloves peeled
1 ½ C cream
3 T salt, divided
8 oz cheddar cheese, grated or diced small
salt, tt
pepper, tt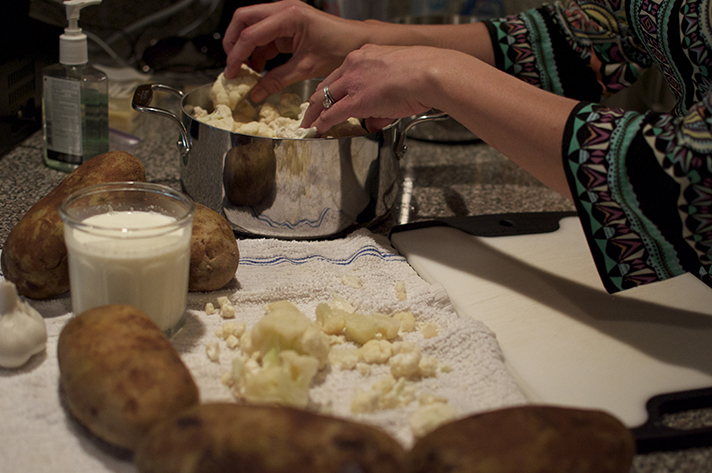 Fill a large pan with cold water and add cauliflower and half the salt. Bring to a boil, then reduce to a simmer and cook 20-30 minutes, til a skewer inserted in cauliflower comes out clean.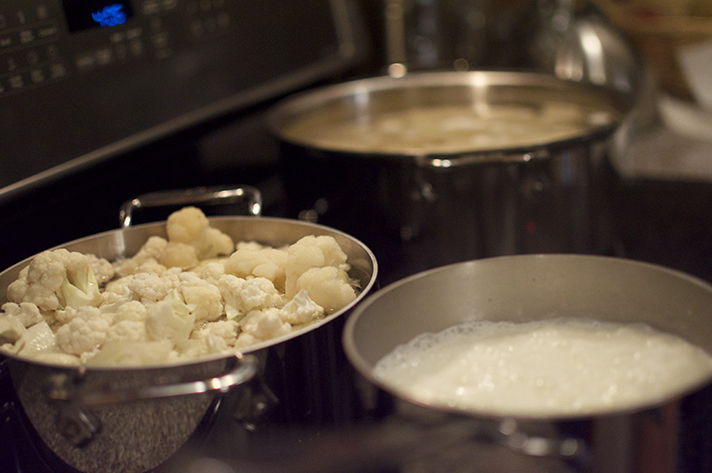 Fill a large pan with cold water and add potatoes and remaining salt Bring to a boil, then reduce to a simmer and cook 20-30 minutes, til a skewer inserted in potatoes comes out clean. Déjà vu, anyone?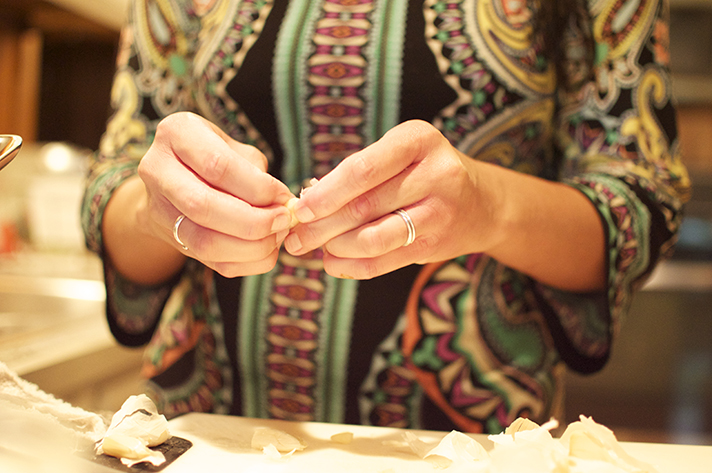 In a small saucepan, combine garlic and cream and bring to a boil. Reduce to a simmer and continue to cook 20 minutes. Set aside.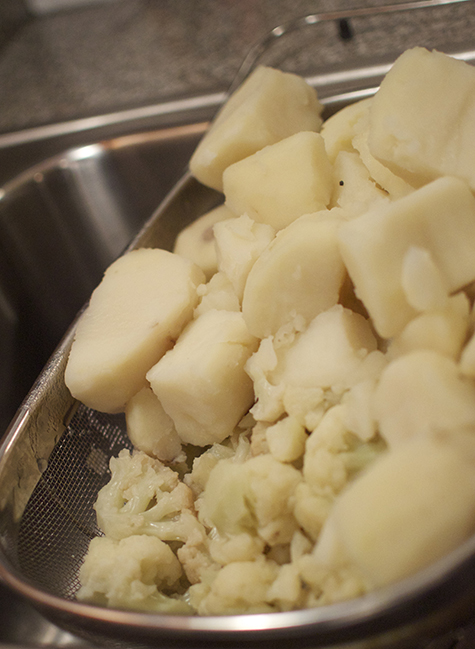 Drain potatoes and cauliflower, setting aside largest pot. If necessary, for the sake of timing, you can leave the cauliflower and potatoes in their hot water with the heat turned off, for up to 20 minutes before ricing. This gives you a little flexibility.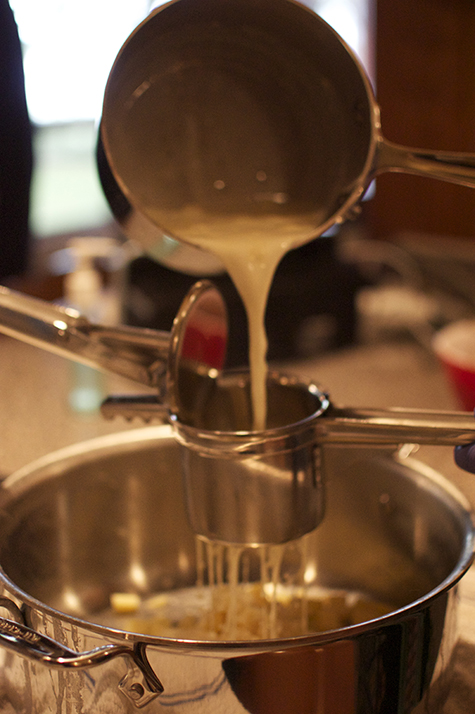 Add cheese to the pot. Rice garlic and cream back into the pot and stir to melt cheese, then rice potatoes and cauliflower over the top. Stir to combine. Taste for seasoning. You will almost certainly want to add salt, and I almost always add pepper.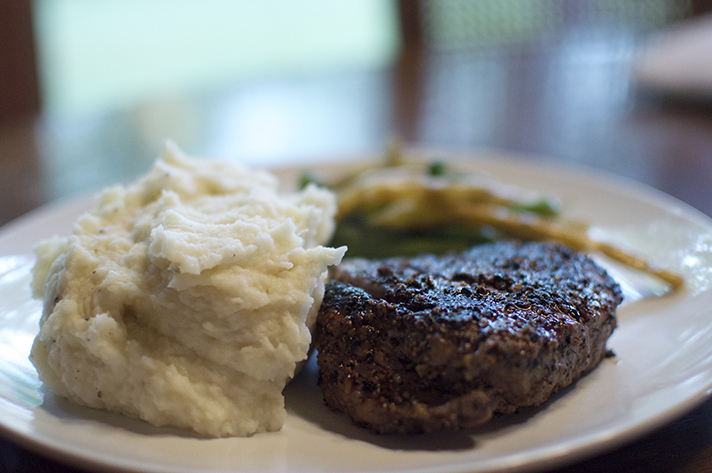 We ate these beauties alongside some pan-seared beef tenderloin steaks and blanched green and wax beans tossed in a balsamic vinaigrette, but they're a great basic mash that should pair well to tons of dinner options. So embrace, eat, enjoy.