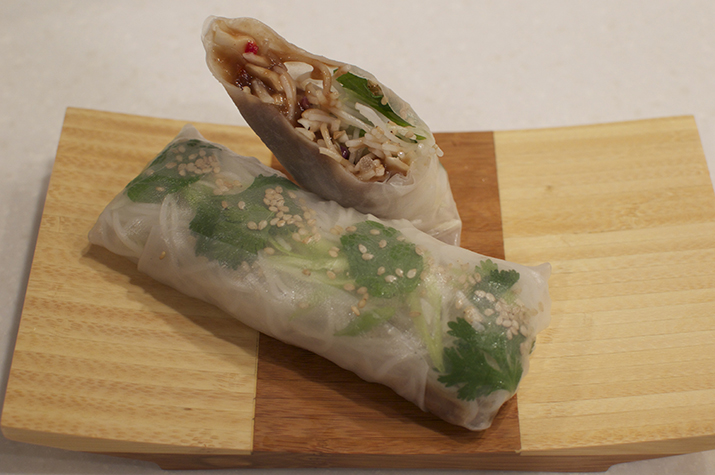 Think outside the lunchbox.
Back to school. For parents, it's the hair-down, feet-up, glass-in-hand sigh at the end of the long, hot day that is summer. But it's also a return to hustle bustle down-to-business fury in the mornings, in an attempt to get everyone not just out the door — but fed, dressed and ready for the day.
All too often this means lunch falls by the wayside, becoming an afterthought. It's a hot slice with no veggies in the caf for the kids, and a frantic call to Jimmy John's for the parents.
This year, try to think ahead just a bit, using a few precious weekend moments to set the stage for successful lunch-packing once the weekday rush starts back up. It doesn't have to be hard to be enjoyable. Some of my favorite lunches don't involve sandwich bread or cutting boards at all, but they're still kind of sexy. So who says your lunchbox can't be chic?
How about organizing the grocery list, fridge and pantry so that you always have fun, flavorful DIY lunches that only require you to throw them in the lunchbox in the morning? Sound promising? Great! So try filling the brown bag with one of the following:
Antipasto Platter salami, deli ham, prosciutto or Serrano; marinated bocconcini; olive mix; roasted peppers; marinated artichokes; cherry tomatoes; cubes or slices of provolone or other Italian cheeses; bread or crackers
Cheese Plate hard cheese such as Parm or Asiago; blue cheese; soft cheese such as goat or brie; assorted mustards; dried fruit; honey; jam; nuts; bread or crackers
Dip and Dippers crudités such as carrots, celery, cherry tomatoes, cucumber slices, radishes, bell peppers, snap peas; simple dip such as hummus, ranch, blue cheese or green goddess; pita chips.
But to really kick off the school year with a rockstar lunch, how about you get the kids in on the action in the kitchen, put them to work, form an assembly line and they can help you make:
Thai PB&J Spring Rolls
½ C peanut butter
½ C hot pepper jelly
2 T soy sauce
1 T fish sauce
1 T lime juice
14 eight-inch rice paper sheets
cooking spray
2 T toasted sesame seeds
28 fresh mint leaves (about ¼ C)
28 fresh cilantro leaves (about ¼ C)
2 T minced scallions (on the bias)
¼ Lb dry rice stick vermicelli, re-hydrated in hot water, drained, tossed lightly in oil
1 C shredded Napa cabbage (or other cabbage or slaw mix)
½ C bean sprouts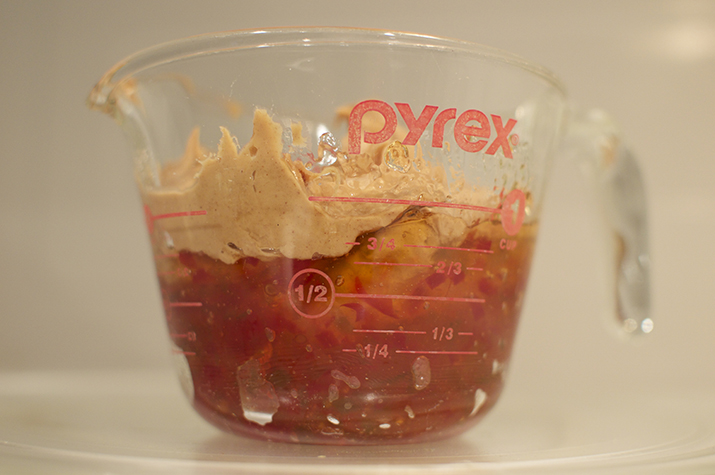 Place peanut butter and pepper jelly in a microwaveable glass measuring cup and heat 30 seconds. Stir to combine. Transfer to a medium mixing bowl.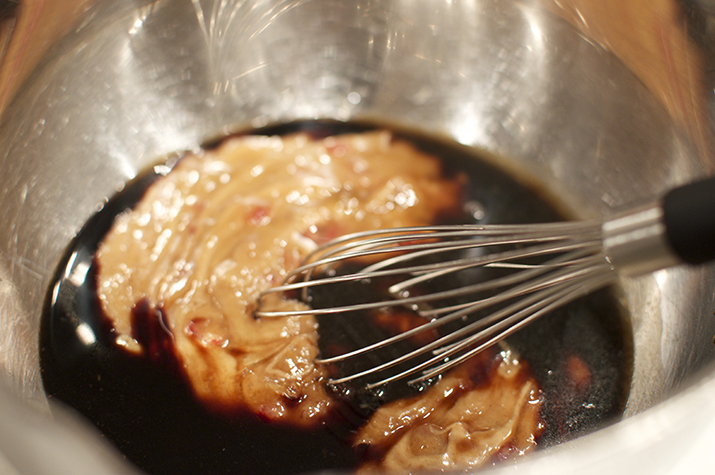 Whisk in soy sauce, fish sauce and lime juice.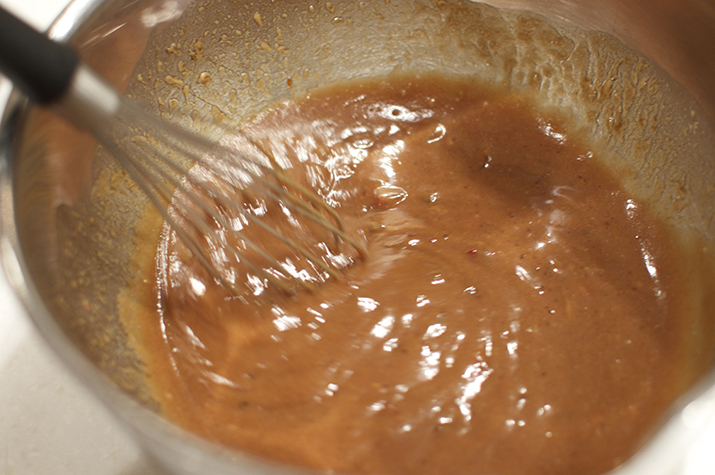 Set aside.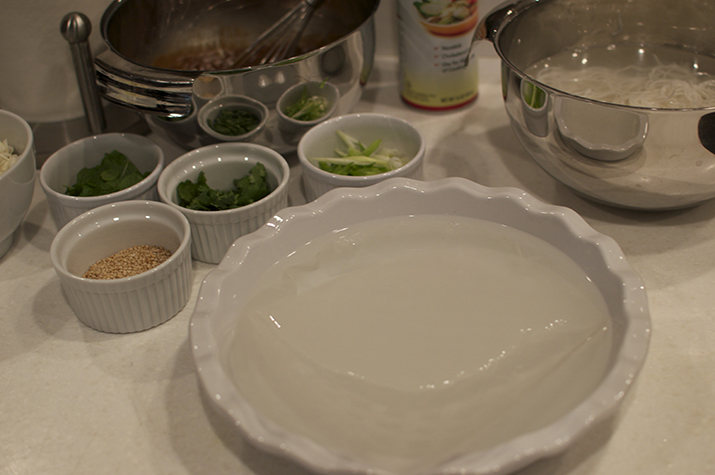 Fill a large pie pan or sauté pan with hot water, and let sit until cool enough to touch.  Soak rice paper sheets 2 or 3 at a time in water until soft.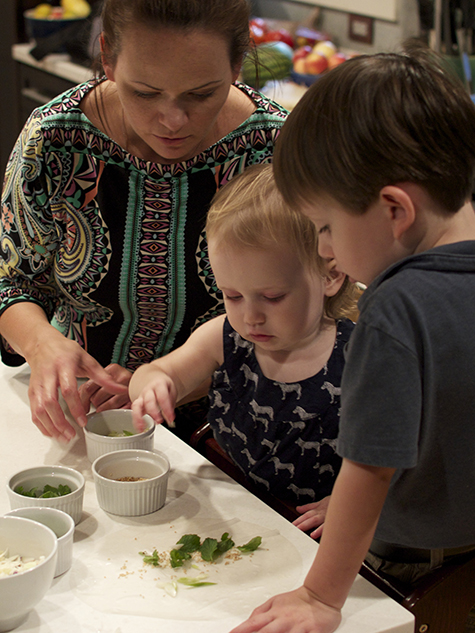 Spray work surface with cooking spray. Place one softened sheet on the work surface. Sprinkle center of rice paper with sesame seeds, then herbs and scallions.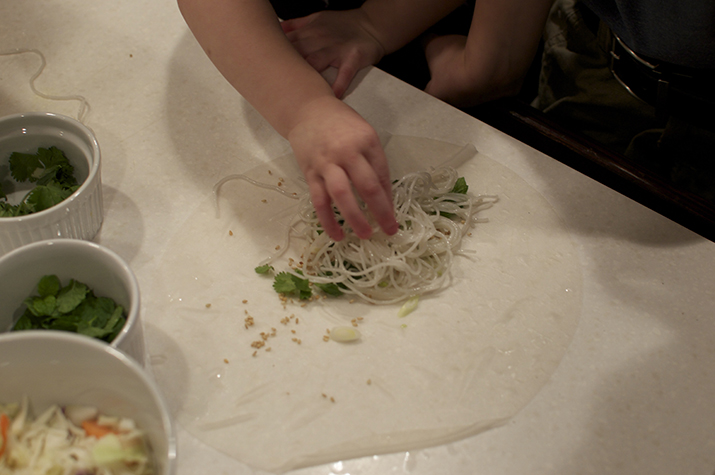 Add vermicelli,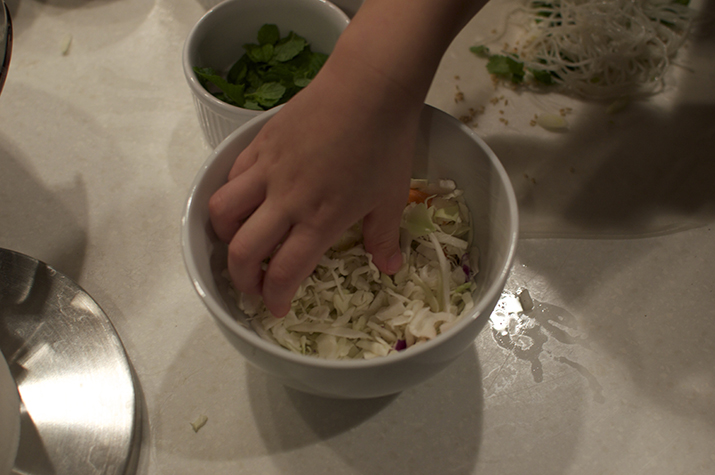 then cabbage and sprouts. Resist the urge to supersize your spring roll by overfilling it. It will tear the wrapper and you have to eat that one over the sink instead of throwing it in the lunchbox. While I'm lecturing, you also should just throw away wrappers that tear after soaking. There's no way to rescue them. It's a waste of your time and your filling ingredients. I always buy two packages of wrappers just in case.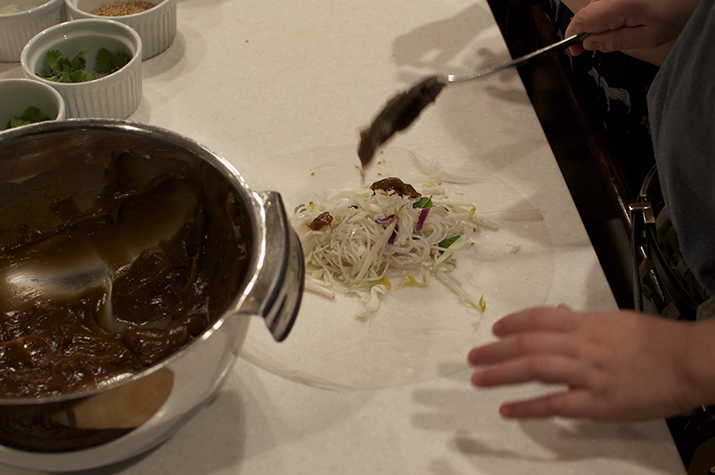 Place a tablespoon or two of the peanut butter and jelly sauce on top of the sprouts.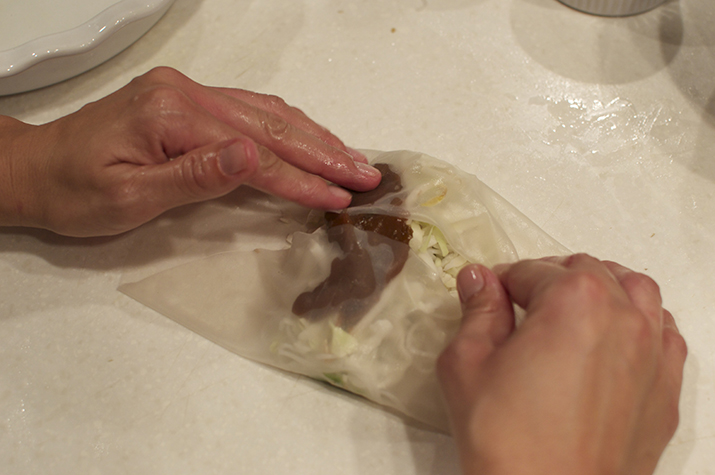 Roll up like a burrito, from top to bottom, folding over the sides of the wrapper,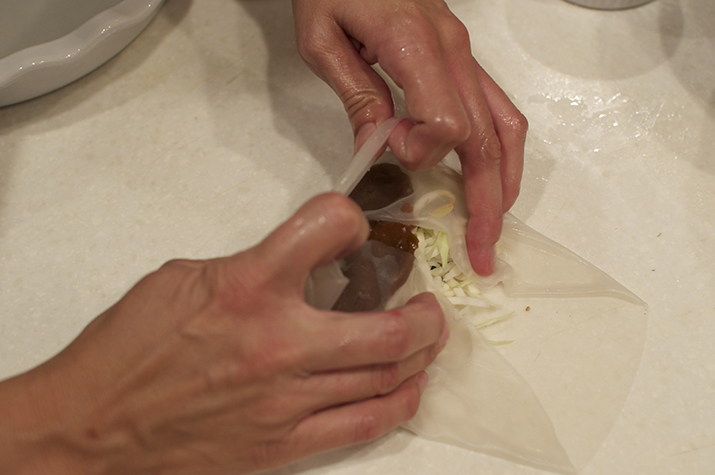 tucking filling in,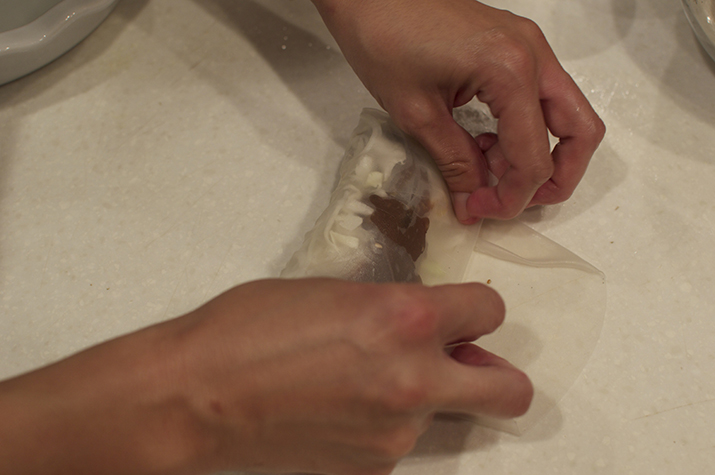 then rolling all the way up until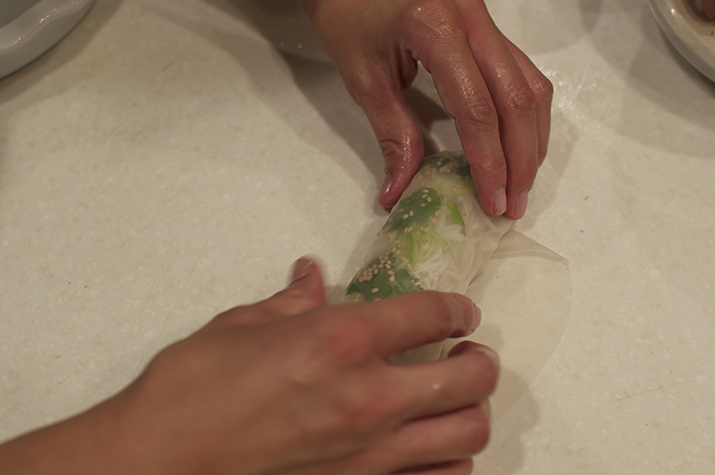 the edges are tucked under.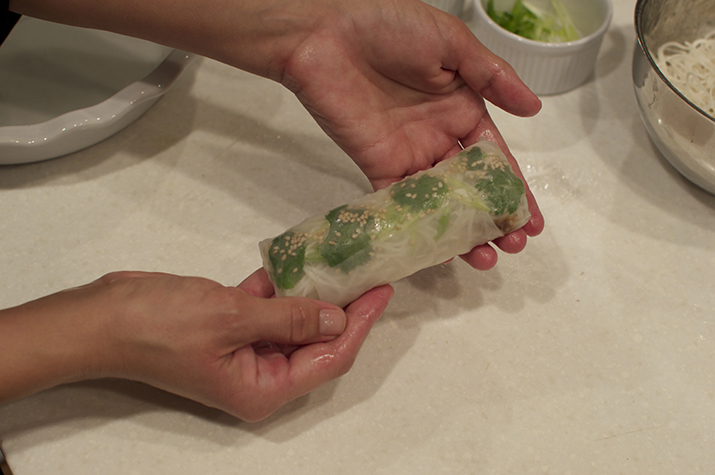 Ta-da!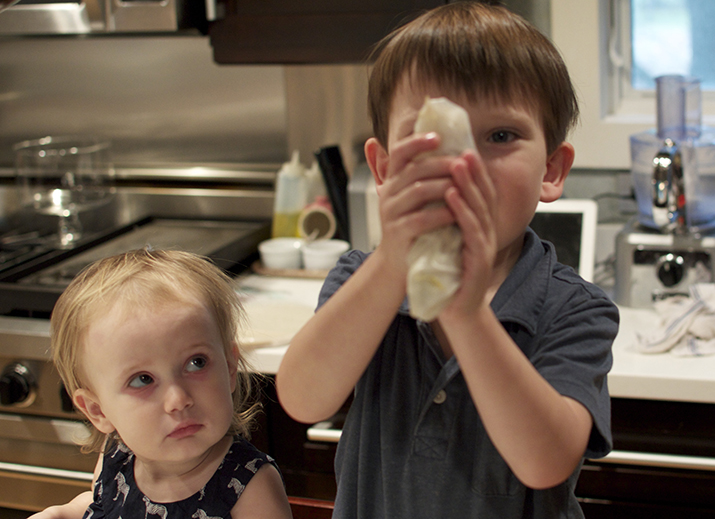 Be proud (or skeptical, if you're Marley).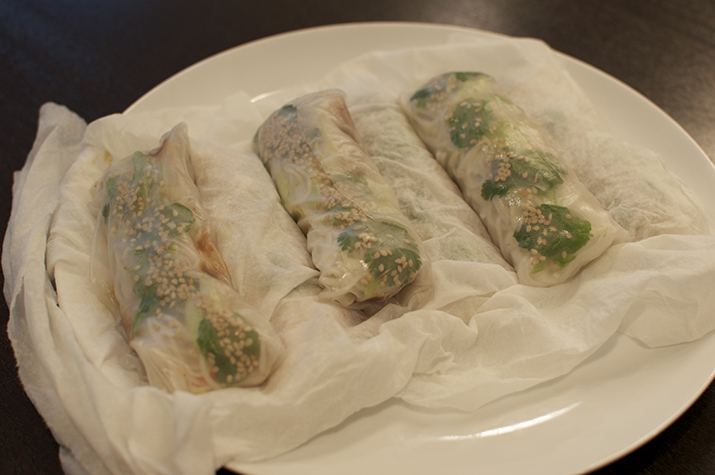 To store, place a wet paper towel between individual rolls to prevent sticking. They're fine the next day. Just wrap the plate in plastic wrap and refrigerate.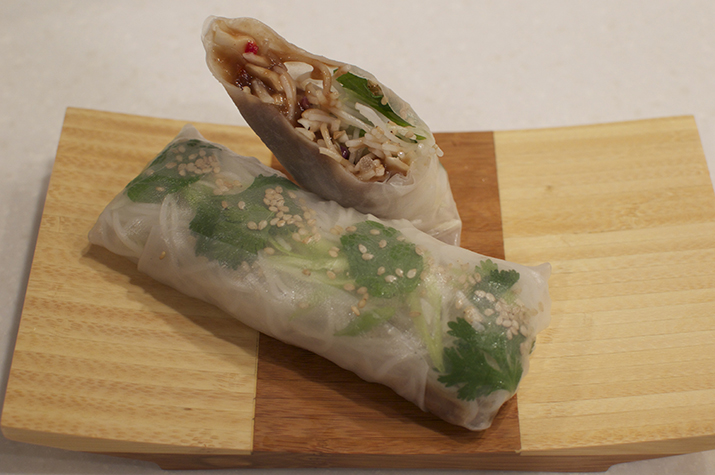 That's not yo' mama's PB&J! And that's ok. Enjoy.