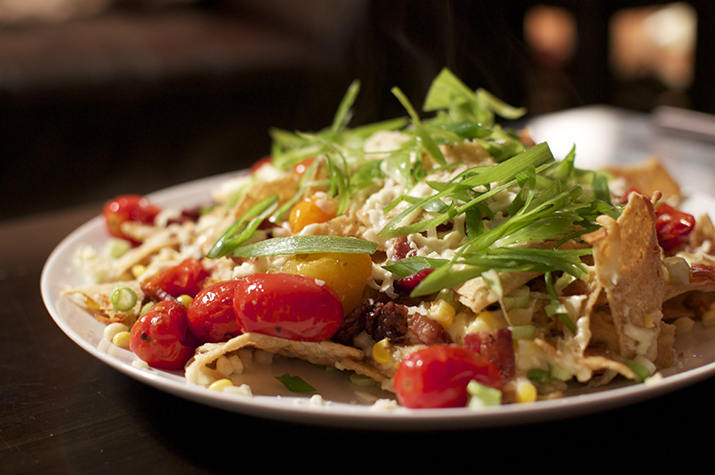 My husband doesn't ask for much.
He could ask me to cook, literally, anything for him, and I would try to make it happen. But what does he ask for? Nachos.
It's maybe a little embarrassing, but often, after the kids are asleep and we're halfway through a movie or a game of Scrabble, we both get munchy for that dreaded, only-eaten-by-Americans 4th meal. Thankfully, I have tons of relatively healthful, veggie-laden options for us to pile on top of the oft-requested nachos. Try to think of nachos as a crunchy tortilla base that can house your leftovers, green guys included.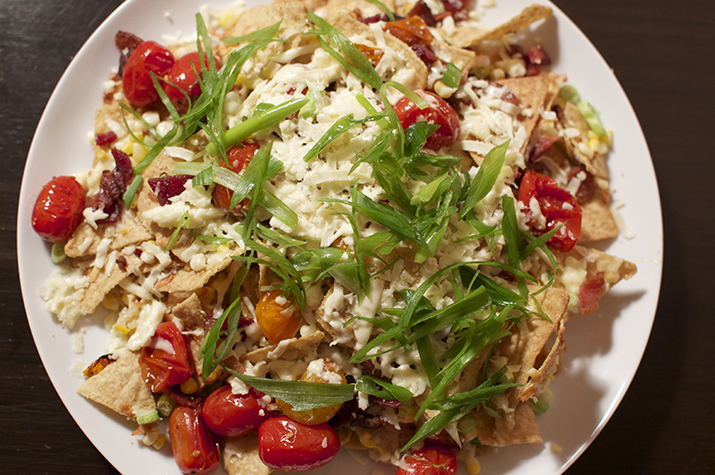 For this nacho feast, leftovers I chose were:
roasted grape tomatoes
grilled corn on the cob, cut off the cob
chopped cooked bacon
shredded monterey jack
scallions, sliced on the bias
Preheat oven to 400 degrees. Line a sheet pan with parchment paper and spread out tortilla chips in a single layer. Top with a layer of two veggies, one protein and one cheese (or, y'know, whatever you want — we're cleaning out the fridge here, right?). Bake 8-12 minutes, until meat and veggies are heated through and cheese is melted. Top with your garnish, if any (in this case, scallions) and serve.
You can use whatever veggie/meat/cheese combo you'd like. Past alterna-nacho combos have included:
duck confit/spinach/gruyere/scallion
chicken/caramelized red onion/blue cheese
blackeyed peas/collard greens/ham/white cheddar
prosciutto/arugula/parmesan
Let your imagination run wild. So if you just must have that 4th meal, make it worth the calories you're spending – throw in some delicious leftovers, and feel good about your snack.