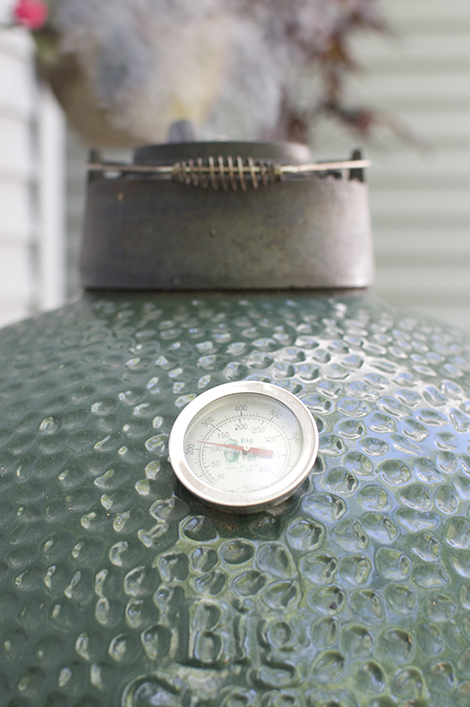 You should start smoking.
Grilling's great, but if you want to cook outside for real, try smoking. I have a large Big Green Egg, but you can use any grill for smoking. Since I'm using the perfect, wonderful BGE, you'll see how my process works using it.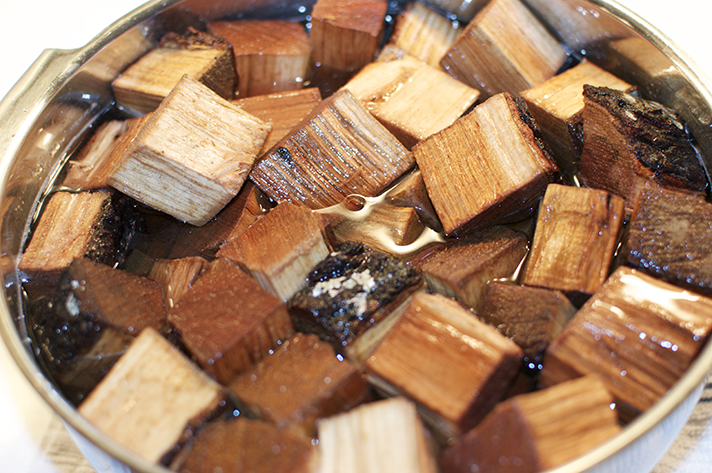 Soak 4 cups of cherry Hardwood Chunks. I like apple and cherry for duck and chicken, pecan and maple for pork, alder for fish, and oak for beef. But those aren't hard and fast rules. I play around with them as well. For my purposes (I'm not cooking a whole hog so I don't need logs) I prefer chunks. I soak them in water for about 4 hours before adding to a fire. Perhaps obviously, they should be drained well before placing on top of the fire.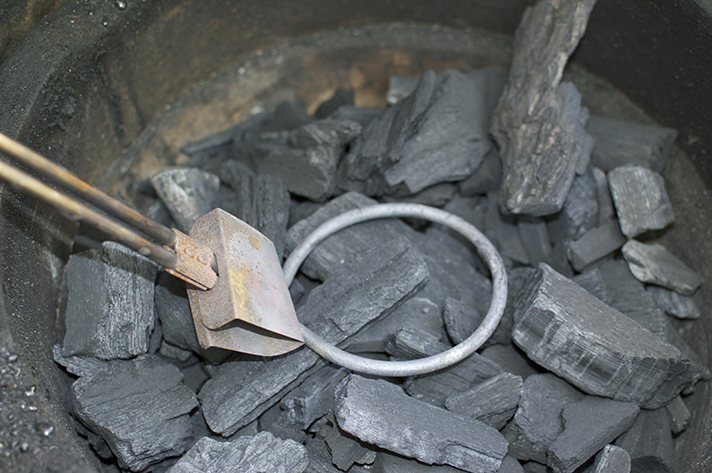 Fill grill with Hardwood Charcoal. I always use hardwood charcoal for grilling and smoking. I never use any lighter fluid or treated briquettes. Add and plug in the Electric Starter.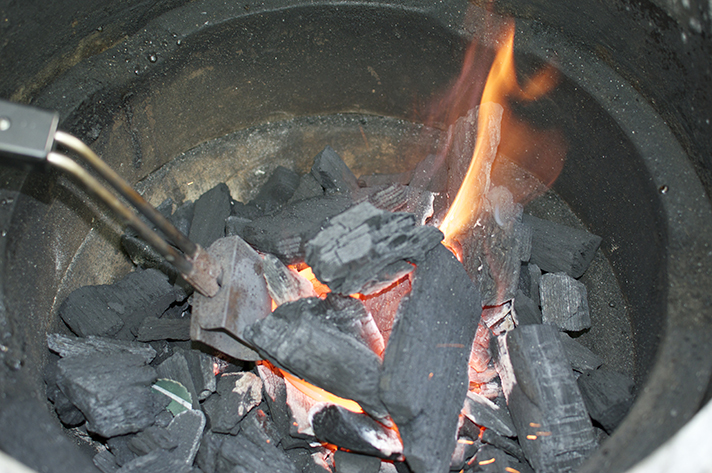 By slightly burying an electric starter and plugging it in, you can have a nice flame in 7-12 minutes (depending on the amount of charcoal you're using as well as the ambient temperature — I'm in Minnesota, so for spring and fall grilling it can take a bit longer).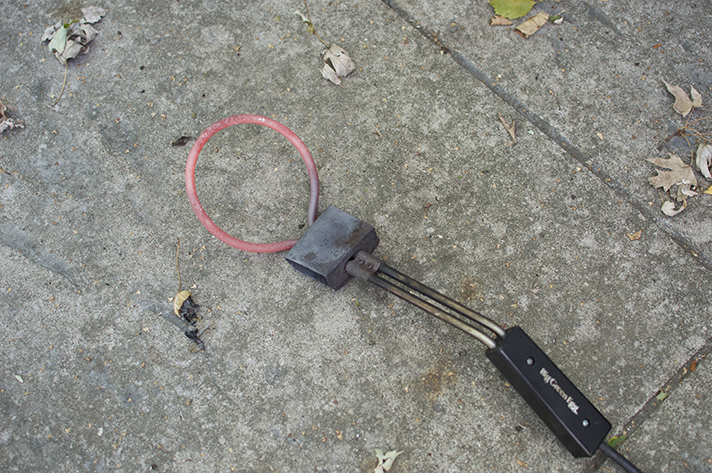 After the flame is sufficient, I unplug the starter and set it on the fireproof concrete patio (away from plants, animals, children and adults who act like children) until it's cool enough to store.
While we've got a nice fire, might as well grill something before we bring out the smoking supplies. Let's make: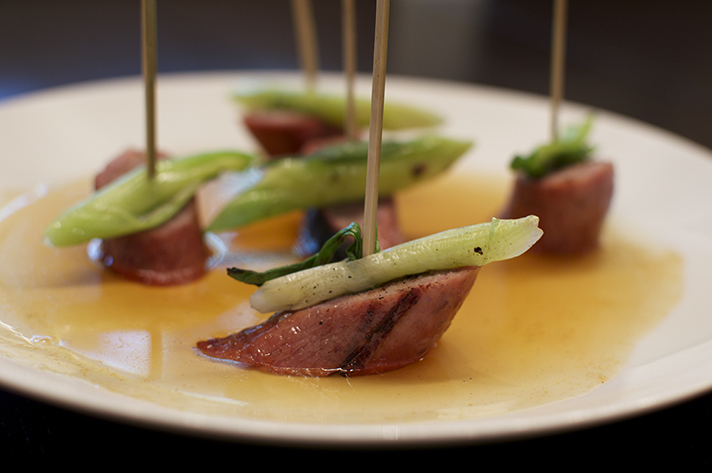 Bacon Brats with Scallions and Honey-Bourbon Glaze
1 Lb

Bacon Brats

(or other high-quality bratwurst)
1 bunch large scallions, cleaned and roots removed
Canola or Peanut Oil
Cocktail toothpicks
1 C honey
1 C Bourbon
Fit with grill grate and close lid, both dampers fully open and allow to heat for 5 minutes. Burp (open lid slightly before opening all the way), open and clean rack with a grill brush, then close lid again. Wait 5 minutes. Soak an old kitchen towel in canola or peanut oil and wipe grates with the towel to remove any remaining ash from previous grilling. Close lid and adjust dampers to maintain a temperature between 425 and 475 degrees.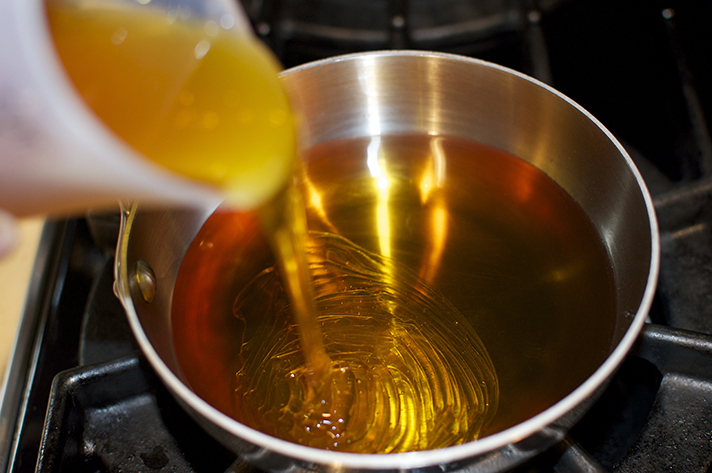 Combine honey and Bourbon in a small saucepan and bring to a boil. Reduce heat to a simmer, and allow to simmer until reduced by half. Remove from heat and cover to keep warm while preparing the scallions and brats.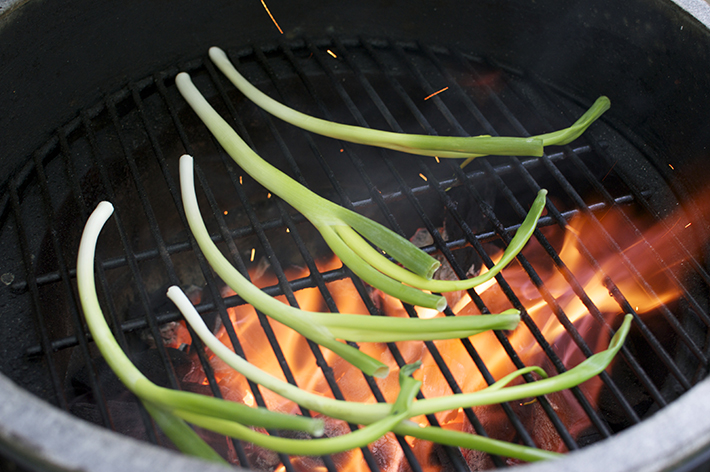 Toss scallions in a bit of oil then place away from center of grate, perpendicular to the grates. Leaving lid open, turn once, grilling only long enough to create char marks on the scallions without completely wilting the greens.  Set aside to cool slightly and close the lid of the Egg to let the heat recover.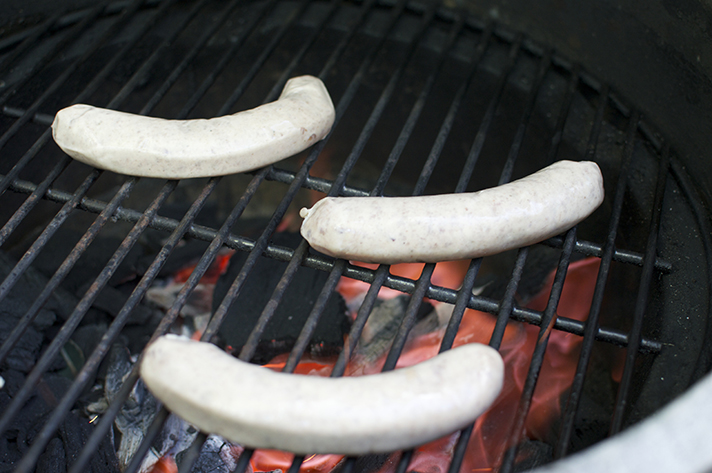 Once temperature returns to at least 425 degrees, grill brats, turning once and keeping lid closed, until nicely browned all over and cooked completely, about 8 to 10 minutes.
Cut scallions on the bias into 2" pieces. Cut brats into 1 ½" pieces on the bias. Pour honey bourbon glaze onto a serving platter (reheat slightly if necessary). Skewer a scallion on a cocktail pick, then a piece of brat, then stand upright on the platter in the glaze and serve.
Now that we've had lunch, let's get smoking.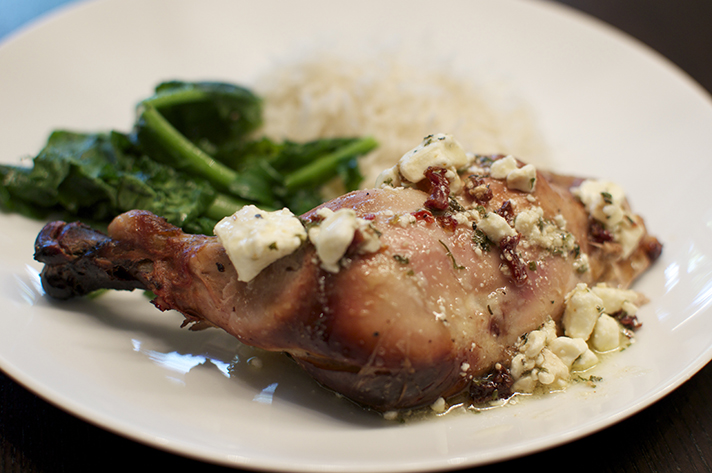 Smoked Chicken, served slathered with marinated feta with Oven-Roasted Greens and Rice
Smoked Whole Chicken
2 whole chickens
Olive oil
3 T smoked paprika
3 T kosher salt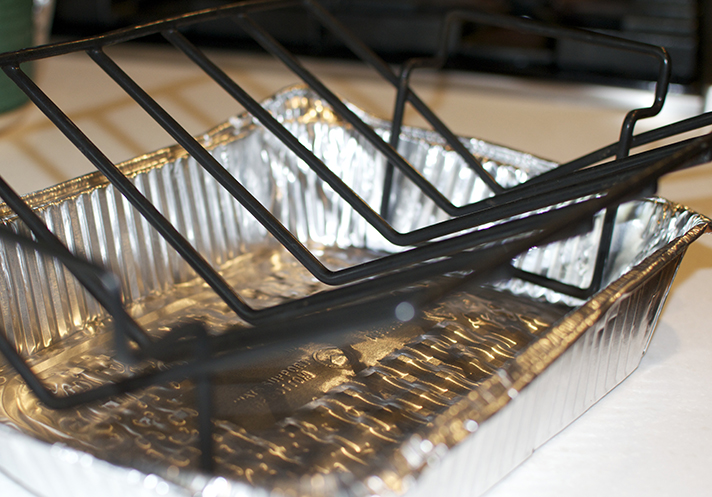 V-Racks and Disposable Aluminum Roasting Pans For smoking, it's nice to have V-shaped racks to prop up the meat for proper air (and smoke) circulation. Disposable aluminum roasting pans are flexible to accommodate racks of different sizes and shapes, and they serve as easy drip pans. Spray the rack with non-stick spray and set aside.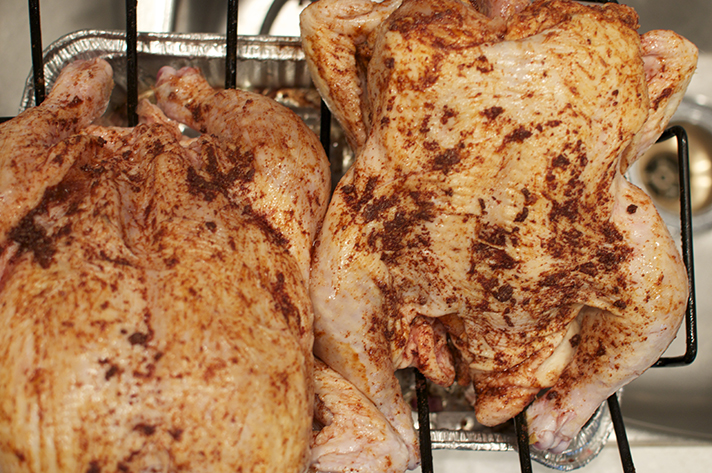 Coat chickens with olive oil, then rub the paprika and salt all over them, under the skin and on the underside as well.  Position chickens on the V-rack with the back side down.  Cover with plastic wrap and set aside at room temperature while you prepare the Egg.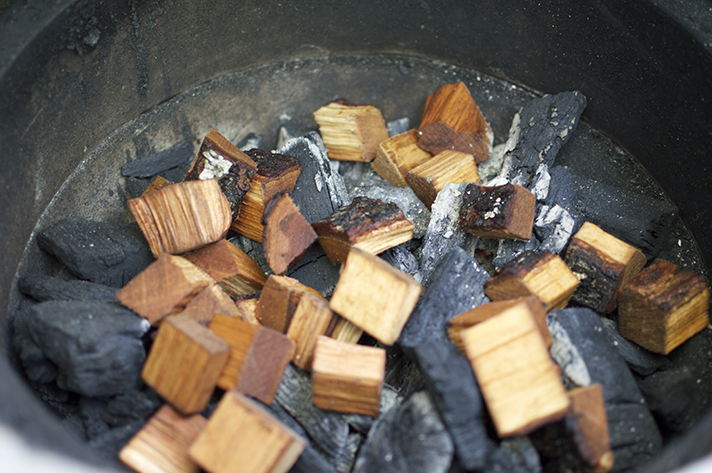 Adjust dampers to maintain a temperature between 225 and 275 degrees. Drain wood chunks and add in an even layer to the charcoal. If using a BGE,* fit plate setter with legs up in the Egg.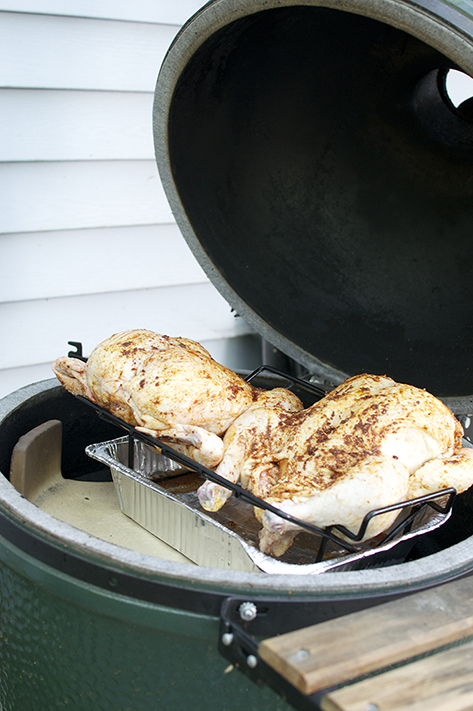 Place roasting pan with chickens on top of plate setter, close lid, and ensure that dampers are adjusted appropriately to maintain temperature.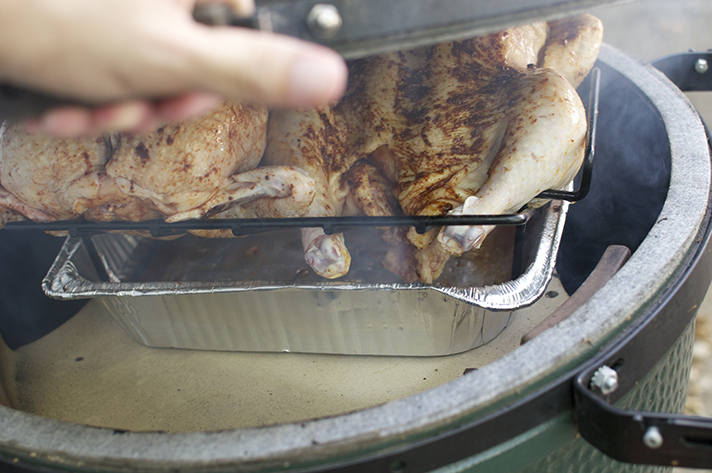 Smoke chickens for two hours, then use an instant-read thermometer to test for internal temperature. They need to be cooked to 165 degrees, and juices should run clear.  No matter the size of the bird, two hours of smoke is usually sufficient, so if the birds need more cooking time, cover them with foil and finish them in a 350-degree oven.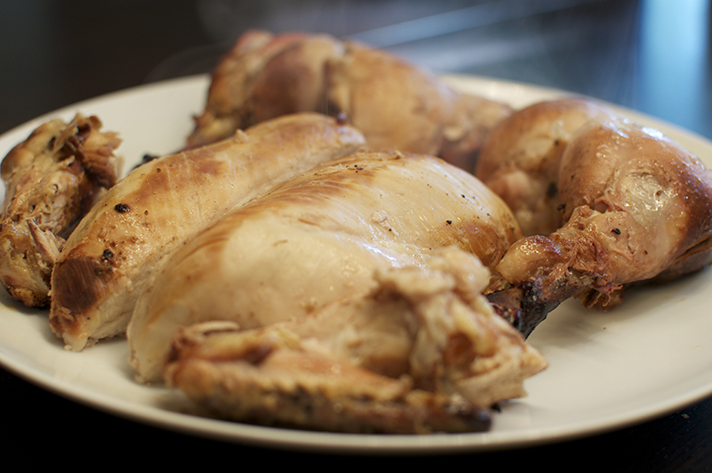 To serve, remove skin if desired,** cut into eight pieces and serve with a sauce if you'd like. Delish!

*If not using a Big Green Egg, place aluminum pan directly on the grate.
**Sometimes the skin absorbs so much smoke without getting crispy that it's better to remove it. This is of course a personal choice, but I do recommend leaving it on for the smoking process to add flavor and protect the meat from absorbing too much smoke.