Bourbon- and Molasses-Braised Spare Ribs
There's nothing like a good braise to get you in the mood for fall.
If braising sounds intimidating, think again. You've probably done some braising even if you didn't know you were doing it. (Anyone heard of a slow cooker?)
Braising is a cooking method that combines dry and moist heat. (Dry heat methods include roasting, grilling, and frying; moist heat methods include boiling, steaming and poaching.) The food is seared, then slowly cooked, covered, semi-submerged in a liquid.
Braising works best for tougher cuts (think bone-in cuts of chicken or big hunks of pork shoulder or lamb leg). Browning first helps develop flavor, while cooking slow and low gives chewy connective tissue a chance to break down.
I like braising in my slow cooker to free up oven space for other things. Luckily I have: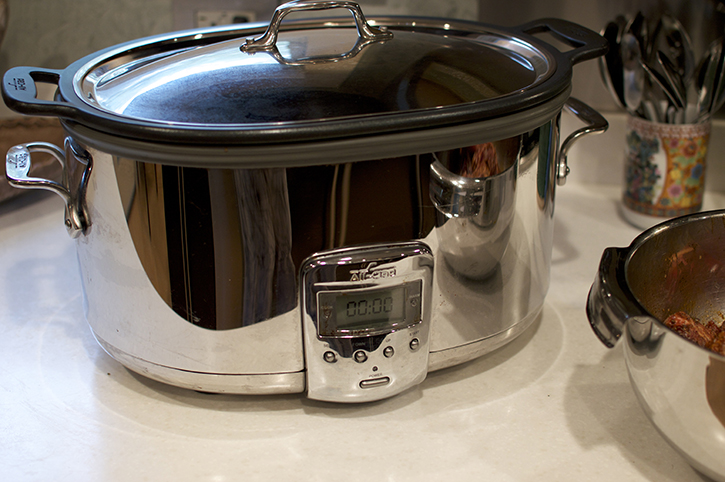 A beautiful All-Clad 7-quart slow cooker with a flameproof insert
So I sear my meat in the insert, then transfer the insert back into the cooker. If you don't have this wonderful technology at your fingertips, you have two options. You can do your searing in a sauté pan and transfer the contents to your slow cooker. Or you can cook it old-school by doing a traditional braise — sear the meat in a large Dutch oven, then transfer that pot to the oven.
Choose your pot — let's braise!
Bourbon- and Molasses-Braised Spare Ribs
3-4 # Center cut pork spare ribs
Spice Rub
1 T salt
1 t ground cumin
1 t ground coriander
1 t chili powder
1 t smoked paprika
1 t dried thyme
1 t ground black pepper
½ t ground allspice
½ t ground ginger
2 T oil
Braise Ingredients
1 T butter
4 small onions, sliced
1 C bourbon
28 oz canned diced tomatoes
1 C apple cider vinegar
½ C molasses
½ C honey
2 T Worcestershire sauce
2 T soy sauce
2 T brewed coffee
2 T Dijon
1 T chile garlic sauce
If braising in the oven instead of using a slow cooker, preheat oven to 325 degrees.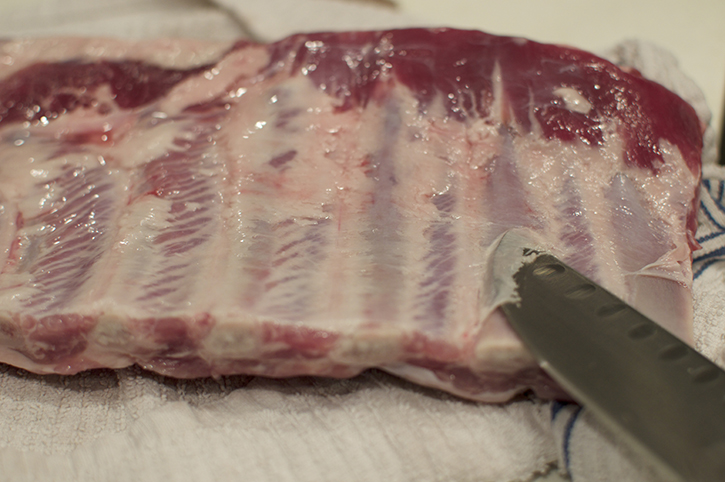 Remove membrane from pork and cut into individual ribs, leaving the smallest two end ribs together. It's important to remove the membrane because it's made of elastin, the kind of connective tissue that doesn't break down during the braising process. Collagen, the other type of connective tissue, is water soluble and turns gelatinous when exposed to moist heat over a prolonged period. Okay, I made it sound a little gross. Just trust me, take the membrane off, or have a butcher do it for you.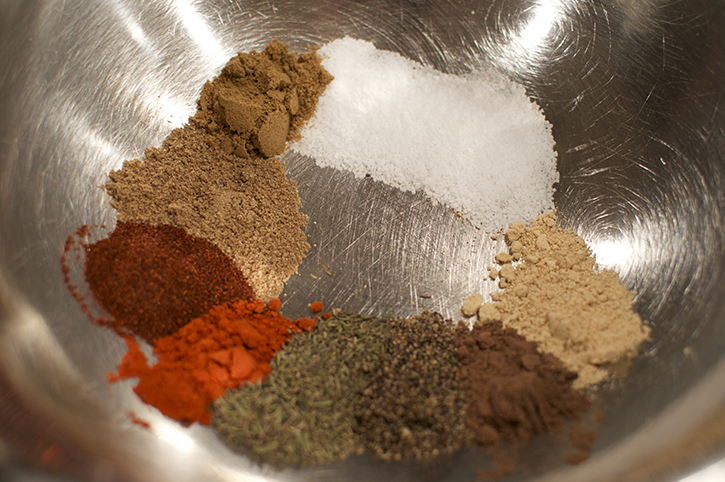 Mix together all spices for the rub in a large bowl, then whisk in oil.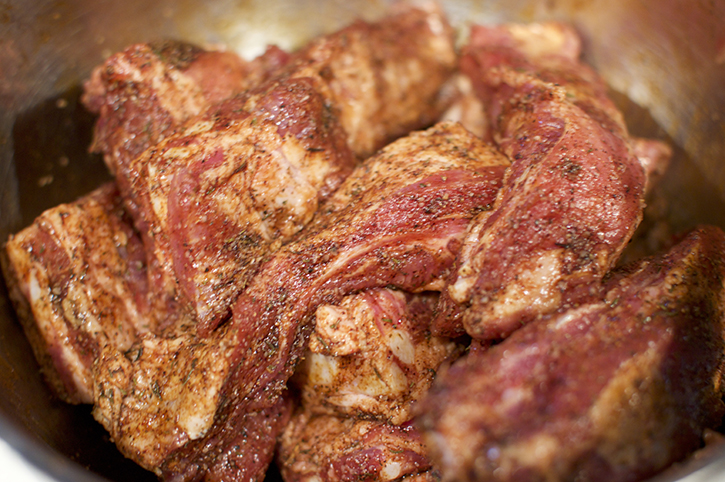 Add ribs to bowl and toss, then rub in to evenly coat ribs.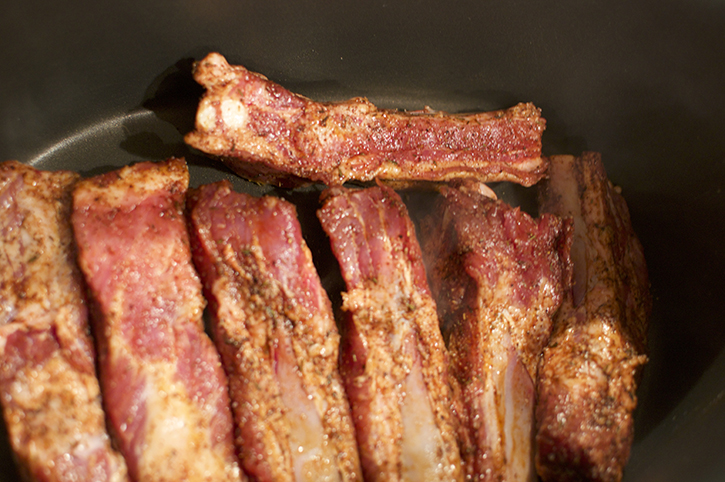 Heat flameproof slow cooker insert, large sauté pan or Dutch oven over high heat until very hot, then add ribs, in two batches if necessary and brown on all sides.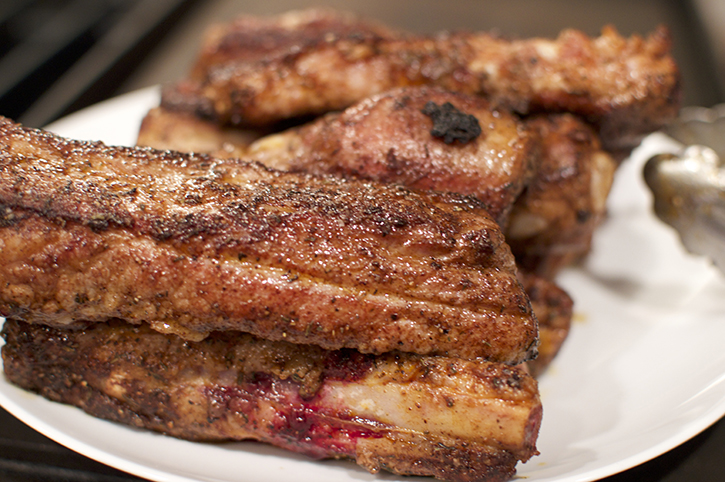 Transfer ribs to a plate and set aside.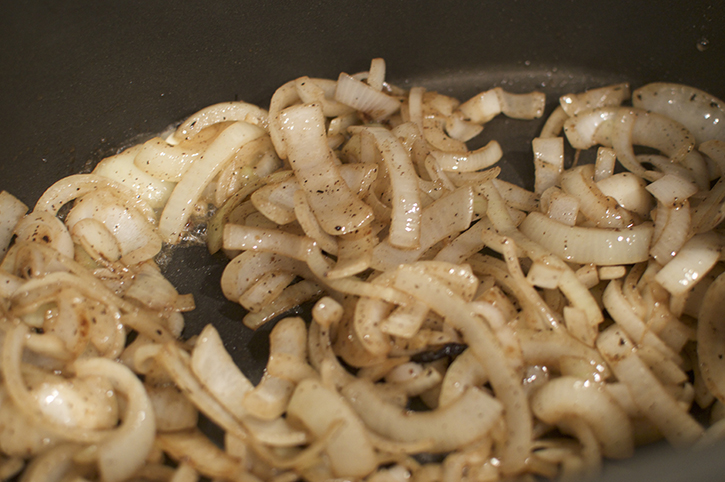 Immediately add butter, and allow to melt. Then add onions. Saute onions until translucent.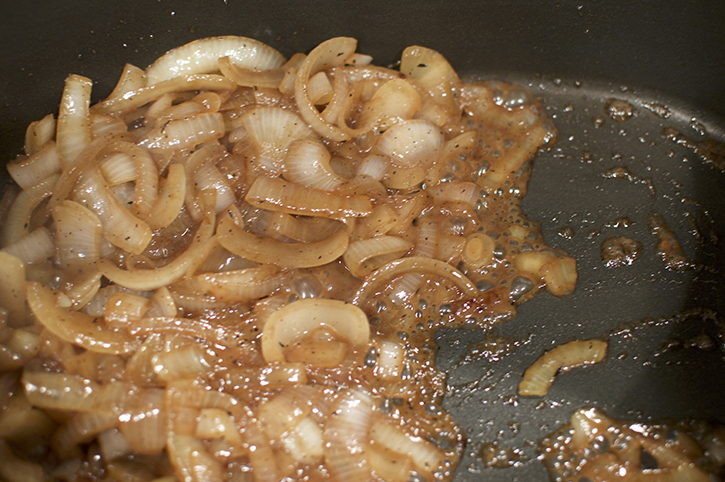 Add bourbon and boil about 5 minutes, until almost all liquid is absorbed into the onions, stirring often. Resist the urge to throw all the liquid in without cooking out the bourbon first. The bourbon adds an incredible amount of flavor, but it will have a raw alcohol flavor, even after hours of cooking if it doesn't get the chance to "burn off" before adding the other liquids. Don't skip steps.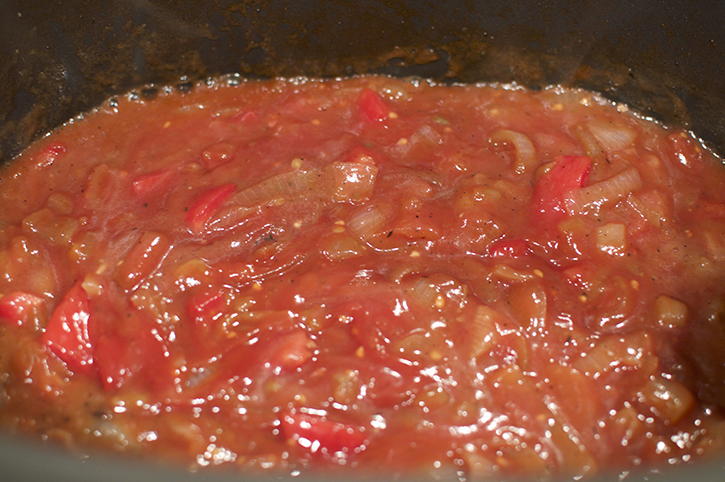 Add tomatoes and bring to a simmer.
Add remaining ingredients and bring to a simmer. Add ribs, making sure to coat with braising liquid.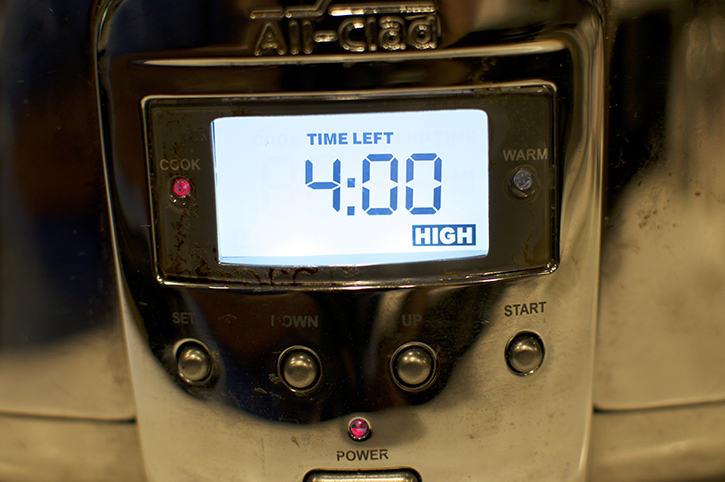 Transfer insert to slow cooker and cook on high 4 hours. If using a sauté pan, transfer ingredients to slow cooker, and cook on high 4 hours. You could probably get away with 3 hours if you have closer to 3 pounds of ribs, but 4 hours won't hurt. If braising traditionally, cover Dutch oven and transfer to preheated oven. Cook 2-2 ½ hours, depending on the size of your ribs. (A slow cooker, set to high, maintains a temperature of approximately 300 degrees, in case you were wondering.) Check on the ribs and re-submerge them in the braising liquid hourly.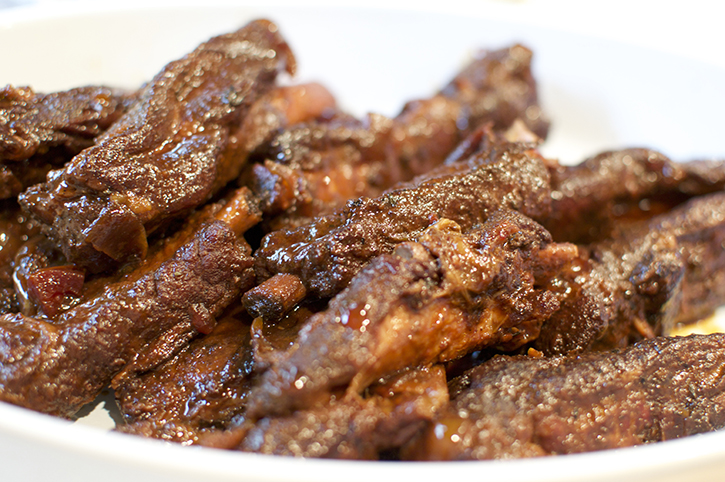 Carefully transfer ribs to a plate or casserole dish, cover and refrigerate. Don't sweat it if you lose a couple of bones in the process. The sauce will be strained, and after all, falling-off-the-bone is what we're shooting for here.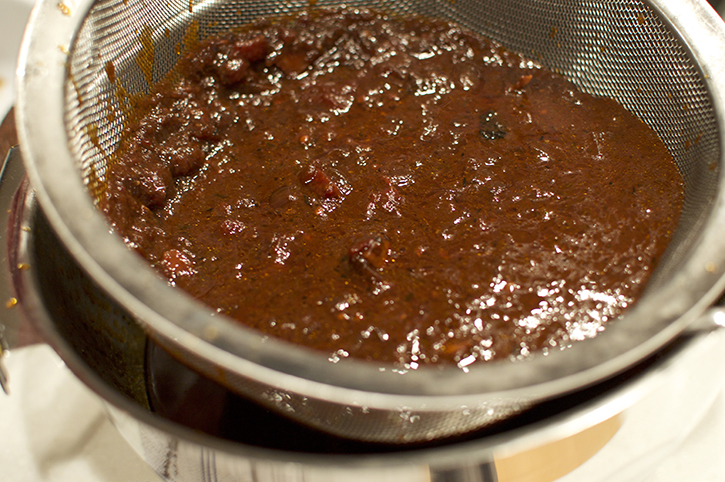 Strain braising liquid and vegetables, pressing lightly with a spatula to help the process along, then cover and refrigerate until completely cold, using an ice bath to speed along the process if desired.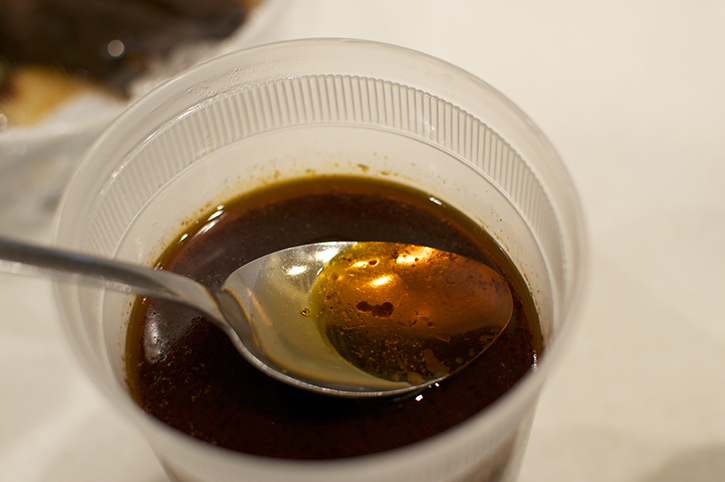 Once the liquid is completely cool, remove from fridge, spoon off the fat from the top and discard.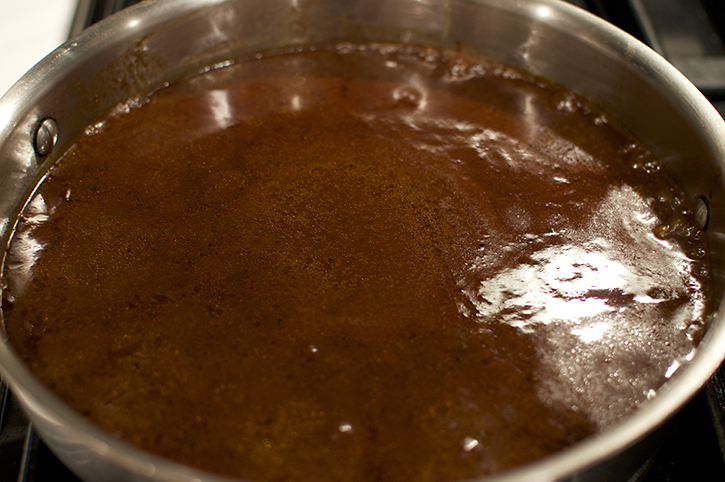 Preheat oven to 325 degrees. In a large pan, bring remaining liquid to a boil, then simmer 15-20 minutes over low heat until reduced by half.
Add ribs to the pan and place pan in oven. Cook until just heated through, about 20 minutes.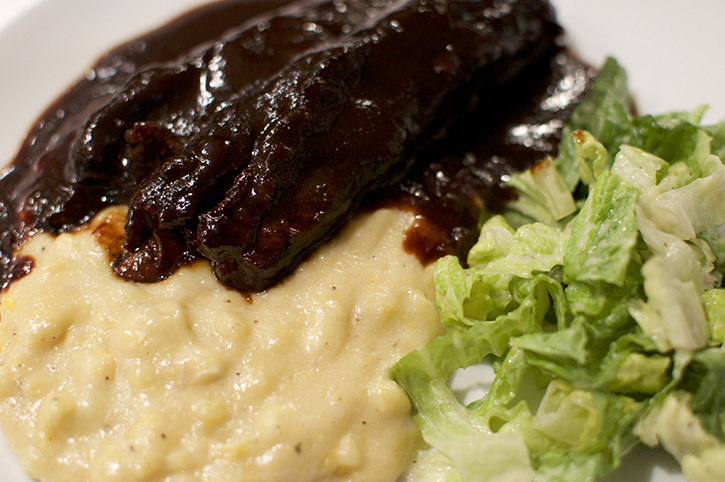 I served them on top of creamy polenta with corn and a salad. Mmm, y'all. Mmm.