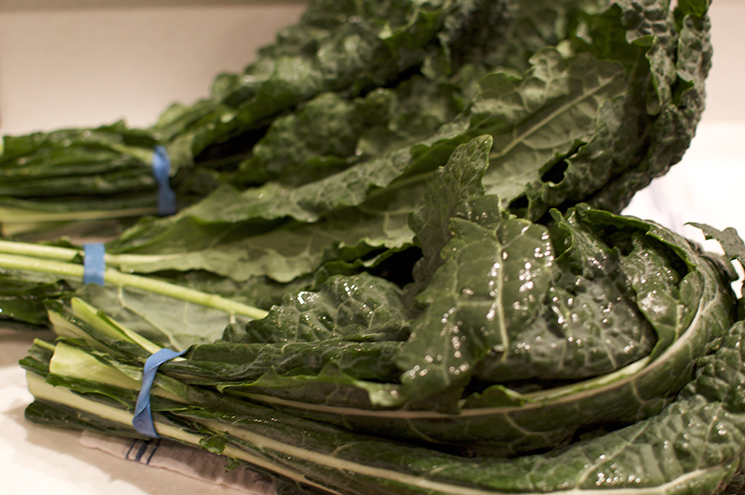 "We're up all night 'til the sun
We're up all night to get some
We're up all night for good fun
We're up all night to get lucky."
Maybe you'll stay up all night on New Year's Eve anyway, but you don't need to do it to get lucky. That's what the beans are for. It's possible Daft Punk had a different meaning in mind. Hmm. In case you didn't know, on January 1st, you should be eating beans and greens for luck and prosperity in the new year. I guess it's a southern thing, but I think it works no matter where you live and who your people are. The beans are for the coins; the greens, the folding money. So eat your greens!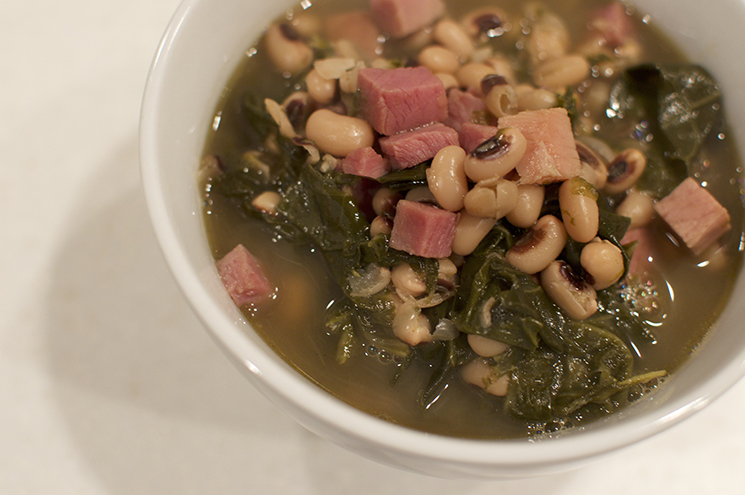 First up, the lucky beans. But if you're just looking for the paper money this year, I'm also including a couple of other non-bean dishes with greens to bring prosperity — and fiber — your way in the new year. Keep reading for a collard slaw and crispy oven greens.
Beans & Greens for New Year's Day
1 Lb dried blackeyed peas
2 T butter, bacon fat or oil
1 ham bone, plus 2 cups chopped ham
1 onion, julienned
1 T salt
¼ C Worcestershire sauce
¼ C + 3 T apple cider vinegar
½ C brown sugar, packed
3 bunches greens (collards, mustard, etc.), sliced across the stem into 1" strips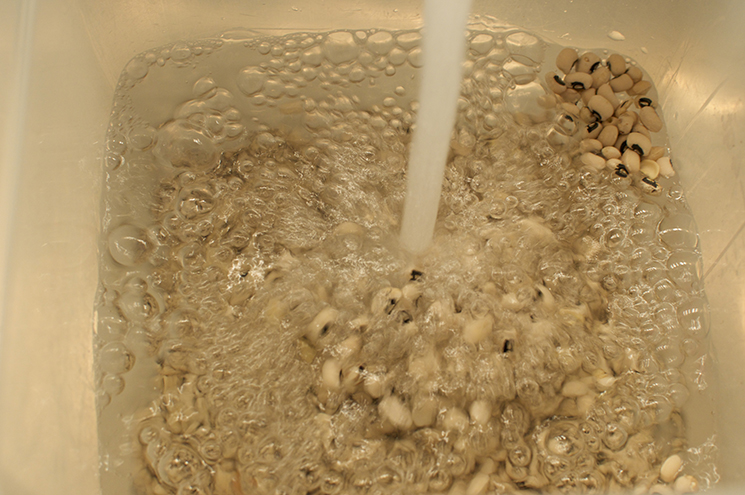 Place beans in a large container and cover with water by 4 inches. Cover and refrigerate overnight. Or you can quick-soak beans in about an hour. They won't look as supple, but they'll be just as tasty. Drain beans and set aside.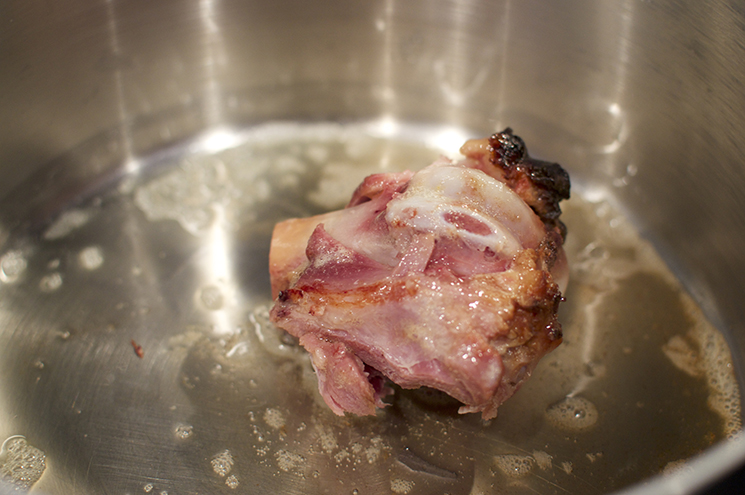 Heat a large pot over medium-high heat. Add fat, then sear ham bone on all sides (reserve chopped ham, keeping refrigerated until later) and transfer to a plate.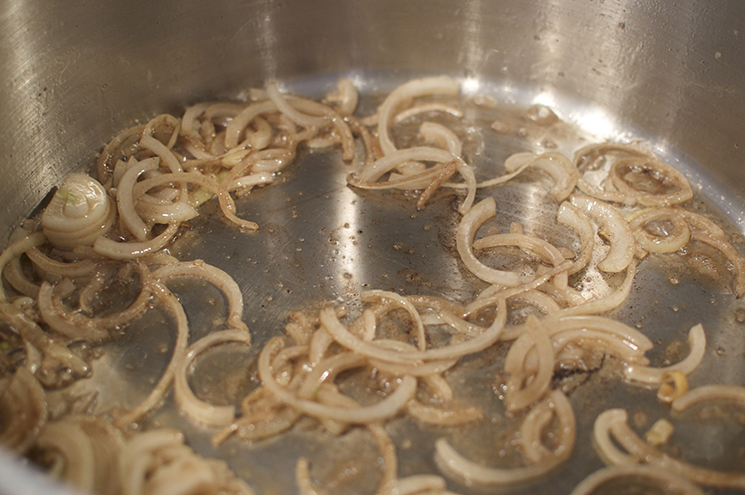 Add onion and sauté til translucent.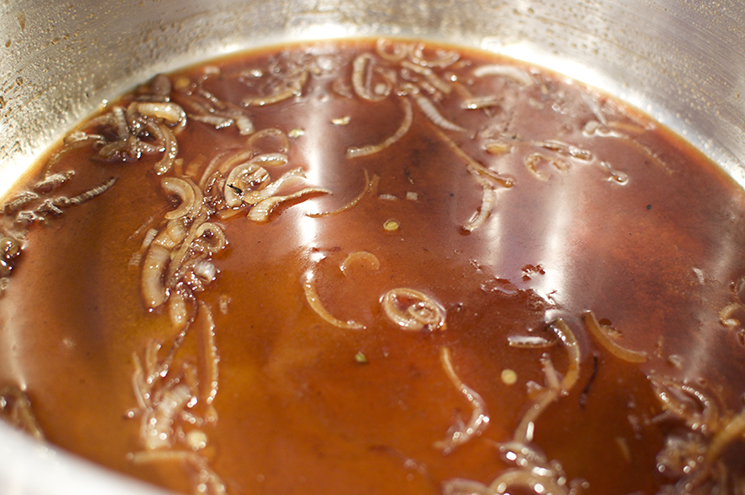 Add salt, Worcestershire, 1/4 cup vinegar and sugar and bring to a simmer. Add beans and 3 quarts of water.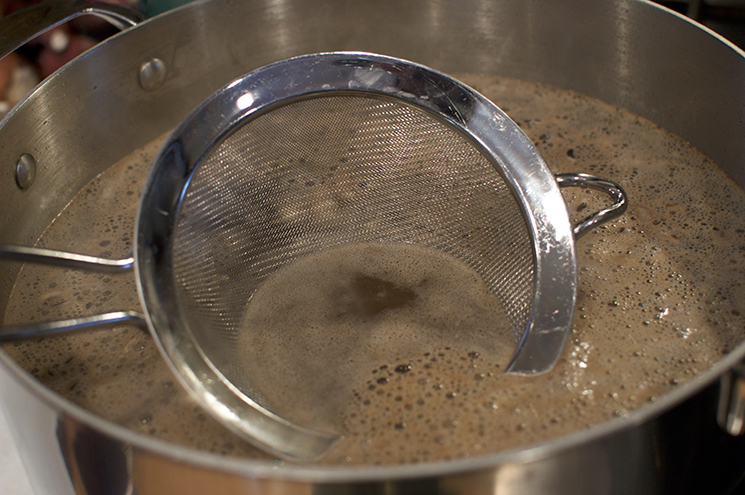 Bring to a simmer and remove any foam that floats to the top with a skimmer or large spoon.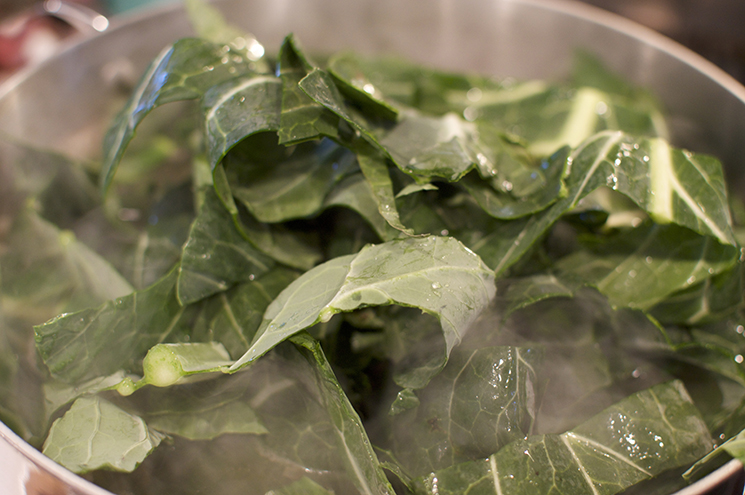 Return ham hock to the pan, add greens and bring to a boil. Show me the money!
Reduce heat to a simmer and cook 2-3 hours, until beans are tender but not mushy. If you'd like sturdier beans, or if you don't want a lot of liquid with the beans (it's nice as a soupy mix to serve over rice, but to each his own), reduce water to 2 quarts.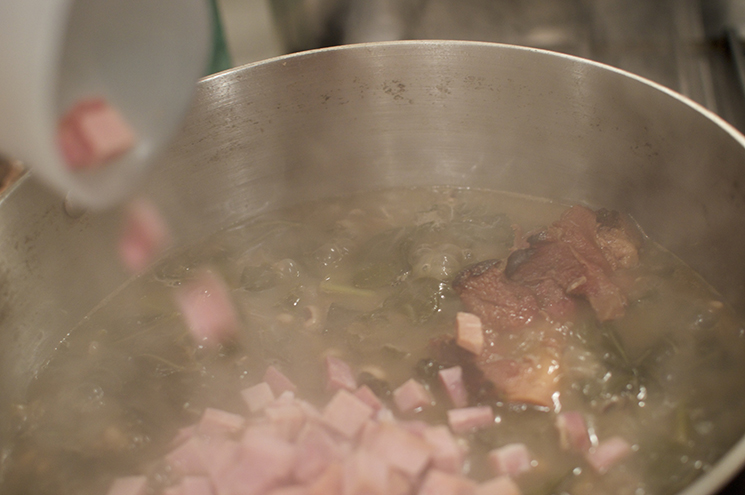 Add reserved chopped ham and return to a simmer for 5 minutes, until heated through. Taste and add the 3 tablespoons apple cider vinegar, plus more salt to taste. You can also top with a little Parmesan and serve over rice, if desired.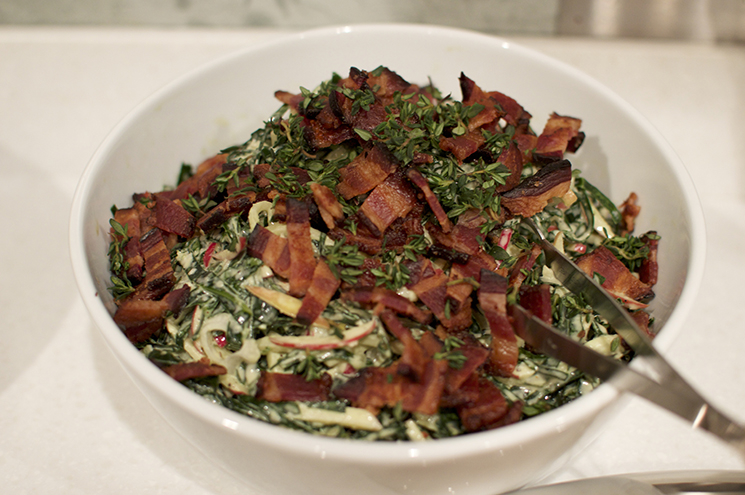 Moving on.
Collard and Apple Slaw with Bacon
2 C mayonnaise
2 C (5 oz) shredded Parmesan
½ C sugar
1 T salt
2 T chile garlic sauce
2 T Dijon
2 T Worcestershire sauce
½ C apple cider vinegar
5 cloves minced garlic
½ C julienned sweet onion
3 red apples, julienned (skin left on)
4 bunches collard greens, ribs removed, fine chiffonade
½ Lb cooked, crumbled bacon
¼ C fresh thyme leaves
Whisk together first 9 ingredients in a very large bowl. Add onion and apple and toss to coat. Add greens and toss to coat. Refrigerate at least an hour before serving. Top with bacon and thyme and serve.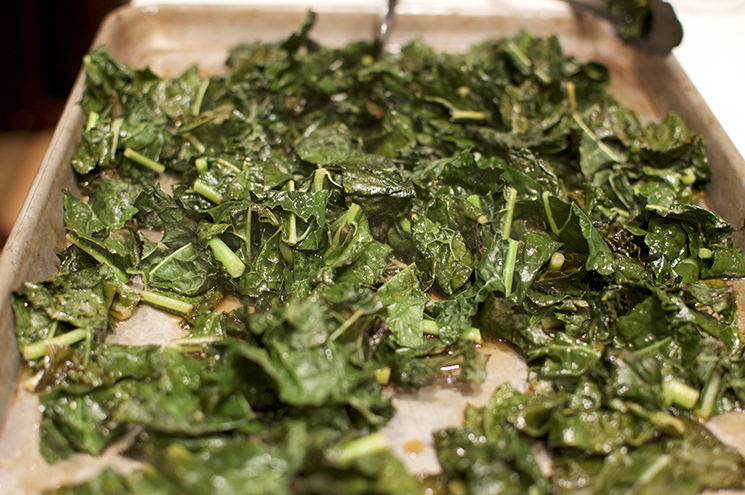 Quick and Crispy Oven Greens
These make a great "bed" for proteins such as chicken, beef or fish. Once you start using the harmoniously balanced mix of flavors that is the Asian seasoning mix in this recipe, you will want to use it all the time. And not just on greens.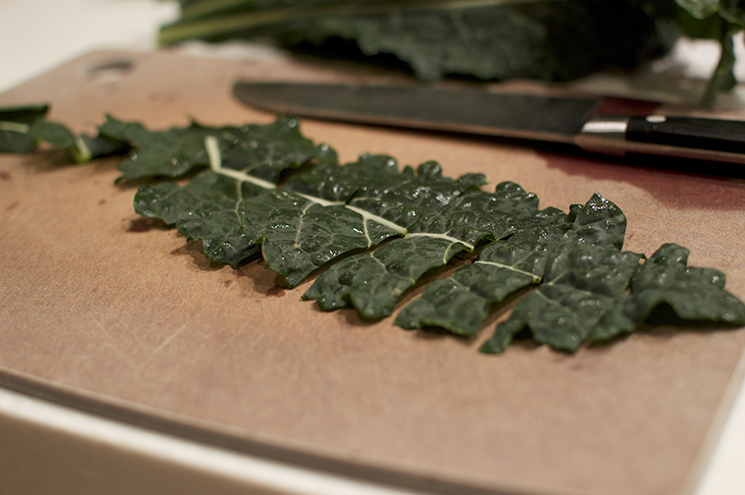 Preheat oven to 425 degrees. Gather your greens (kale, collards, chard, etc.), and slice across the stem into 1" wide strips. It's helpful to leave the rubber band or tie on the bunch and think of it as a very large chiffonade, by wrapping the leaves up tightly and making quick, determined slices. If the ribs are particularly large and stiff, you can remove them first.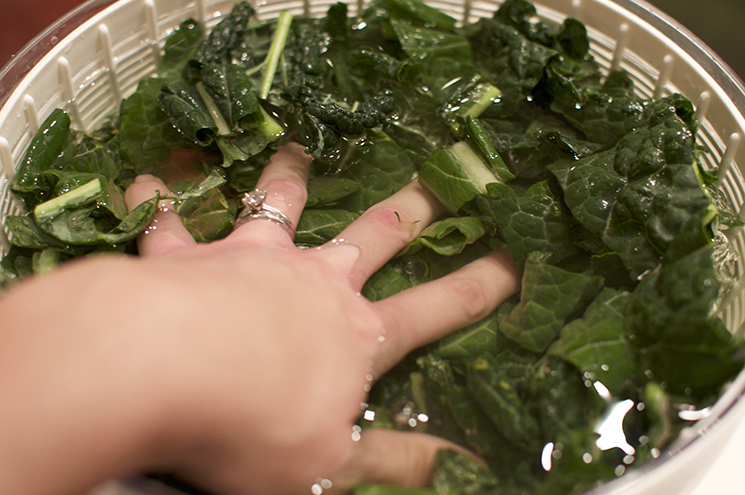 Transfer strips to a salad spinner. Fill with water until greens are covered and agitate to remove any dirt lingering in the greens.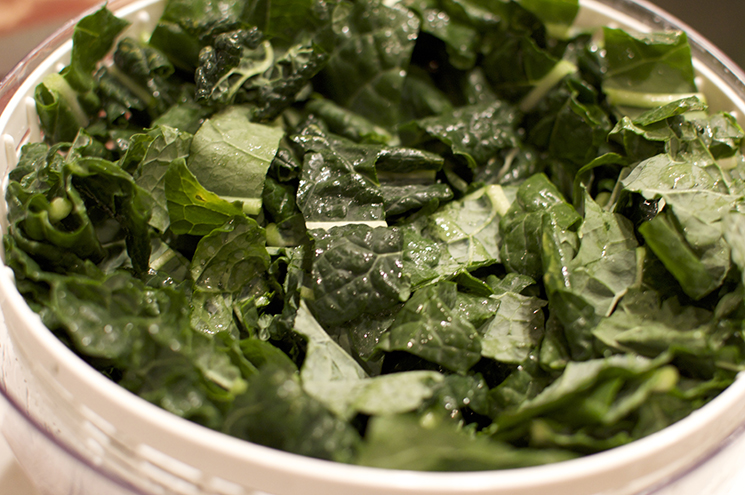 Lift the colander part of the spinner out, pour off water and spin several times to thoroughly dry the greens.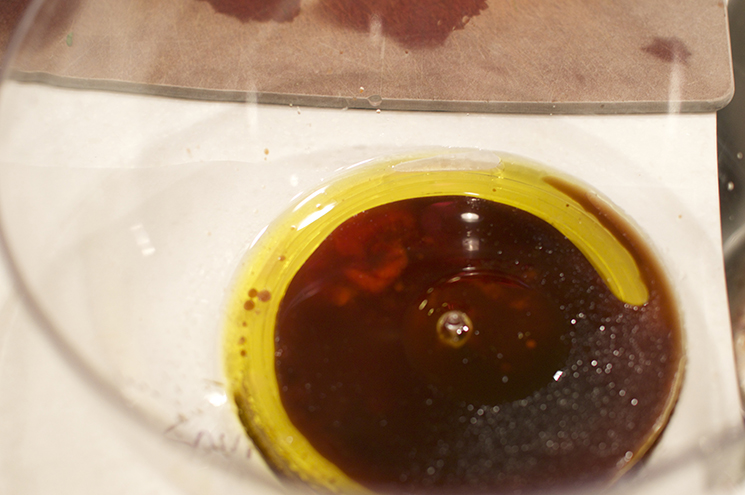 Remove the colander with the greens and wipe out the bowl of the spinner. Then add the Asian seasoning mix.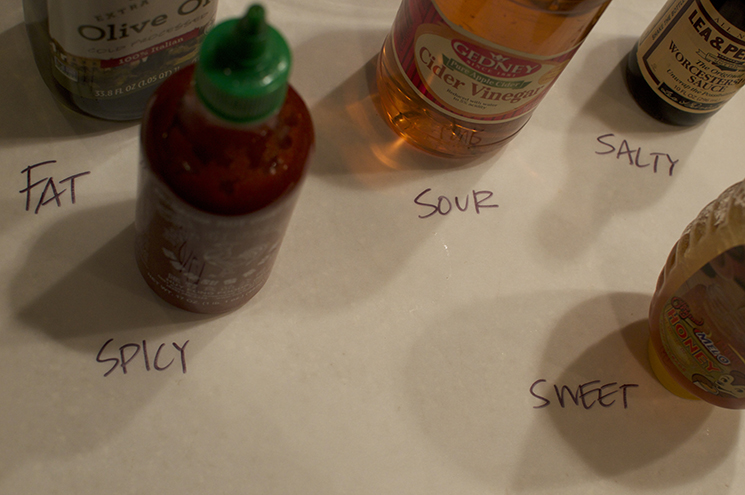 The idea is to create a balance of sweet, salty, sour, hot and fatty flavors. The mix is Asian-inspired, but doesn't necessarily have to incorporate Asian flavors.
There are lots of options:
Sweet (sugar, brown sugar, honey, agave nectar)
Salty (soy sauce, Worcestershire sauce, fish sauce, salt)—less if using straight salt
Sour (vinegar, lemon juice, highly acidic wine)
Hot (diced peppers, Tabasco, sriracha)—or less, to taste
Fat (bacon fat, butter, olive oil, sesame oil)
For each bunch of greens (I'm using three here), add about a tablespoon of each of the seasoning components to the salad spinner bowl, and whisk to combine. I used less of my hot ingredient (sriracha) because a tablespoon per bunch of greens would be way too spicy. I used about two teaspoons for three bunches of lacinato kale. If I were using diced jalapenos, one tablespoon per bunch would probably be fine. Use common sense here. And the same thing goes for salt. Worcestershire and soy are salty, but a tablespoon of soy and a tablespoon of salt are very, very different. If you use salt for your "salty" ingredient, just salt to taste. But remember, the greens shrink down considerably after cooking, so use a light touch.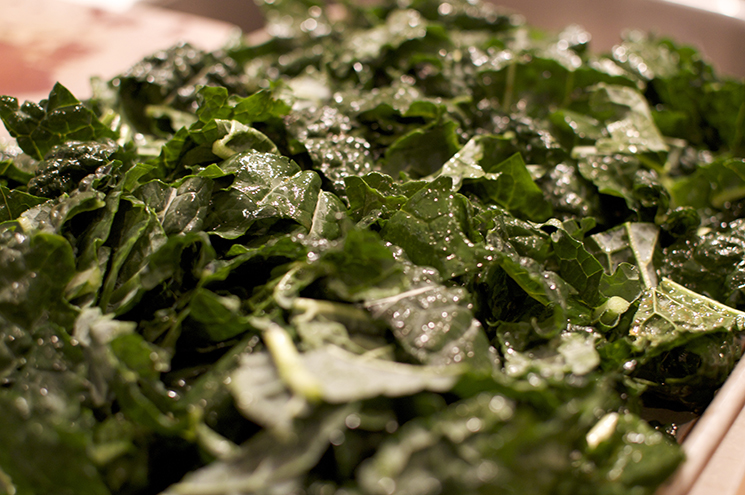 Toss greens in the bowl, then transfer to a sheet pan and roast in the oven for 5-15 minutes, depending on the sturdiness of the greens being used. The lacinato kale shown here took an even 10 minutes. If desired, and appropriate, peel or grate some hard cheese (Parmesan, Manchego, Gruyere, etc.) over greens just before serving.
No matter how you choose to prepare them, remember to get those greens — and get lucky.