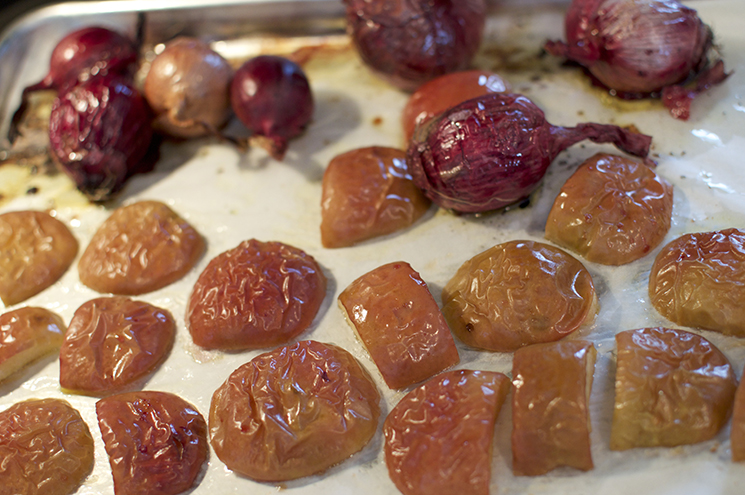 Roasting: it ain't just for hunks o' meat.
In fact, roasting is my second favorite cooking method (it's a close race — but grilling wins) and it's the front runner during the winter months. There are very few foods that can't benefit from a good roasting. While roasting and baking are essentially the same thing (cooking by exposing food to dry heat over a prolonged period), I would argue that roasting suggests higher heat and a drippy, succulent product — think "baked chicken" versus "roasted chicken," and which one you'd prefer. I'd go with the latter.
Veggies benefit tremendously from roasting. One of my favorite meals is a roasted veggie sammie — garlic-buttered focaccia stuffed with roasted red bell peppers, zucchini, eggplant, onions and tomatoes, plus aioli, shredded basil and slices of fresh mozzarella. Yum. But I digress.
I love my crop share, but I often get behind using up the tiny onions, the apples and the winter squash. Thank goodness they all go together like rama lama lama ka dinga da dinga dong. The best way I've come up with to deal with them is — you guessed it — roasting. Today I made a soup, but the same process (roasting, then pureeing) makes these three CSA stars perfect stir-ins for plain risotto, rice/potato casseroles or pasta.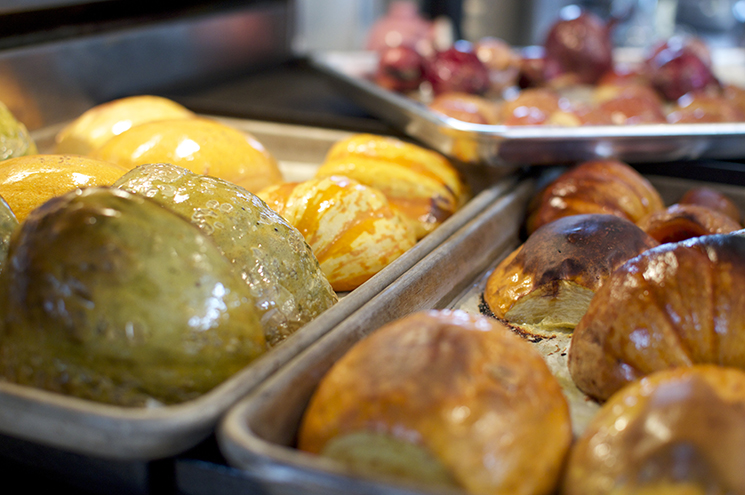 Halve squash (9 here) and scoop out seeds. Rub with veggie oil and place flesh-side down on a parchment-lined sheet pan. Roast in a 425 degree oven for 1-2 hours, depending on size, until tender when pierced with a bamboo skewer.
Rinse onions (7 here) and toss, skin on, in vegetable oil. Place on a separate parchment-lined sheet pan. Cut apples (5 here) into large chunks (cutting lobes away from core, but leaving skin on), then toss in oil and add to the pan with the onions. Roast apples and onions until browned and largest onion is tender when pierced with a bamboo skewer.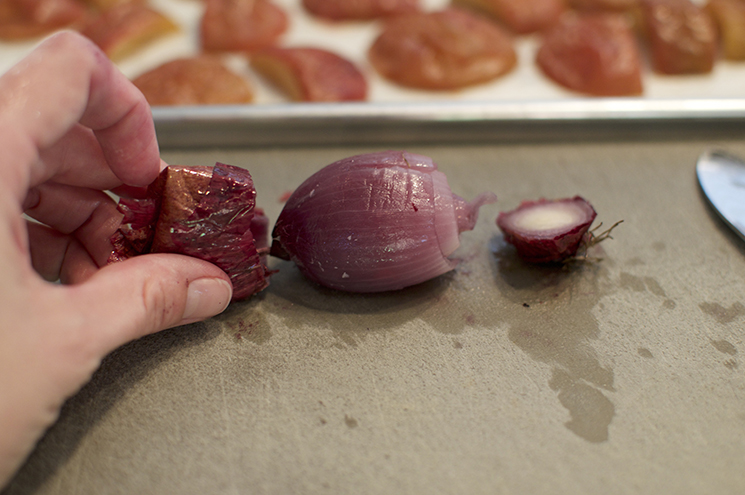 Cut the root end from the onions, then slip off the peels.
Add peeled onions, apples (with skins still on), a couple of cloves of garlic, some butter (3 tablespoons here) and cream (1 cup here) to a blender and puree.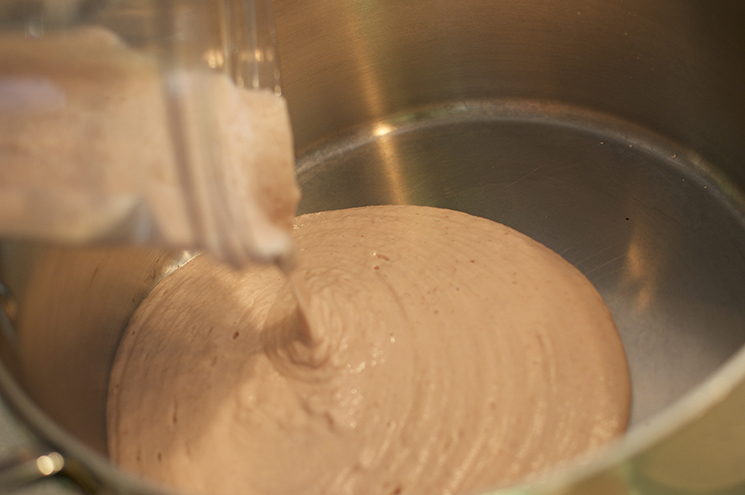 Transfer to a large pot. It will look pale, pink and not remotely appetizing, but worry not. Don't bother to rinse the blender yet.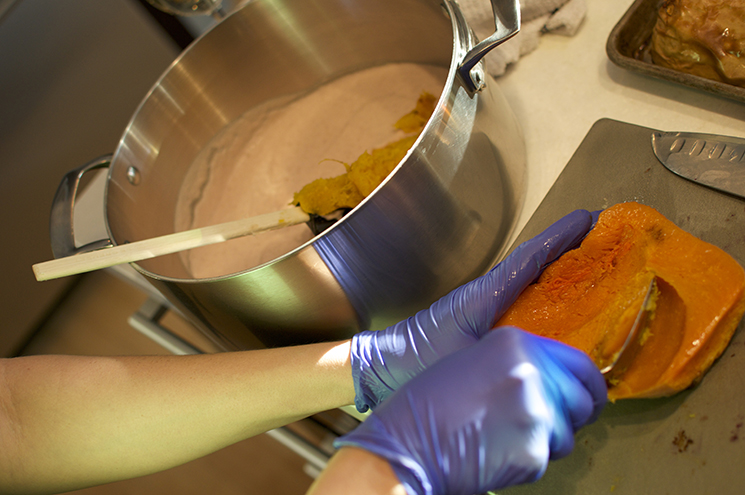 Scoop flesh from squash and add to the blender. Add veggie or chicken stock (I used 3 cups of veggie) and water (3 cups of that too). Puree, then add to the pot with the onion mixture. Place over medium heat and bring to a simmer.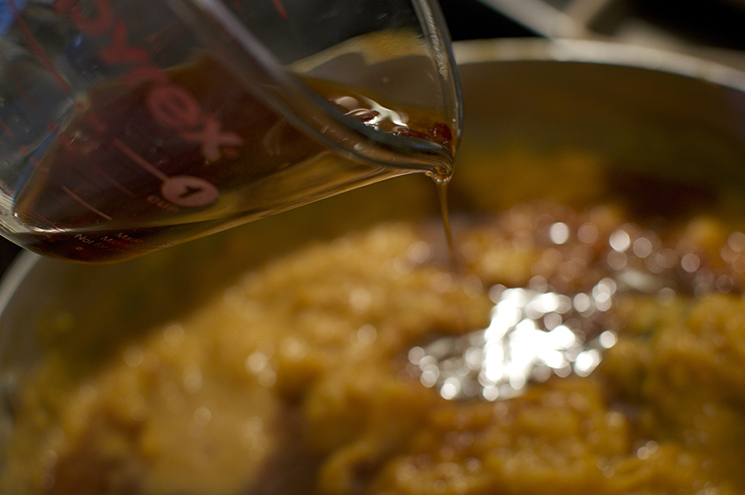 Next up, add Worcestershire sauce (1/4 cup), apple cider vinegar (1/2 cup) and maple syrup (1/4 cup), plus salt (1 T). Stir to combine.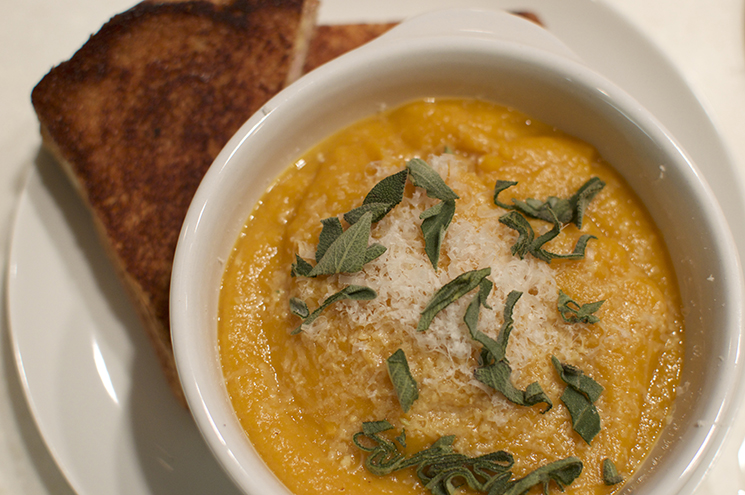 Top with grated Parm and shredded sage, or your favorite cheese and herb combo. A grilled ham and cheese works well alongside.
In conclusion, tis the season for heating up the kitchen. So when in doubt, roast. And when in doubt about calling what you're doing baking or roasting, roast away.