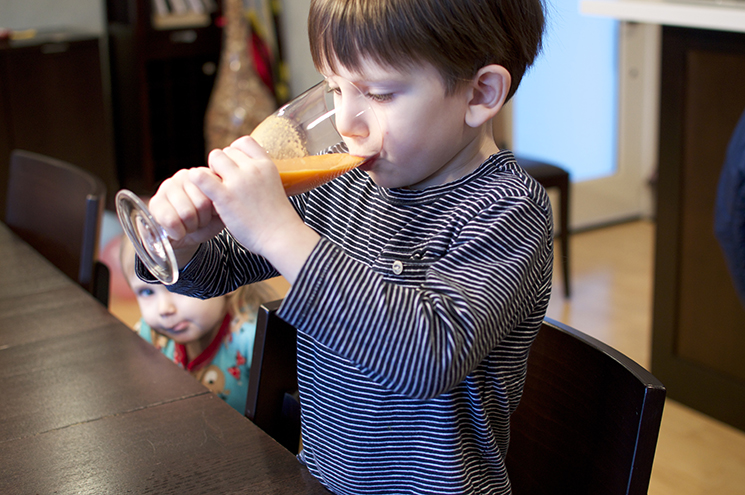 To my kids, JUICE : DRINK :: DESSERT : FOOD.
So really, why not take advantage of that?
I recently bought a juicer, because I don't have enough countertop appliances. No, seriously though, I thought it would be a great way to use up crop share fruits and veggies in a way that gives my kids instant access to nutrients from foods that they're sometimes not the most fond of.
So far, so good! Juice doesn't have to be broken down and processed in the way that fibrous chunks of the same foods do, and consuming raw fruit and veg provides nutrients that the same foods in cooked form typically lose. Ideally, I like to juice stuff I already have. We get fruits and veg in the crop share (which ended last week, sadly, until its inevitable, happy reboot come early May). The last chunk of ginger from our csa came and went months ago, so even though I would've loved to have added some ginger to the orange juice you'll soon see, it wasn't in the cards. If you're purchasing fresh produce for juicing, feel free to let your imagination run wild, adding ginger, lemongrass, herbs and whatever else you fancy. I can't wait to juice those spring veggies and summer herbs in a few short months. But, in keeping with the seasons as I try to do, today's juices are more of a wintry mix.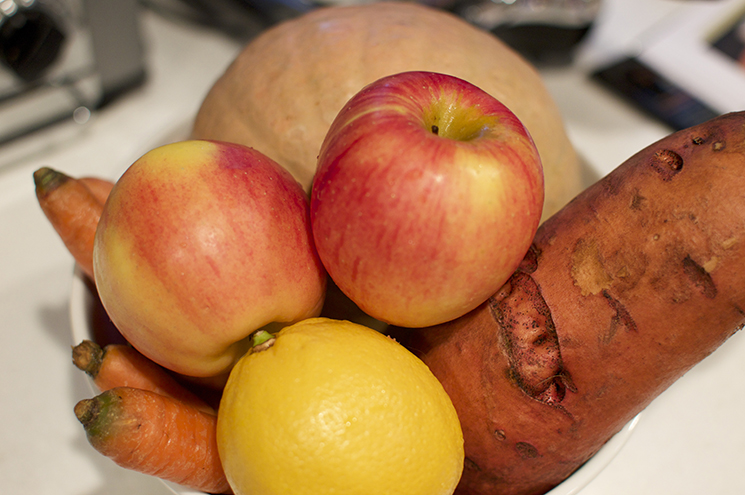 Let's start with "orange juice."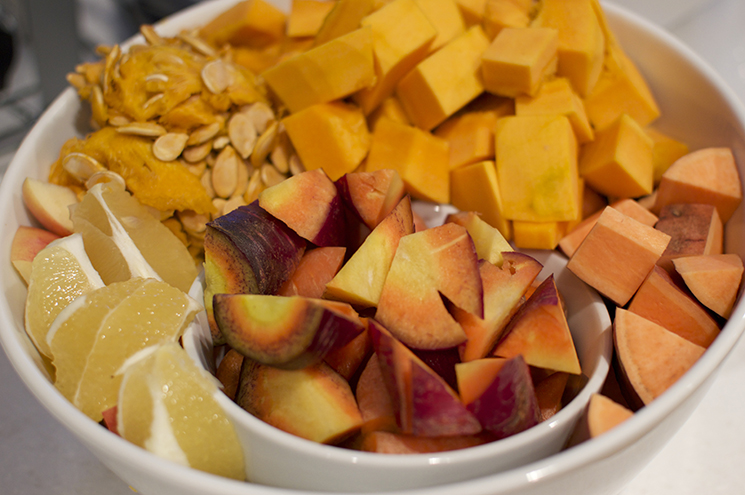 For this one, we're combining sweet winter squash, sweet potatoes, carrots, apples and lemons. I removed the skin from the squash and lemons, because they're rough on the juicer. Otherwise, the skin stays on! Usually, there are bonus vitamins and minerals in the skins we spend so much time peeling. So whenever possible, live by the mantra "skin is in!"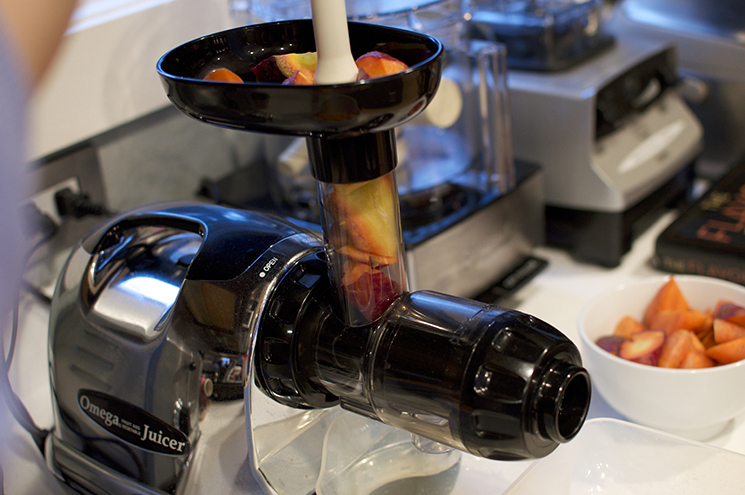 The pieces need to be small enough to fit through your juicer — usually no bigger than an inch on any side. I start with any veg whose pulp can be saved for stock. For the orange juice, this means carrots. With the winter fruit and veg, the pusher gets a lot of use. Don't be afraid to mash that beautiful veg right on through.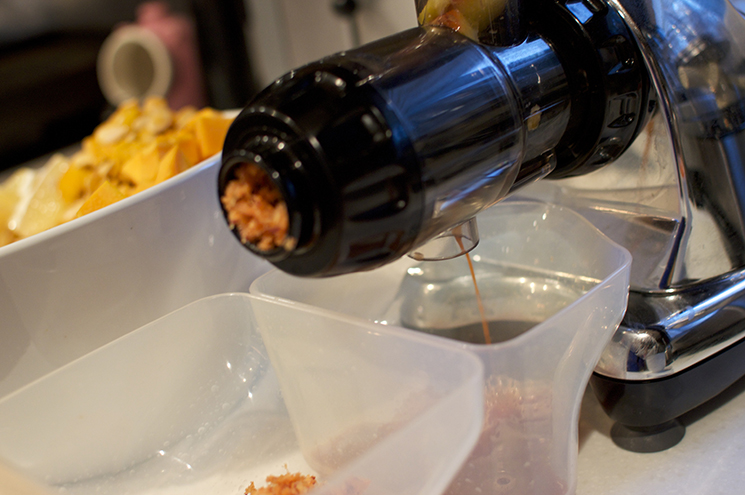 Pulp comes out one end, glorious juice out the other.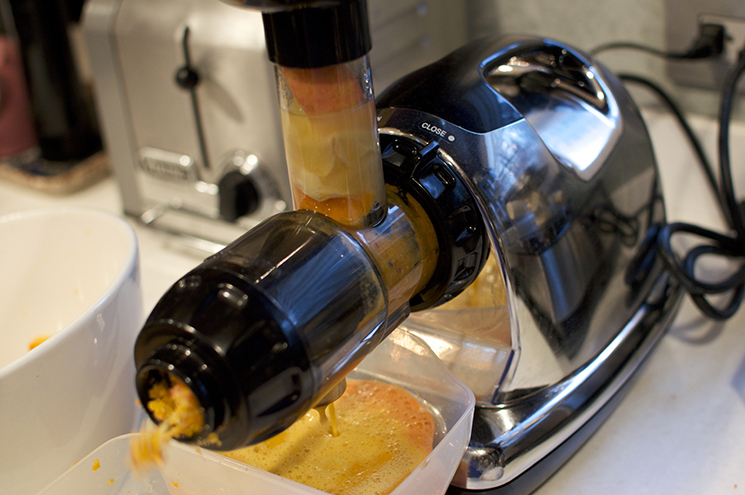 It will develop some foam (some juicers create more than others). Don't worry about that.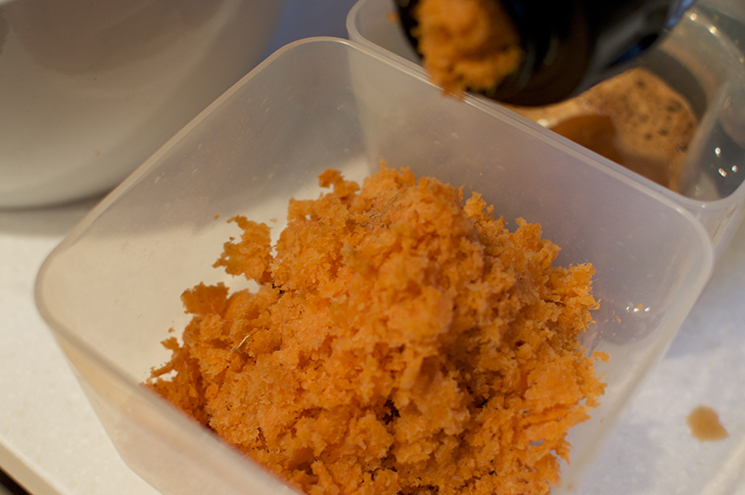 Here's the carrot pulp, which I'll add to my "veg for stock" bag that lives in the freezer.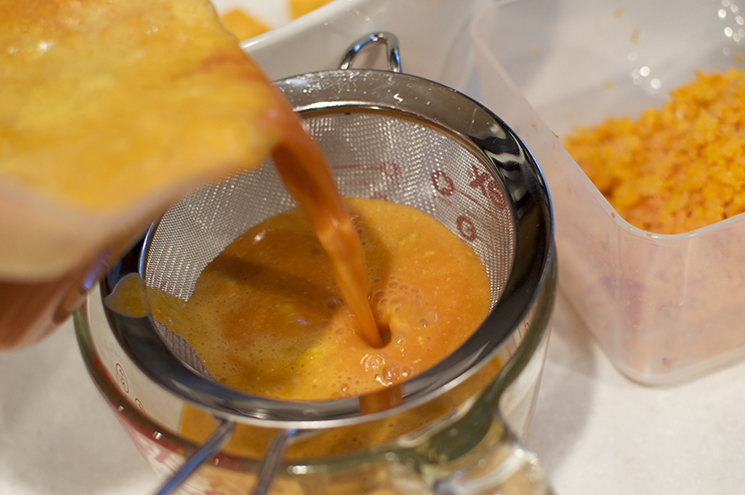 Once all the produce has been passed through the machine, it gets one more pass — through the strainer. We're a low-pulp kind of family, but if you like a lot of fiber in your juice, feel free to skip this step.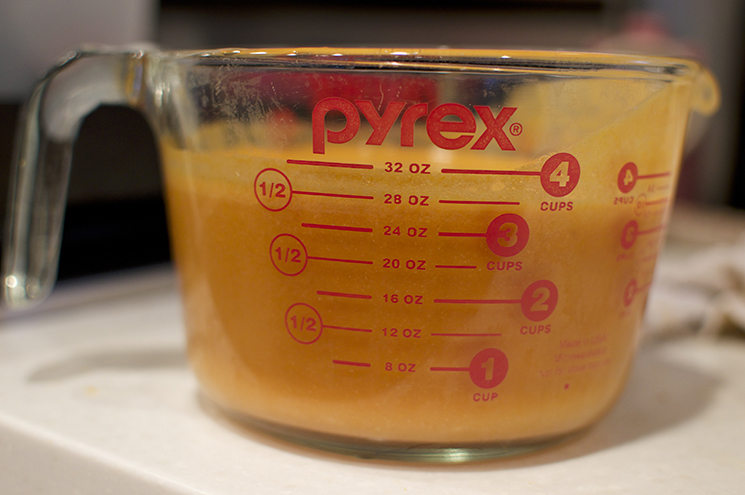 This 3 1/2 cups of "orange juice" is great served immediately, but it's also fine to cover with plastic wrap (preferably pressed to the surface of the juice to minimize oxidation) and refrigerate for a couple of days. Remember, homemade juice obviously isn't pasteurized and homogenized, so its shelf life is shorter and it will need to be stirred before serving.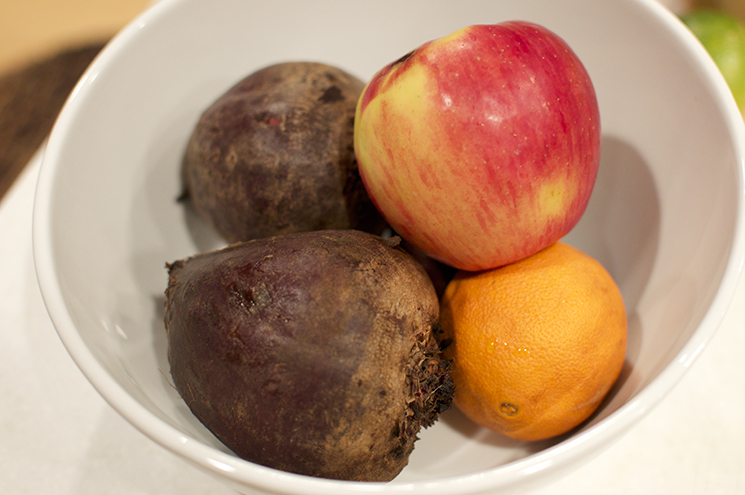 Next up, red!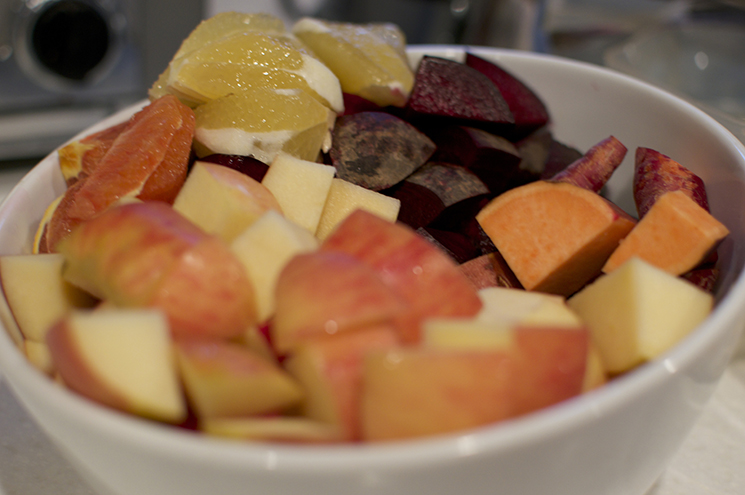 Beets, sweet potatoes, red apples, cara cara oranges and lemons come together for this earthy, beautiful juice. The only thing to lose its skin in this mix is the citrus.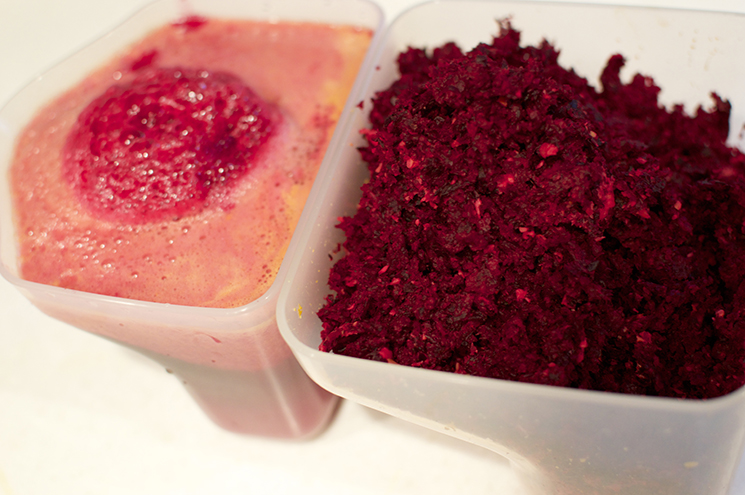 As I juice more and keep educating myself, I'm sure I'll come up with something to do with all that pulp (besides the composter or disposal). Maybe it could still contribute to a lovely borscht? We'll see.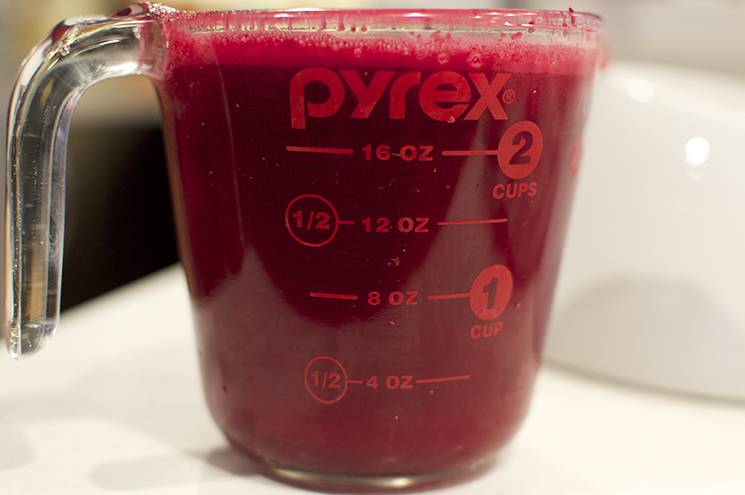 After straining, voila: red juice!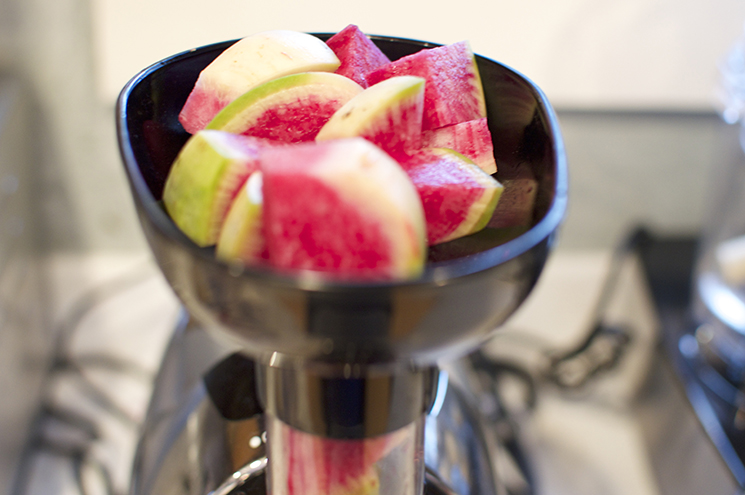 So I have to admit, I had the beauty heart radish in the bowl with the green juice produce, neglecting to consider how very red and radishy its juice would be until I started cutting it.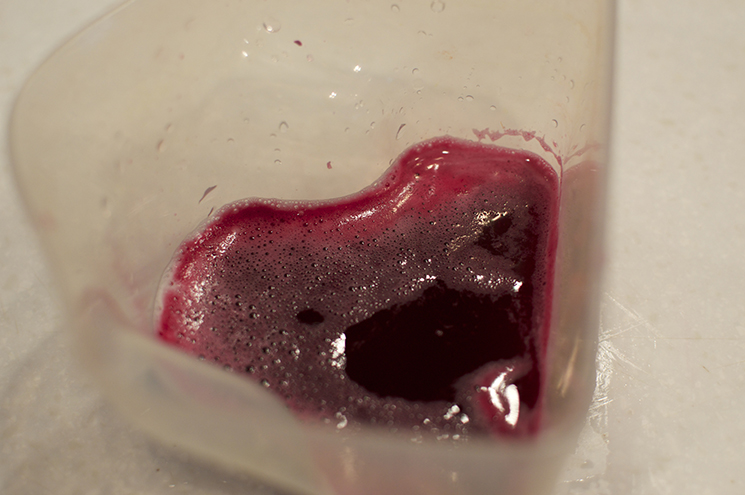 While I love a radish, this one produces juice too red for the green juice. It would've turned it brown, which is a juice color to be avoided at all costs! Also, it's super radishy. I'm trying to break the kids in gently. We'll sneak some in eventually, but not today.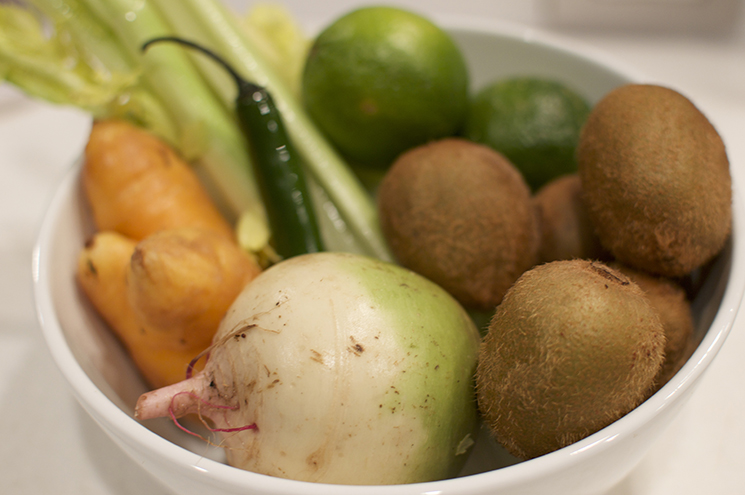 Okay, so here's the produce for the green juice. Ignore the beauty heart radish. It's mostly yellow carrot, celery, kiwi, lime and serrano.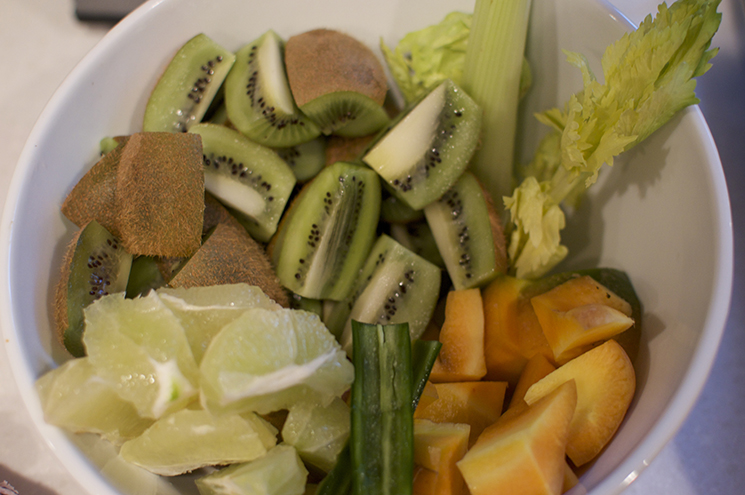 I peeled the lime and stemmed and seeded the pepper. Otherwise, unpeeled chunks are the name of the game.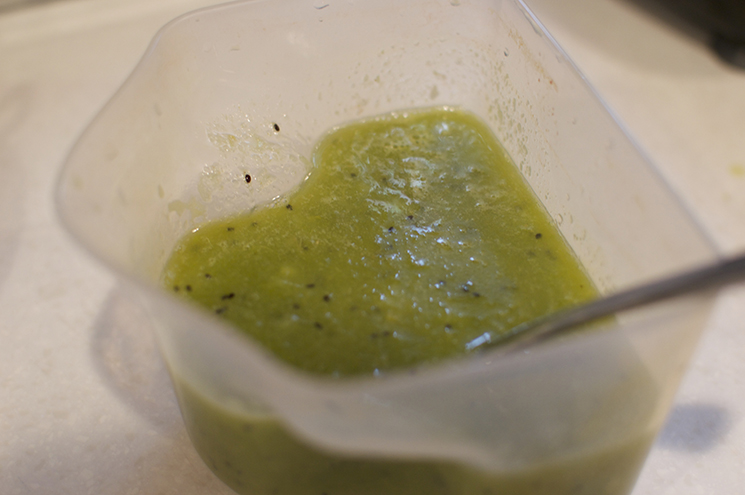 The amount of kiwi in the green juice made this one really thick, so I would recommend straining even if you're usually pro-pulp. However, I will say the serrano was a nice touch without becoming overpowering. Peppers will definitely get plenty of time in the juicer in days to come.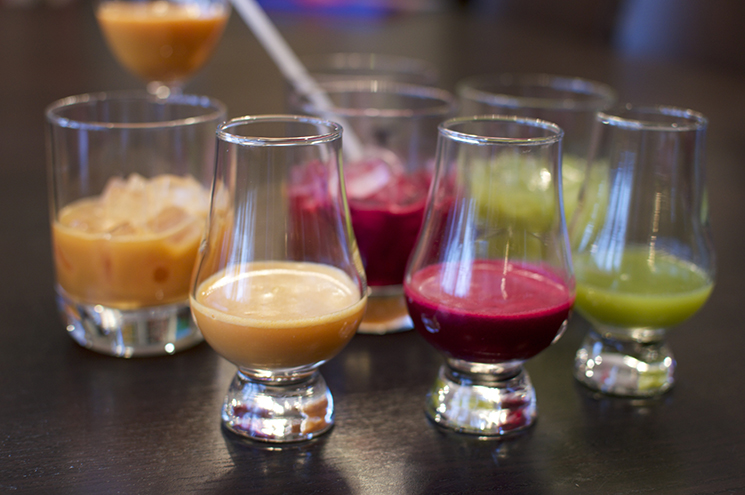 Fancy glasses make for fun-filled sipping. Scotch glasses for Mike, an acrylic wine glass for Red and a straw for Marley ensure everyone gives their juice a fair shake.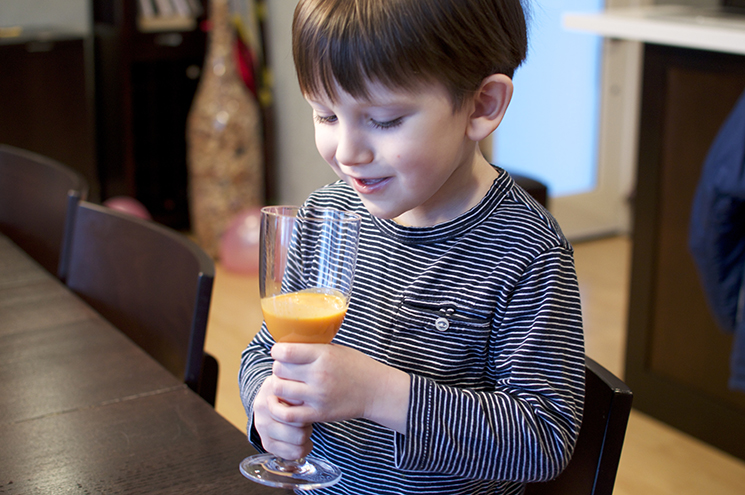 The verdict? Good!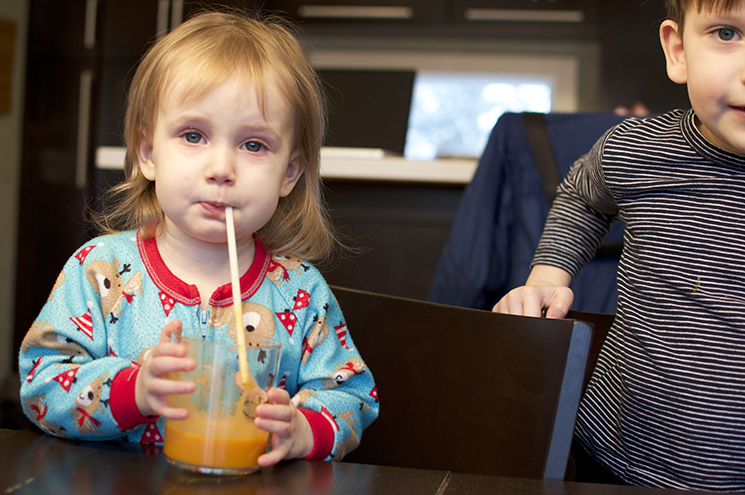 Marley and Red preferred the "orange juice" …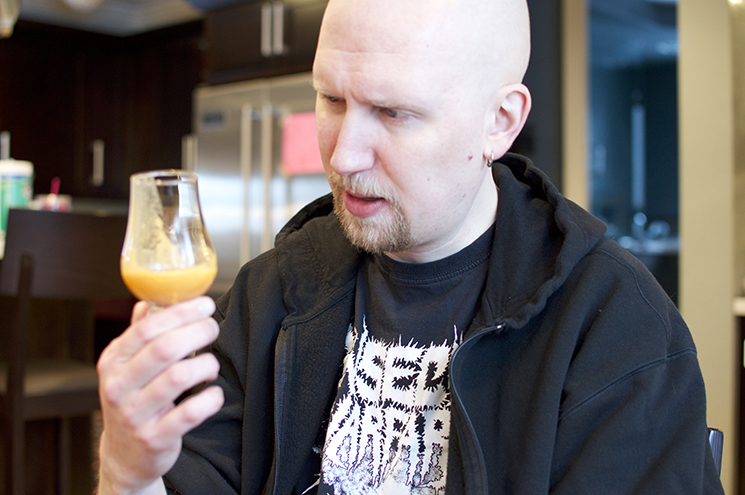 but Mike was not fooled,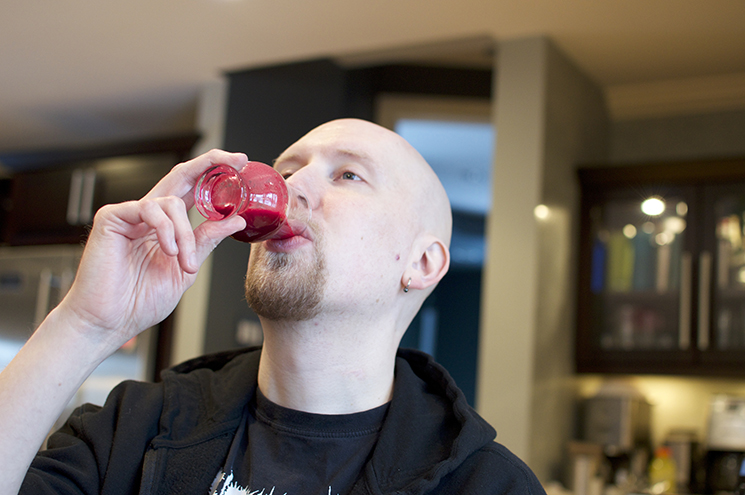 and admitted his favorite was the red one.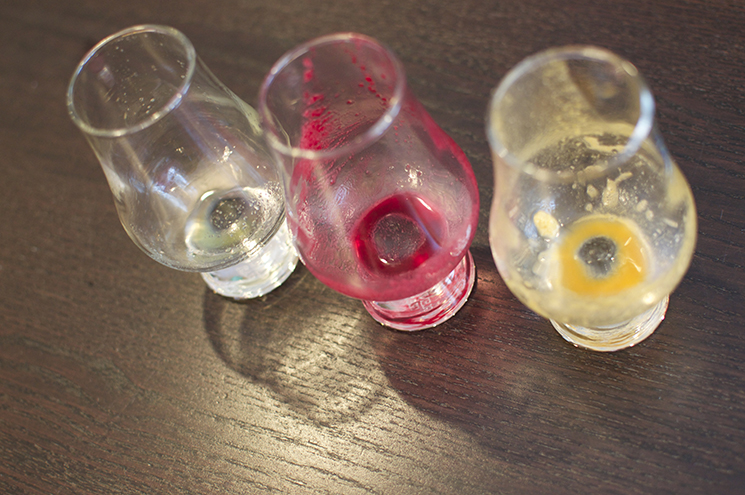 But you'd never know he had a favorite by looking at his glasses!
And I liked the green the best. The little kick really did it for me. But mostly, I am so pleased that the newest addition to my cadre of countertop colleagues will actually get some use.
Who knows, maybe all this juicing will soon lead to some exciting cocktail mixers as well. Cheers!