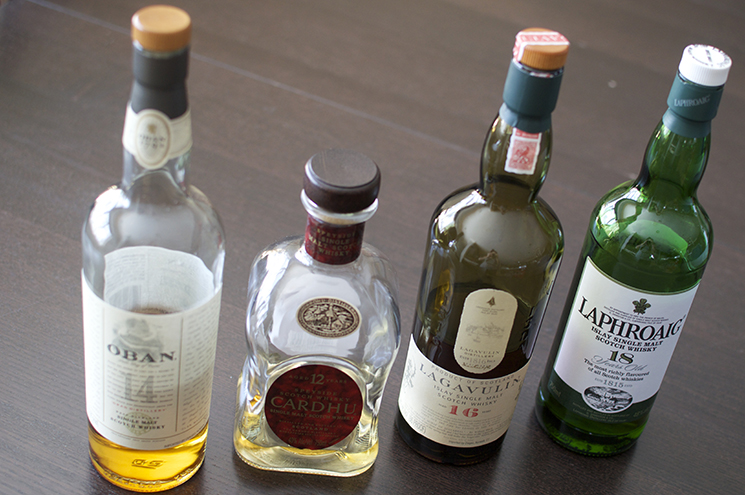 Do you love Scotch?
Boy, my husband sure does. So sometimes it's fun to do a whole dinner paired to that strong, smoky Scottish nectar.
It's hard, though. It really just doesn't go with everything, and there aren't a ton of people doing it. However, all of the things it does go with are fabulous, so it's worth a little extra research and work to make it happen.
This late-winter Scotch pairing featured 4 courses of smoky, rich, salty, succulent flavors paired to 4 fairly easy to find Scotch whiskeys, which also happen to be a few of my husband's favorites.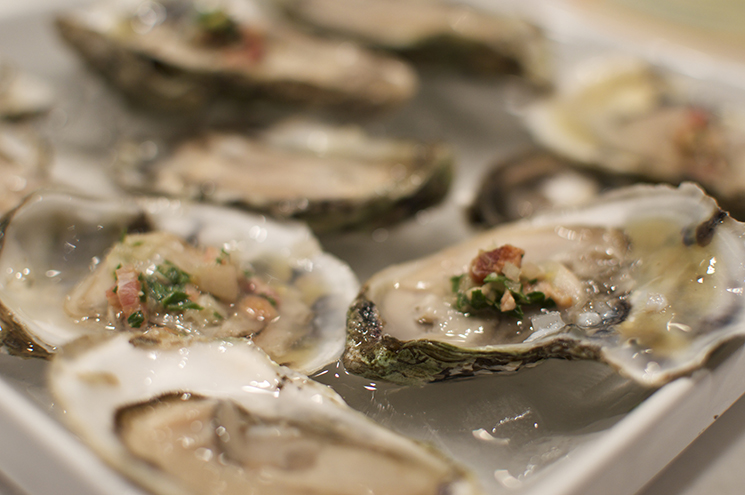 Oysters on the Halfshell with Bacon Gremolata
shallot/ lemon/ parsley/ white anchovy
Oban 14
This Scotch is one that doesn't have to be sipped by the fire after dinner. It's a little lighter, not too strong, but with a little briny flavor to it. What better to go with briny than oysters? Instead of the usual mignonette of shallot, pepper and vinegar I combined some of those flavors with bacon and white anchovy, plus lemon zest and juice and parsley to make more of a gremolata.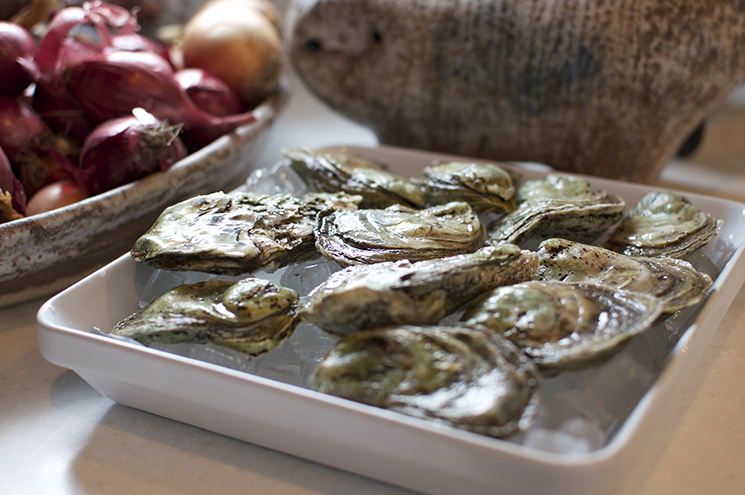 We had a dozen each of west coast oysters from Wolf Beach in Washington and east coasters from Martha's Vineyard.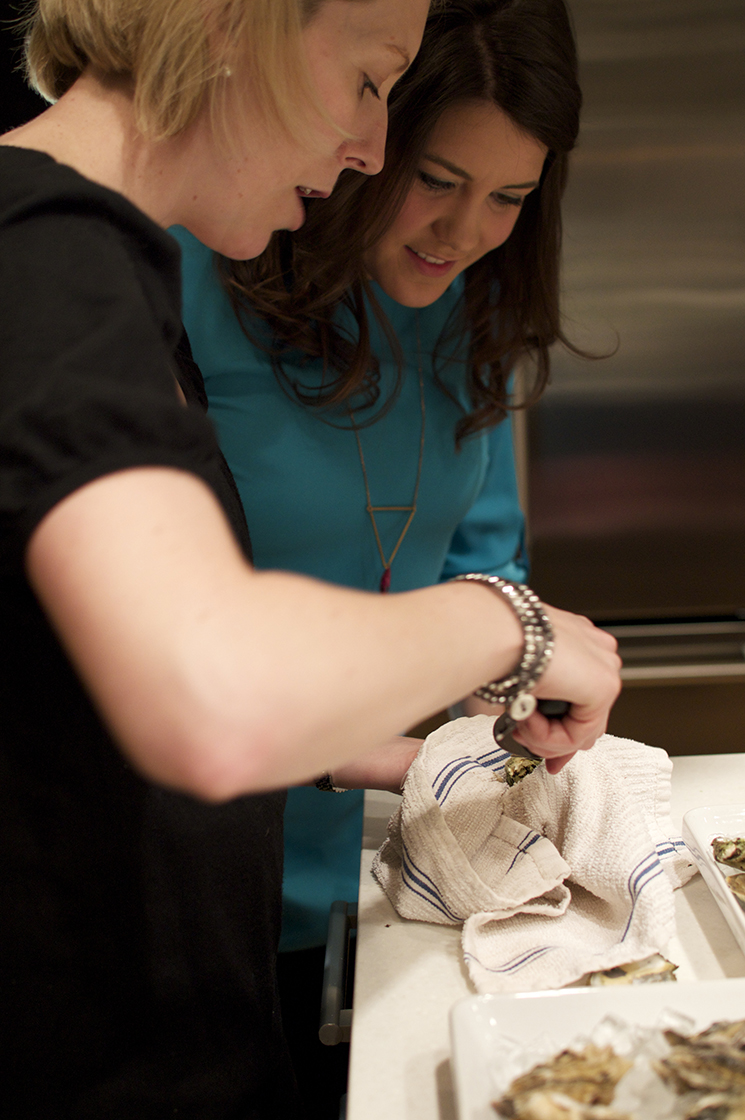 Here's Mary showing Kristen how to shuck the Vineyard oysters.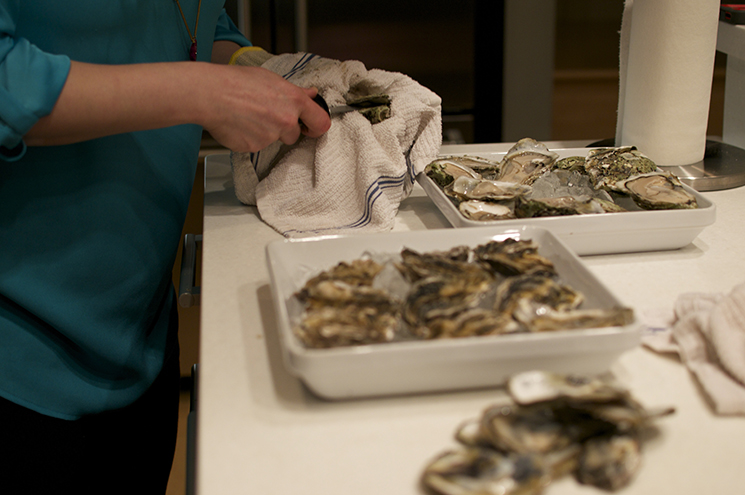 It was Kristen's first time shucking oysters, but she's a natural. Here she is separating the adductor muscle from the top of the shell to release the meat from the shell. Go Kristen, go!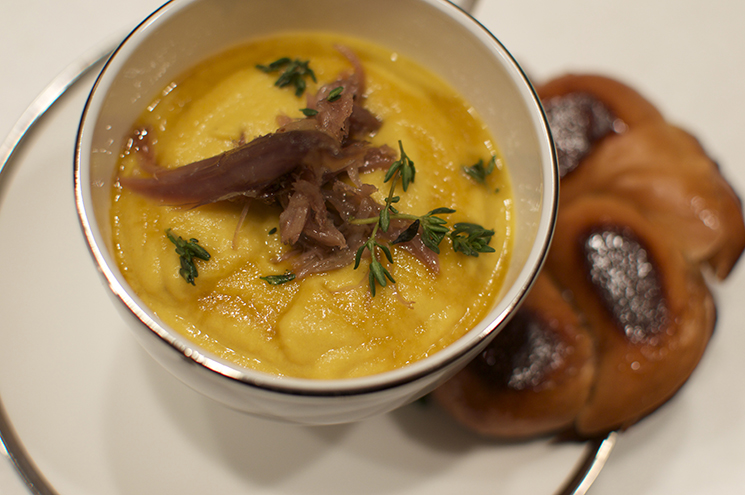 Duck Soup
duck confit/ caramelized shallot/ green apple/ carrot/ maple syrup/ thyme/ challah grilled blue cheese
Cardhu 12
The Cardhu is a sweet, malty, food-friendly Scotch that goes great with all the good whiskey pairings. The fattiness of the duck, plus the tartness of the soup and the piquant, yet musky flavor of the blue cheese in the sandwich all worked very well with a milder Scotch.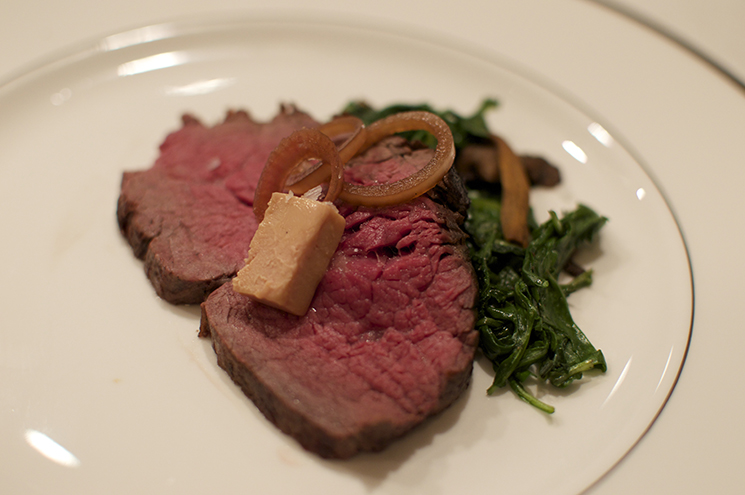 Beef Tenderloin with Wild Mushrooms
chanterelles/ arugula/ sherry pickled shallot/ smoked foie
Lagavulin 16
On to the big guys! The Lagavulin is a Scotch drinker's whiskey. It's big and dry and a little intimidating to a wine-drinker like myself. But it stood up nicely to all the umami flavors of the steak dish. The pickled shallot added a nice, tart counterpoint to all the super savory flavors in this course.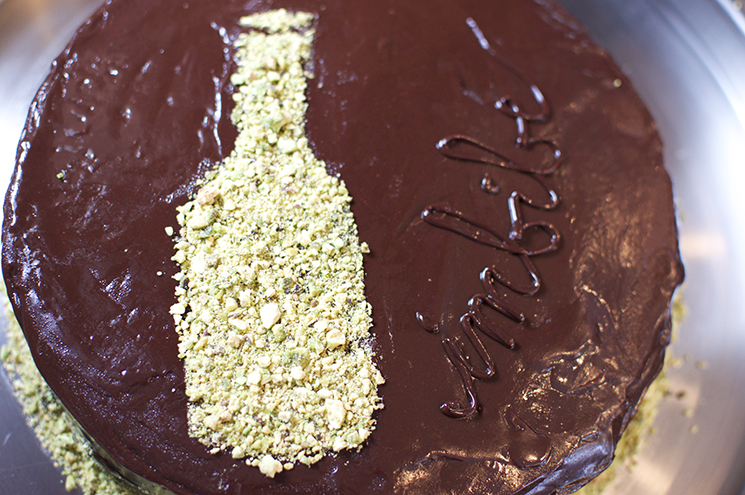 Chocolate Hazelnut Cake
pistachios/ salted caramel ice cream
Laphroaig 18
Our Scotch tasting guide describes the flavors of this Scotch as "medicinal," which is a challenging idea for a pairing. Challenge accepted. This chocolate hazelnut sponge cake was coated in ganache, then covered in a glacage and garnished with pistachios. We made it in culinary school, and it's called an alhambra cake. Apparently the name has something to do with castles in Spain, but they could've just called it chocolate hazelnut cake with pistachios and I obviously would've been sold. It was great with that sweet, sweet Lagavulin "medicine."
Overall, the pairing went great. I doubt Scotch tumblers will completely replace the wine glasses on our dinner table anytime soon, but it's definitely a fun experience that you should try if you enjoy fine whiskey and tasty food.