I don't always cook. Hard to believe, right?
Even on vacation for the past few years, since the kids came along, I've done a lot of cooking. So this past week's vacation — half without kids, then half with them — was a very exciting time for me. Because for the first half, I didn't cook at all. Not a thing.
Mike and I decided to spend five days in New York, where we met, getting together with friends and eating absolutely everywhere I wanted. So for the first time in a long time, I got to explore. Trust. Let the real pros do the cooking. Here's where we went: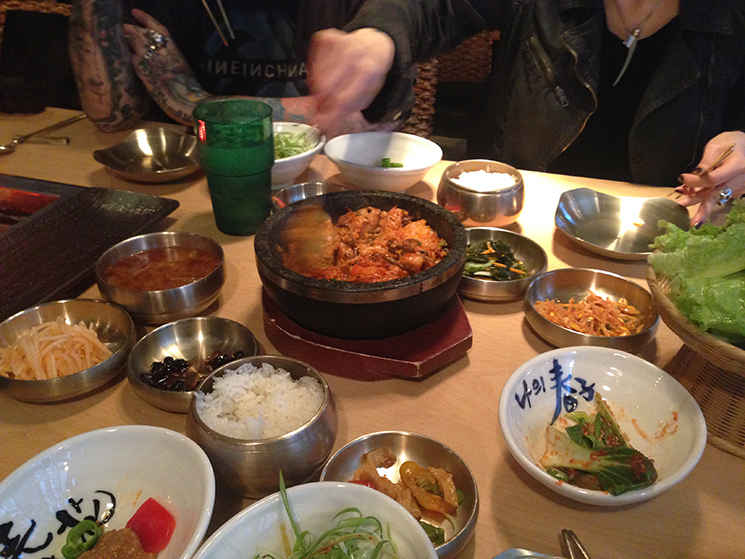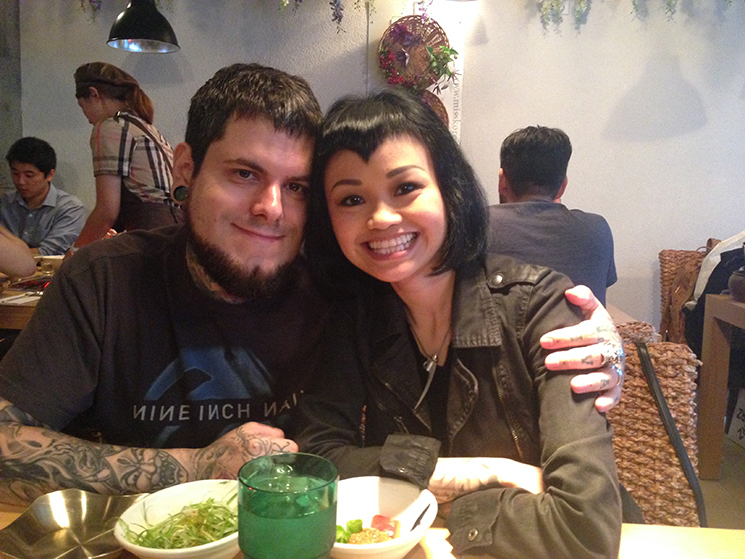 Miss Korea Barbecue
Mike's good friend and tattoo artist, Tim, and his beautiful wife, Hang, took us out for Korean BBQ at a great little place. We had:
Prime Seng Deungsim (Prime Boneless Rib Eye) / Seng Samgyeopsal (Berkshire pork belly) / Hang-ali Yangnyeom Sogalbi (Boneless marinated short rib) / Dolsot Bibimbap (Rice with vegetables, raw egg and spicy pork in a sizzling stone pot).
Then we went out for private-room karaoke: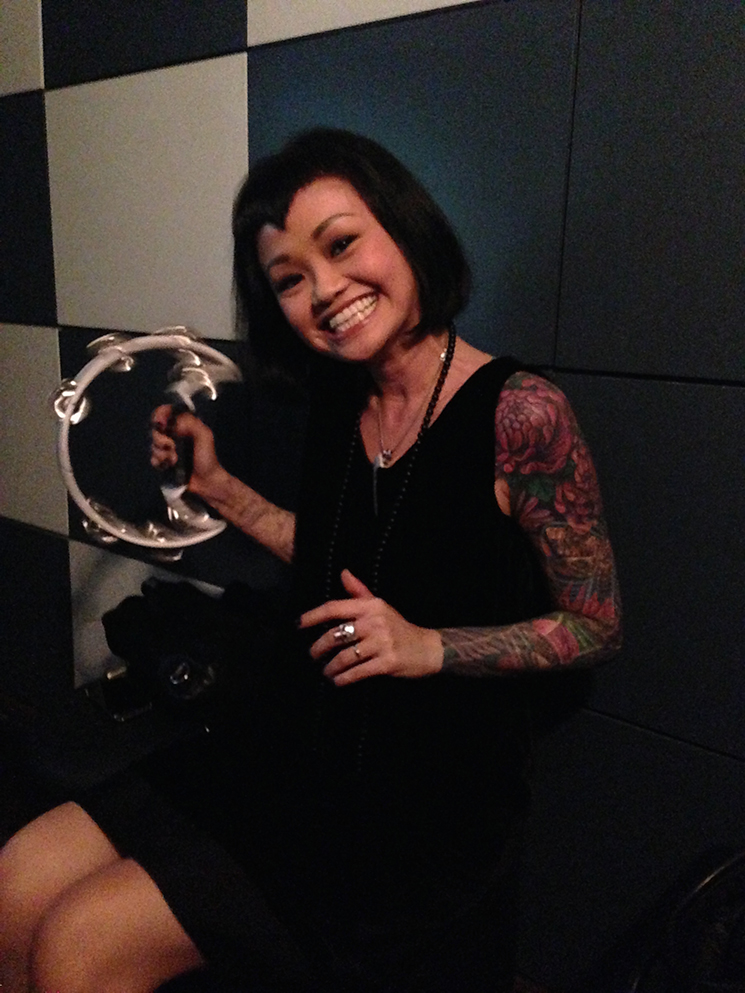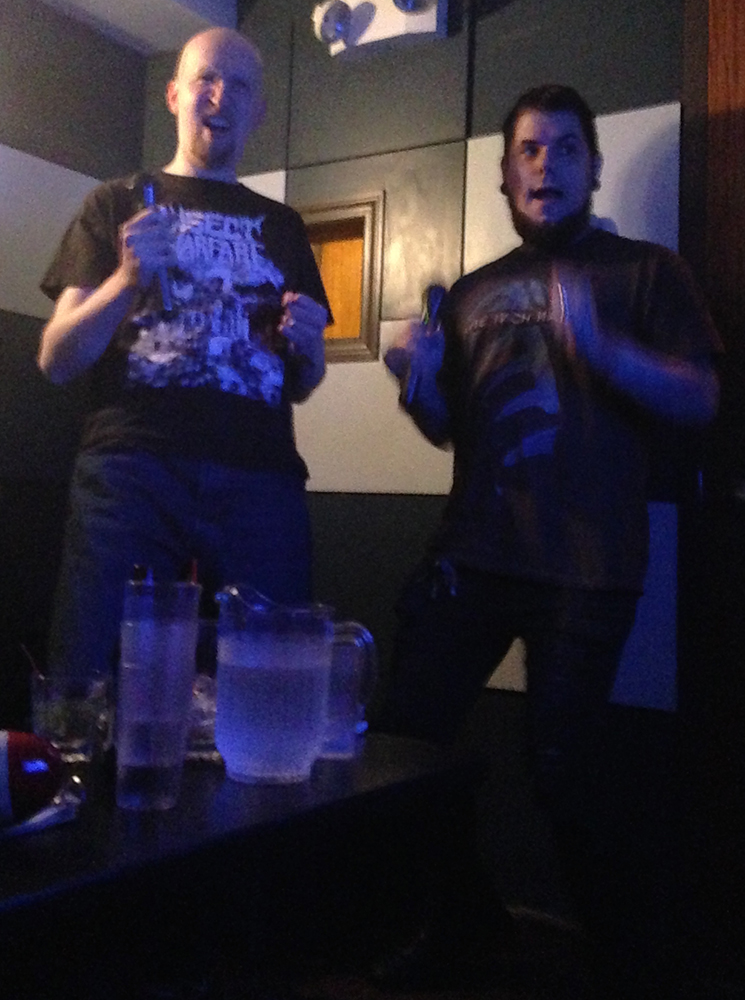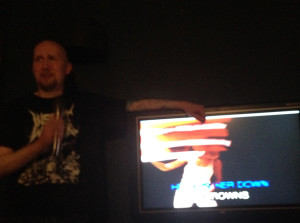 Karaoke Duet
http://www.karaokeduet.com/index.php
So fun. The private rooms make everyone more comfortable bustin' out the Guns N Roses, or whatever your jam happens to be. Forgive the fuzzy pics. Dark + iPhone camera = big fuzz.
The next day, Masayoshi Takayama's Bar Masa for lunch.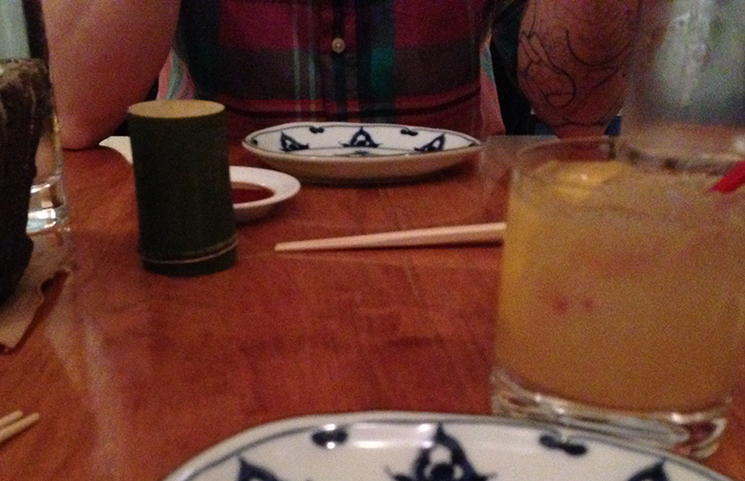 Bar Masa
http://www.barmasanyc.com/l1k1mme9d2sho8pmmabroeqmzjy060
The restaurant Masa is supposedly a revelation. It was out of our price range for lunch. So we went to the bar and had a great time there instead, where we enjoyed:
Yamazaki Lemonade (Suntory 12, Fresh Lemon Juice, and Barley Tea Syrup) / Lychee Nigori (House Infused Lychee Vodka, Nigori Sake, and Fresh Lime Juice) / Omakase of Seasonal Nigiri and Sashimi / Miso Creme Brûlée.
Next up, the most difficult reservation I had to make.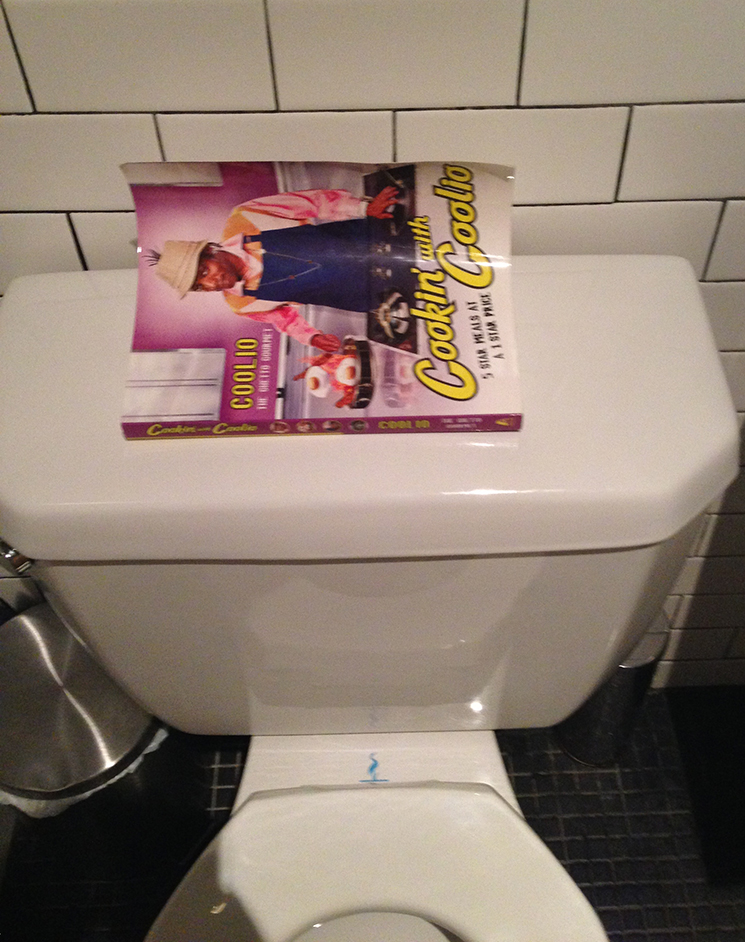 Momofuku Ko
http://momofuku.com/new-york/ko/
Yeah, that's right, I have a picture of a toilet on my food site. But it's a toilet with a Coolio cookbook perched on top as suggested reading material. Unfortunately, it's the only pic I could get away with snapping at Momofuku Ko. David Chang's 12-seat spot doesn't allow photos of the food. Guess you'll just have to go for yourself to see. It was amazing though. Creative, beautiful food served by talented, friendly, down-to-earth chefs, against a soundtrack of Chang's iPod set to shuffle. Mike made a list of the tunes so he can make me a mix tape. He's the best. They also employed spent wine corks as chopsticks rests. Brilliant all around.
Set tasting menu (which was totally nuts, not listed online, and virtually impossible to describe, despite the fact that they sent a very simplified version of the night's menu home with us).
Straight from Momofuku, we headed to join our excellent friends from the NYU cinema studies program, where Mike and I met. The low-key Brooklyn bistro they chose was:
Bar Tabac
Didn't eat anything here, but they had lots of fun ideas, which I will be stealing tout de suite, like using clean, clear wine bottles (labels removed) for water — whether tap, sparkling or herb- and citrus-infused.
The next day was laid-back and delightful. We met Mike's bestie, also Mike (though we call him Mackey) at the Highline for a picnic lunch and fun: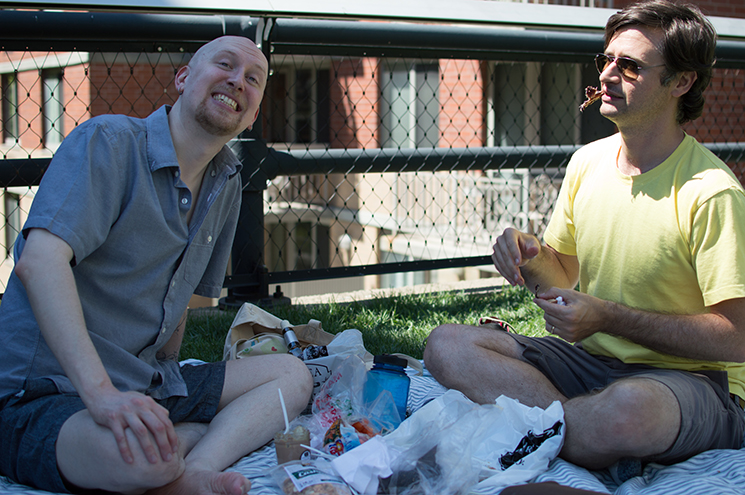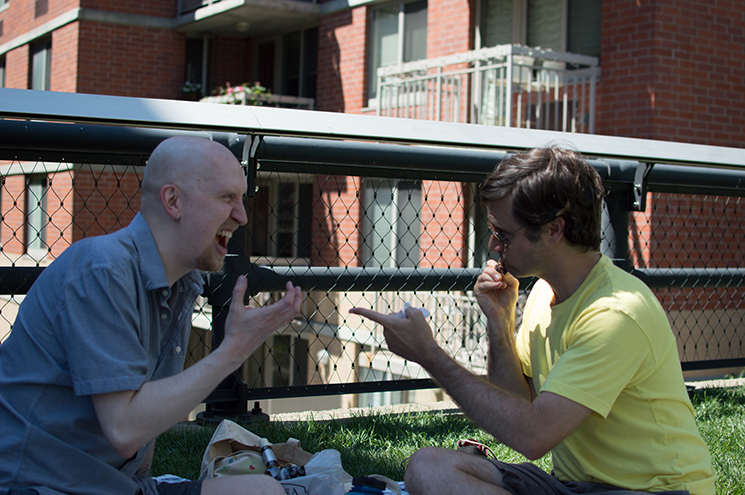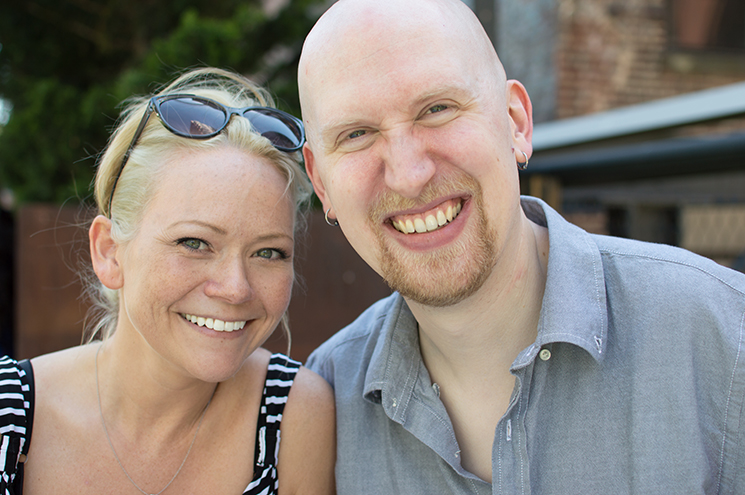 The Highline
This place is totally awesome. It's an old railroad line, repurposed as a park, with tons of green spaces to picnic and little spots to get ice cream and drinks. Also, it's right next to Chelsea Market, which you should visit if you haven't yet.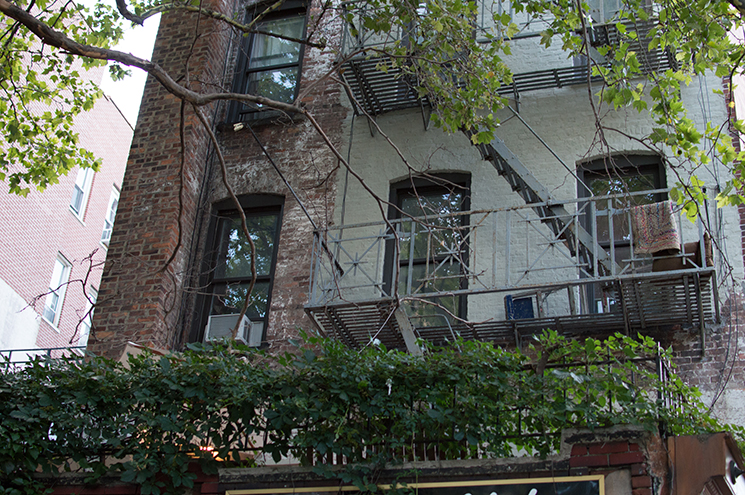 Swung by our old apartment, then on to dinner at:
EN Japanese Brasserie
http://enjb.com/menus/DINNER_MENU.pdf
Sorry, no pics here either. It's a Japanese restaurant that does a full a la carte menu, but we did one of their tasting menus with sake. Some of the highlights were miso-marinated grilled black cod, fresh-made tofu and chicken served tableside — still-cooking — on a stone. Like most traditional Japanese food, the focus is on perfection through simplicity.
Soyo kaze with sake accompaniment.
The next day we had lunch at:
Le Bernardin
http://le-bernardin.com/menus/#tasting-le-bernardin
I can't … there are … no words. Even the servers were perfect. Like French supermodels hooked up with World Cup futbolers and made stunning, impeccable babies. And then they grew up to become shiny, black-clad, Bulgari watch-wearing waitstaff.
Chef's tasting with wine pairing.
And after a well-deserved nap, we went to dinner at:
Elan
http://elannyc.com/elan-dinner-063014.pdf
This spot, from the brilliant minds behind the now-closed New York classic Chanterelle, just opened. And we jumped on a reservation! Everything was really good, but it's hard to follow Le Bernardin. We had:
Foie gras pops/ sea urchin guacamole/ seafood sausage/ mackerel with yuzu risotto/ special: foie and duck burger with smashed yukon gold potatoes/ apricot tart.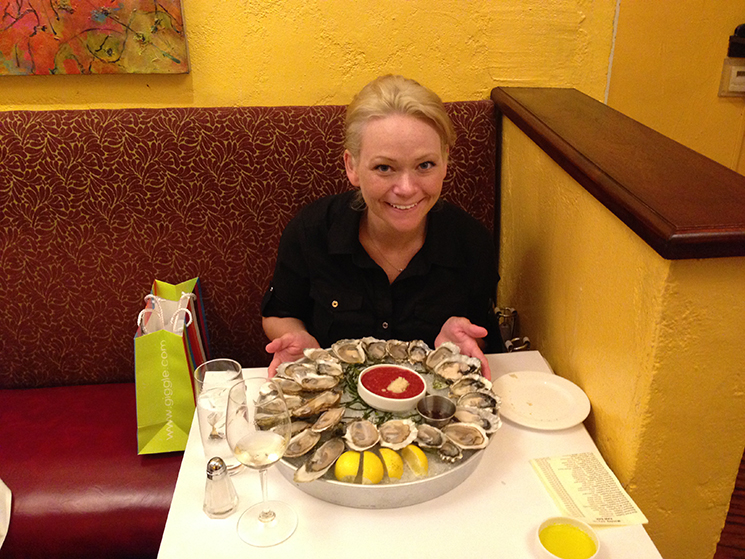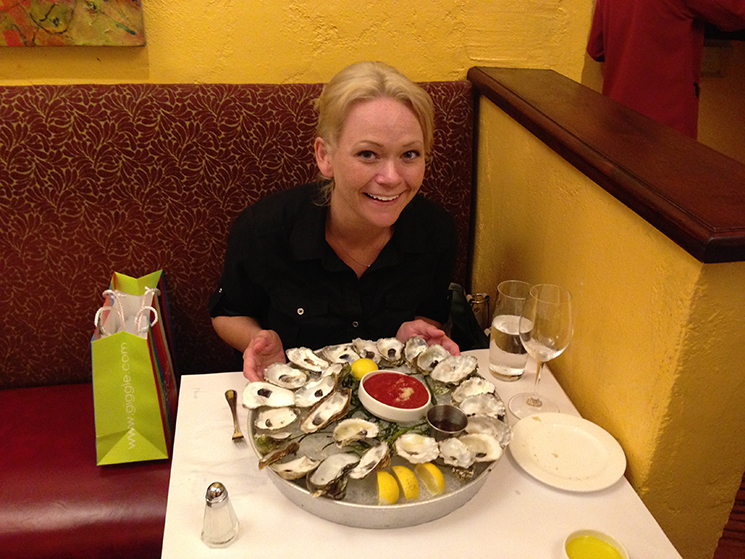 Aqua Grill
Left to my own devices for lunch the next day, I decided to eat one of each of the different oysters on the list at Aqua Grill, 27 in total. I'm apparently not the first person to think of this, since they offer it as a sampler.
Oyster sampler (one of each oyster available) — pics are of before and after.
After lunch I stopped by the Meadow to peruse their wonderful salt selection: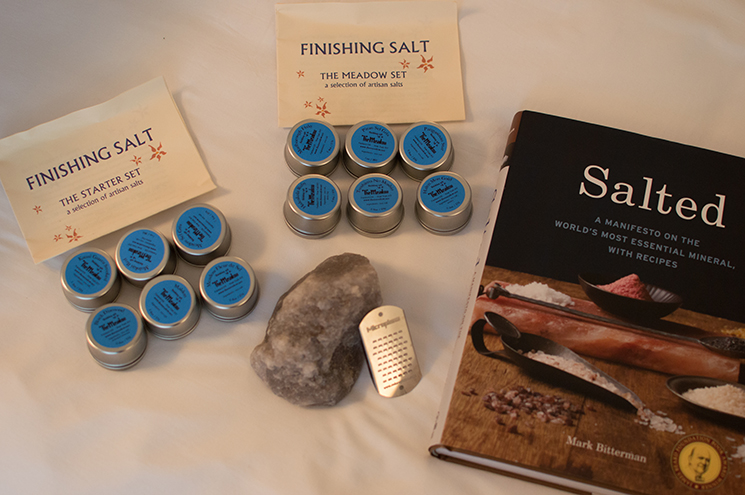 The Meadow
http://www.atthemeadow.com/shop/
I left with two of their sets, a large block of salt for grating, and the owner's book, Salted. I also placed an order for a Himalayan salt block and the second book, Salt Block Cooking. The block was too heavy for me to carry all over the west village and SoHo.
Lastly, despite coming way too late for an original Cronut, Domenique Ansel Bakery: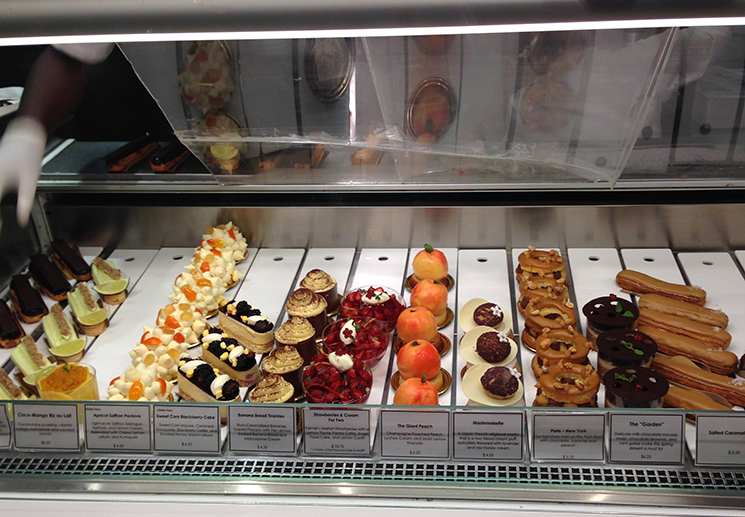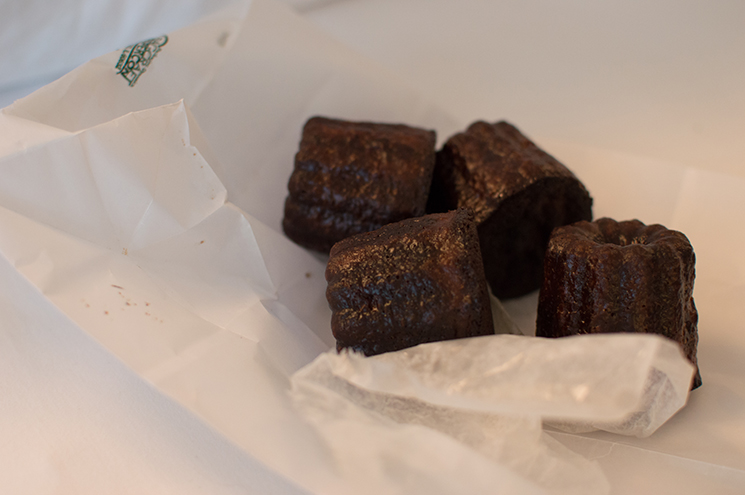 Domenique Ansel Bakery
The staff was fine with me toting off a bag of the caneles, but I got a firm talking to when I suggested that I would like to take a bunch of the gorgeous plated desserts to present to friends later in the evening. After promising to go directly to an air-conditioned cab and put them straight in the mini bar fridge at the hotel, they allowed me to purchase their delicate products, which included a "giant peach," two eclairs, a pretty spin on key lime pie and a foxy chocolate concoction that they referred to simply as "the garden." They were all almost too beautiful to eat. Almost.
So that was the first half of vacation. Exploring New York. Catching up. Not cooking. Now we're on to the second half (at our lake house in Walker, MN — way up North), and it's much less fancy, but I have these two little angels to make it worthwhile: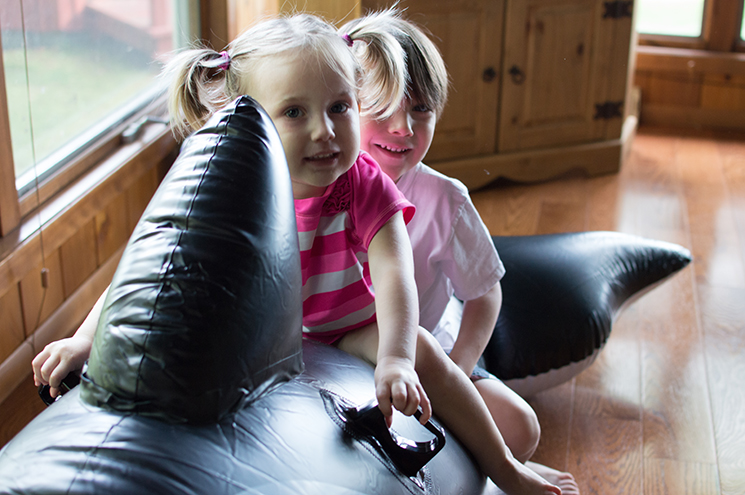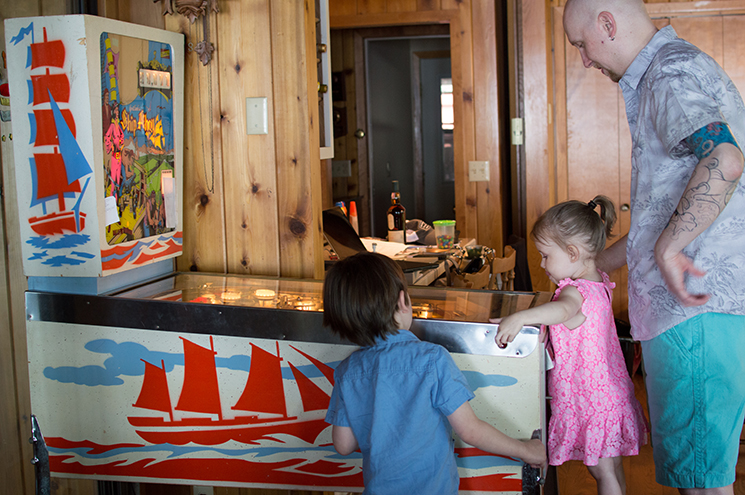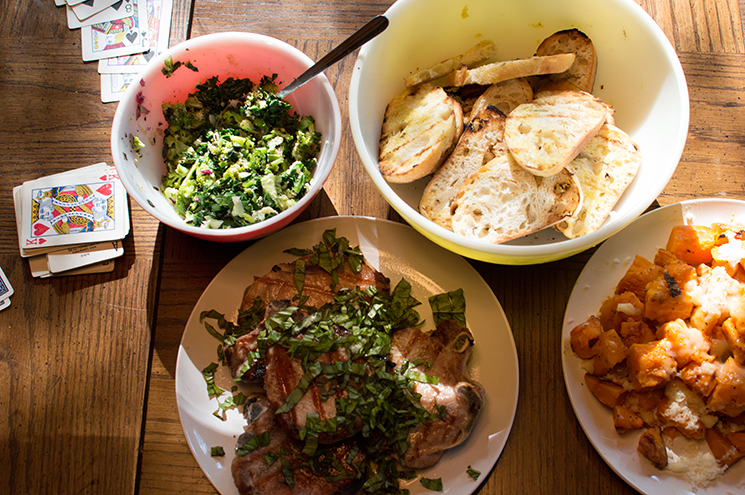 And there's nothing wrong with being back to cooking every day. I quite like grilling bread, broccoli and greens salad, pork chops with basil and sweet potatoes with farmer's cheese.
There's still plenty of exploring to do when you're doing your own cooking, too.