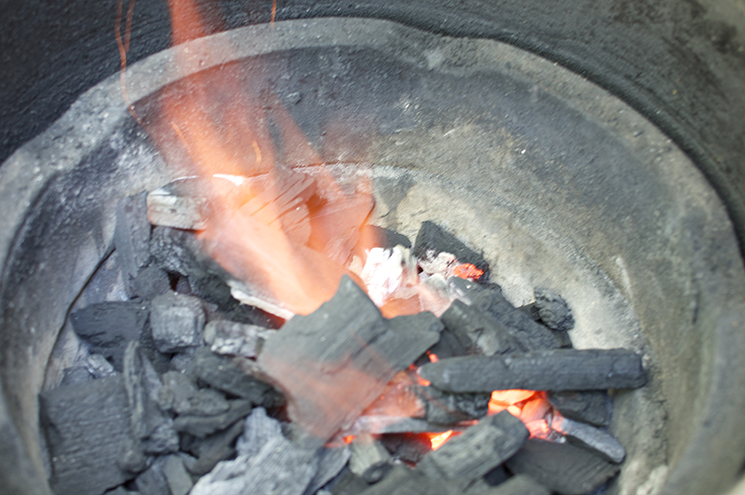 Everything tastes better after a little kiss from the flame.
So I'm not sure what it is, but there's just something about fire and food. It's probably not necessary. But it's fun. And delicious. So why not do it?
It seems like folks have figured out that you can cook pizza on the grill. Nothing new, right? Yeah, well to me, it appears they haven't all noticed that fire is fire and you can make all the toppings on the grill too. Why would you start a perfectly good fire and only cook the dough over it? Let that flame do its job, y'all!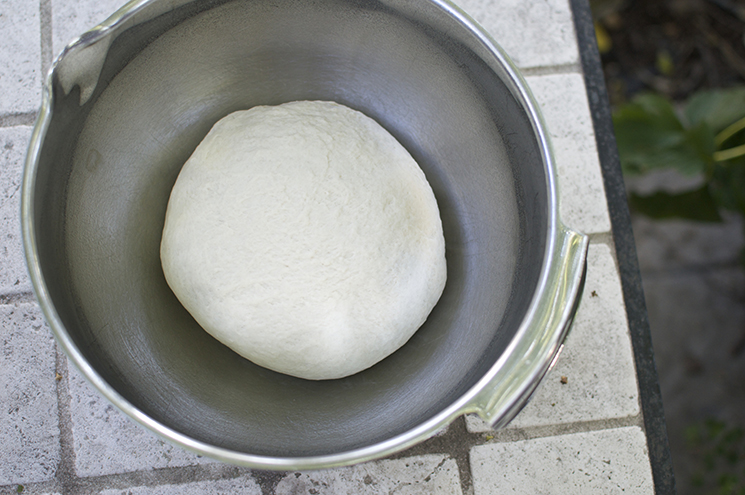 Start with your dough:
3 1/2 cups flour
1 teaspoon sugar
1 heavy tablespoon yeast (I used SAF)
1 tablespoon salt
1 1/2 cups warm water (90-110 degrees)
1 tablespoon olive oil
In a large bowl, knead together all the dough ingredients, about 10 minutes, until smooth and stretchy. Transfer to a clean bowl and let rise, in a warm place, for about an hour. Then you will have this: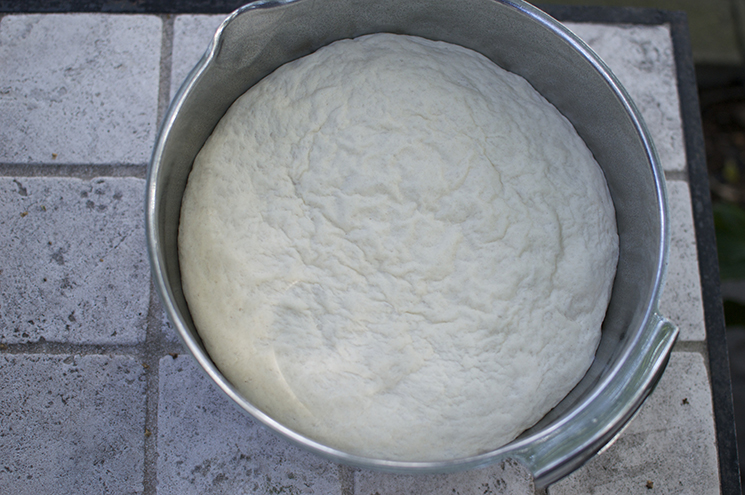 Punch it down, divide into 2 pieces, round them and let rest 10 minutes. This will make 2 pizzas. Meanwhile, start a fire. Make it as hot as you can.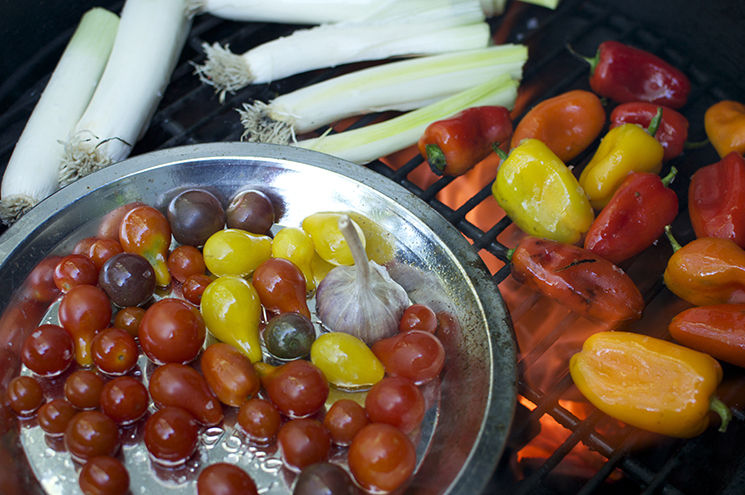 No matter what you decide to throw on top of your pie, if it's a grilled pie, I think grilled toppings are groovier. I made two pizzas, so I went with 2 combos. The grilled stuff included: leeks (halved lengthwise, stem still attached, cleaned), baby peppers plus cherry tomatoes and a head of garlic, protected by a metal pie pan. Toss all of it in olive oil and salt. Grill and turn veggies, until the peppers char all over and the leeks have a nice browned coating. The tomatoes should pop and look delicious, like this: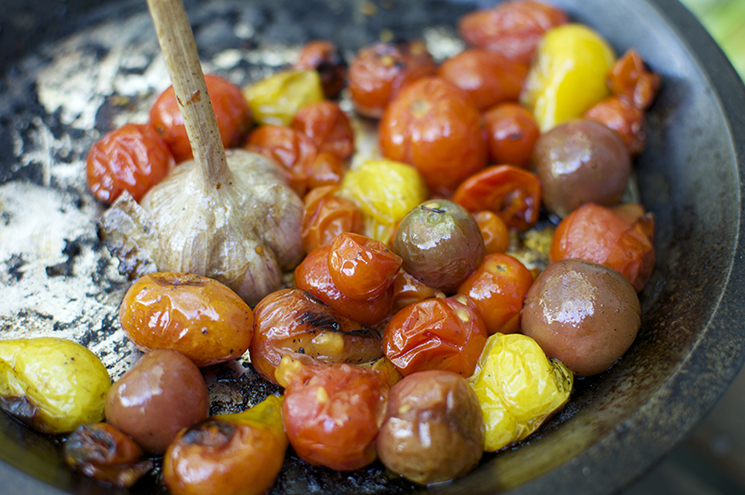 Squeeze the garlic from its skin and mince. Slice leeks, clean peppers. Set toppings aside and pick your cheese and fresh toppings. Put a stone on the grates, if using.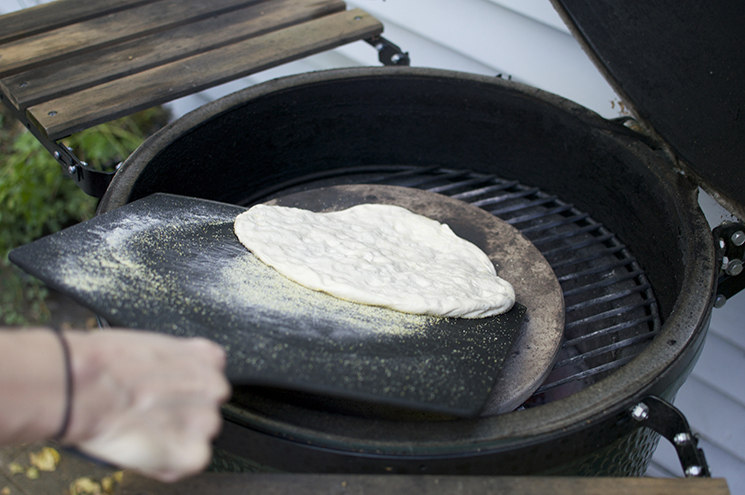 Stretch out that pie dough to about 12 inches. Dust a peel with cornmeal (more than you think) and place the dough on top. Shake loose onto the stone or grates. Grill 2 to 3 minutes with the grill closed, then flip crust and add toppings. Close the grill and cook 3 to 5 minutes longer, until crust browns, cheese melts, and you can't wait any longer!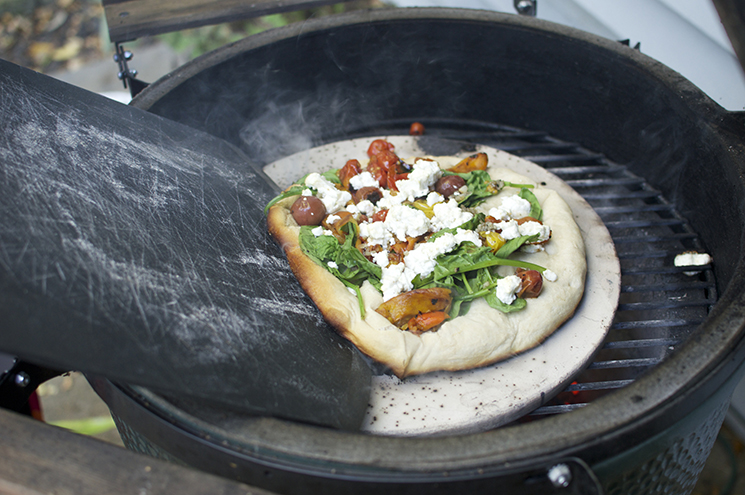 Gently peel the pizza from stone or grates.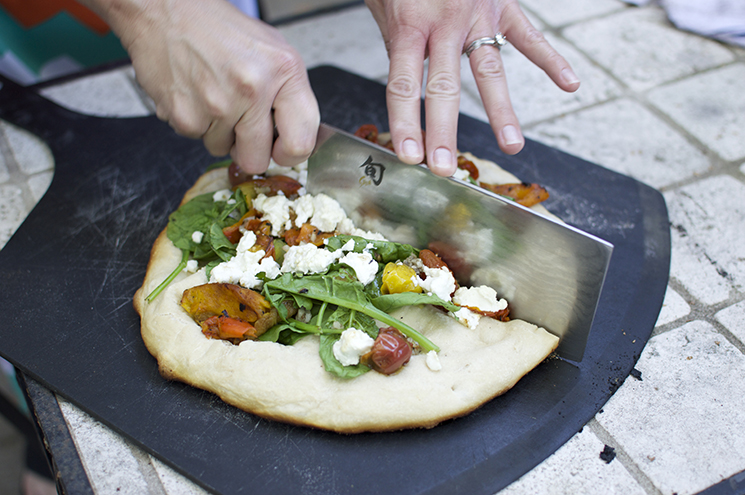 Cut directly on the stone. I prefer a cleaver, since you can use it to cut, then serve (cleaver, spatula, really what's the difference?).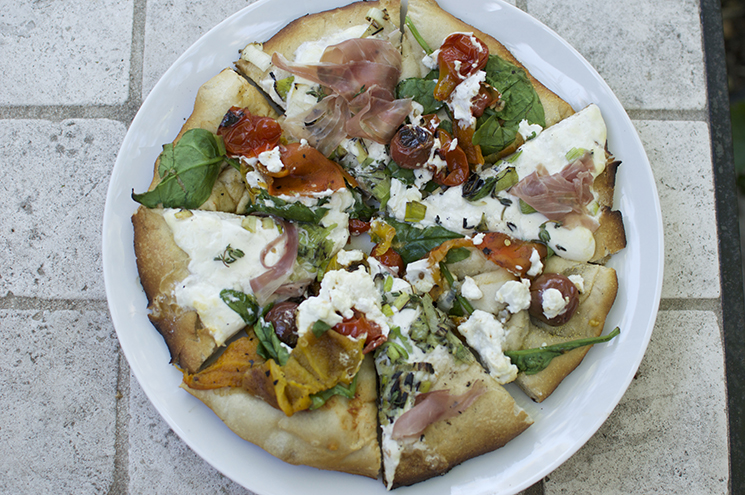 So my 2 pizzas were: leeks/ burrata/ prosciutto/ thyme … and peppers/ tomatoes/ goat cheese/ spinach/ garlic.
Whatever you're throwing on the grill, think of what would make it even better if you sent a friend along to keep it company. Happy fall, y'all!