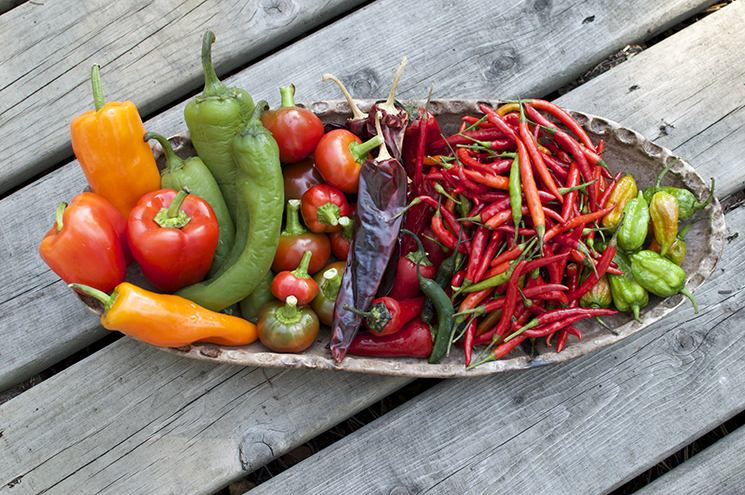 Left to right: Bells/ Anaheims/ Cherry Bombs/ Dried Guajillos/ Red Jalapenos/ Serranos/ Thai Birds/ Ghosts
My Mama and my aunt are big canners. They put up all sorts of stuff that comes from their fecund backyard garden. Having no garden of my own, I usually don't have much reason to can things. But sometimes you just can't buy the awesome canned foods of your youth. So if you're like me, you have to make the pepper jelly for yourself. Because the single sad option at my friendly Minneapolis grocery stores just won't do.
To be sure, the pepper "jellies" of my youth would more appropriately be categorized as "jams," containing chunks of pepper and seeds and deliciousness instead of homogenous, pureed mediocrity. So maybe comparing the jammy version from my memories to the commercialized jelly is unfair. But it doesn't change the fact that where I live, I can't buy this thing I want.
So when confronted with a surplus of all sorts of chiles, including some disturbingly hot ghost peppers from the farmers' market, I felt compelled to make pepper jelly.
However, some of my friends are working on fermented hot sauces and the question arose: when working with super hot peppers, is a pepper jelly or a pureed fermented hot sauce a better use of their "talents?" In order to find out, I decided to use half the peppers in a fermented sauce and half in a pepper jelly.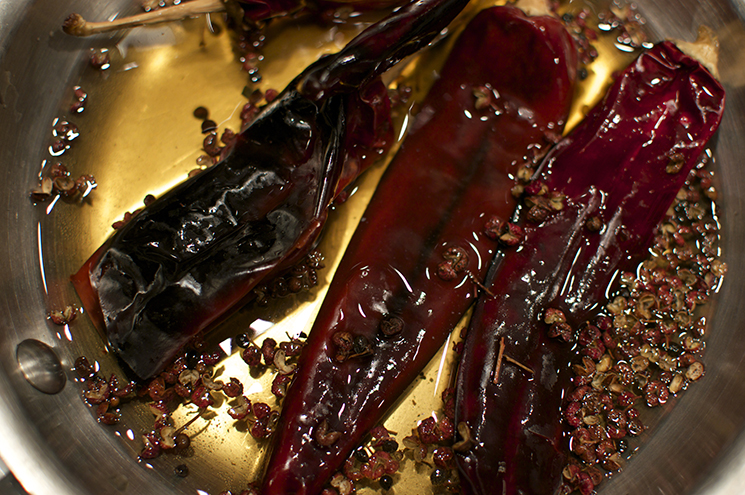 No matter the application, if you're using any dried chiles, you'll want to toast and soak them. But as in all things, why use water when you can use something that adds flavor instead of diluting it? Right, so vinegar it is. I toasted my 4 guajillos in a dry skillet over medium heat for about 5 minutes, just til toasty and fragrant. Then I took them off the heat, added 1 tablespoon Sichuan peppercorns and 1 cup cider vinegar. Then I let it steep about 20 minutes. Then strain the peppers from the vinegar and save the vinegar. Discard the peppercorns.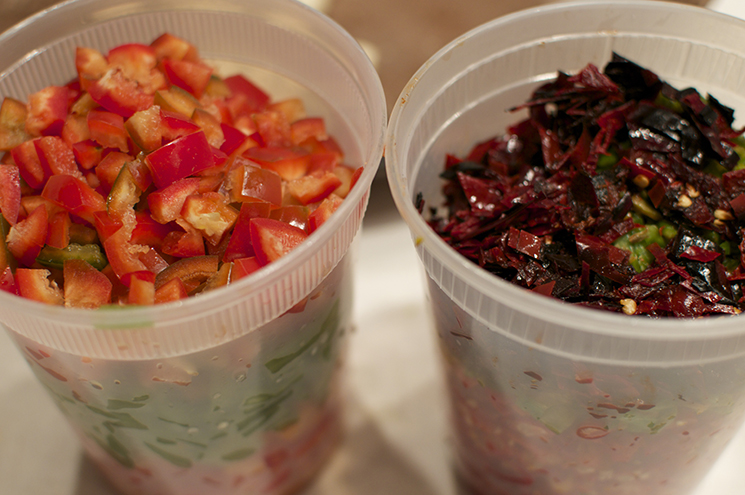 Meanwhile, I chopped up everything else. The bells, Anaheims, cherry bombs, jalapenos, serranos and ghosts got their seeds and membranes removed before being chopped. But as a lazy person faced with three cups of tiny Thai birds, I opted for just stemming and chopping those itty bitty beasts instead of seeding them. What can I say? Life is short. I ended up with about 2 quarts of chopped chiles.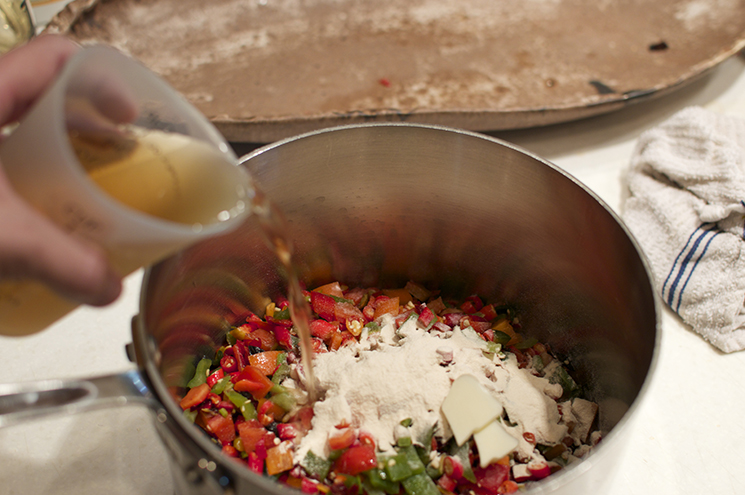 Hot Pepper Jelly
4 C chopped assorted chiles
1 C cider vinegar
3 T pectin
1/2 t butter
5 C sugar
Combine chiles, half the reserved steeped vinegar and another 1/2 cup cider vinegar, pectin and melted butter in a 4-quart saucepan and bring to a boil over high heat. Add sugar and return to a boil for 1 minute. Transfer to cleaned canning jars, filling within 1/4″ of lid, then seal and cover by 1 inch in a canner. Boil gently for 10 minutes, then remove from canner and cool completely. Make sure all jar tops "pop" to indicate a good seal.
Fermented Hot Sauce
4 C chopped assorted chiles
4 t salt
1 1/2 C cider vinegar
Combine chiles, salt and vinegar in blender and puree until smooth. Transfer to a large clean glass canning jar, cover with a coffee filter, then screw on ring without lid. Let ferment in a safe place on your countertop for about a week. Then refrigerate (covered) up to 3 months.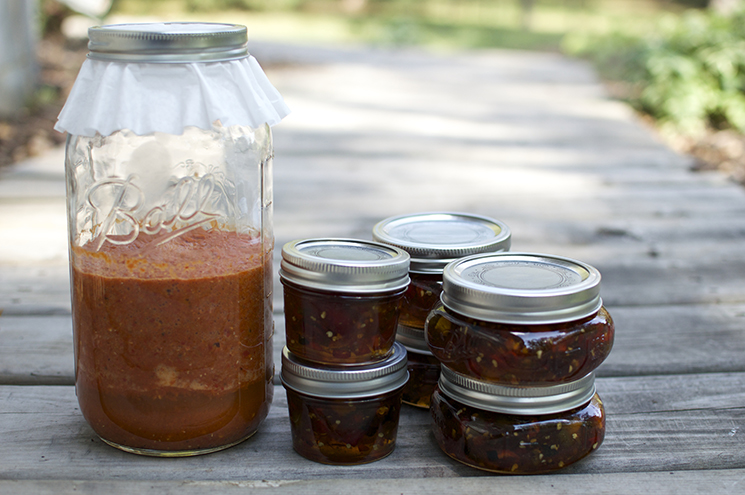 So what happened? The fermented sauce, as a puree, carries a lot of intense heat throughout, so it works perfectly as a hot sauce should — to be added at the end for folks who crave more heat, or stirred into things and easily incorporated. But the pepper jelly is more of a mixed bag. Since you could just as easily get a chunk of bell pepper or ghost pepper in your spoonful, the pepper jelly is like the hot sauce version of Russian roulette. You know the ghosties are in there, but … will you get one? Also, the sugar tempers the jelly, proper, so it's not super-charged across the whole sauce. I can't wait to throw this stuff in some mac and cheese, on top of grilled lamb or in a very grownup version of PB&J. Some like it hot. Do you?