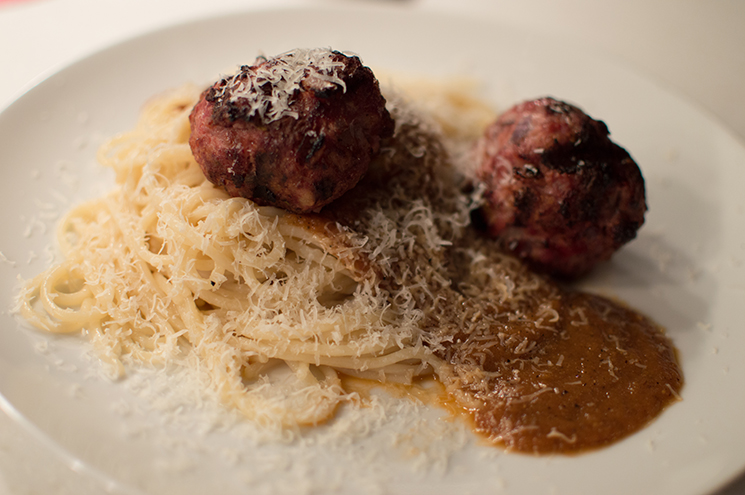 So I wanted a favor from a coworker, and in exchange I offered to grill up his favorite food. He said unfortunately I wouldn't be able to do that, since his favorite food is spaghetti and meatballs.
Challenge accepted.
But it took a little thinking. Should I toast homemade pasta over low heat, then cut and boil? Should I just boil the pasta on the smoker to try to infuse a little smoky flavor? Nah.
I decided to make smoky water, smoky sauce and super-smoky meatballs (they get grilled with smoke but also include smoked bacon). Wanna see?
Grilled Spaghetti and Meatballs
Serves 10
Smoked Water
6 C applewood chunks
Meatballs
1 1/2 C diced onion
1 C panko
1/2 C grated Parmesan
7 sprigs thyme leaves
1 T Dijon
1 T Worcestershire sauce
1 t salt
2 eggs
1 Lb ground beef, 90%
1 Lb ground veal
1 Lb bacon, diced
Sauce
6 Lbs roma tomatoes, top (stem side) sliced off
1/4 C olive oil
1 T salt
1/2 t crushed red pepper flakes
4 small onions, sliced in half
3 heads garlic, root end sliced off
Noodles
2 pounds spaghetti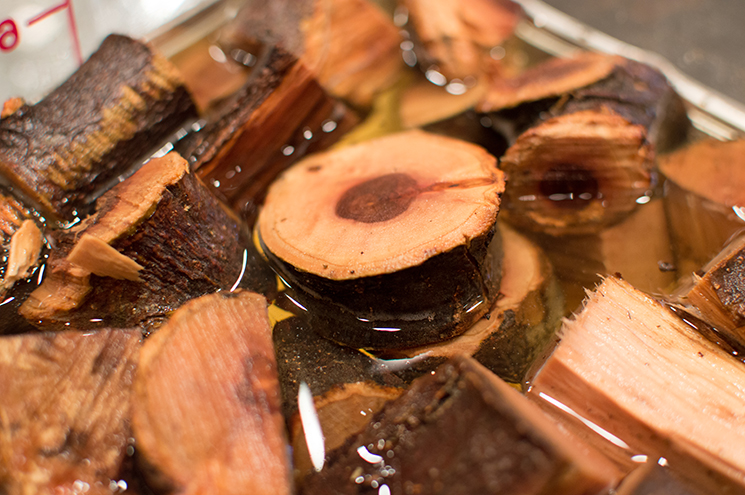 Soak applewood chunks in 3 quarts of water for 1 hour.
Prepare a charcoal grill for medium heat.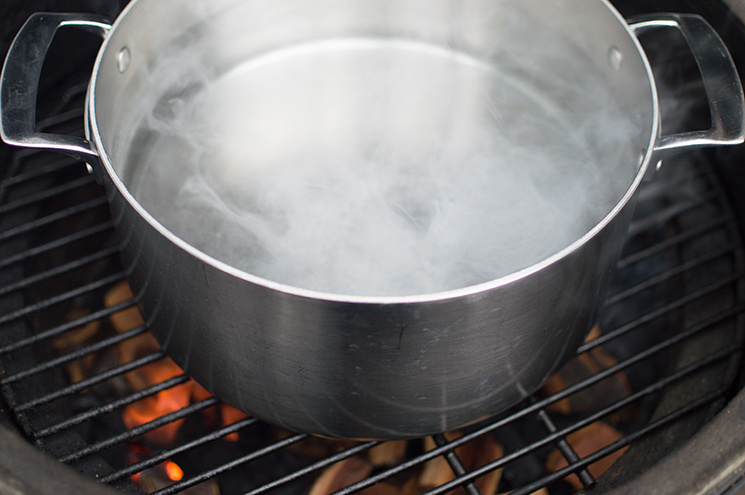 Place 6 quarts water in a heatproof stockpot. Drain wood chunks and scatter over fire.
Place stockpot of water on a grate and smoke at 250 degrees for 1 hour.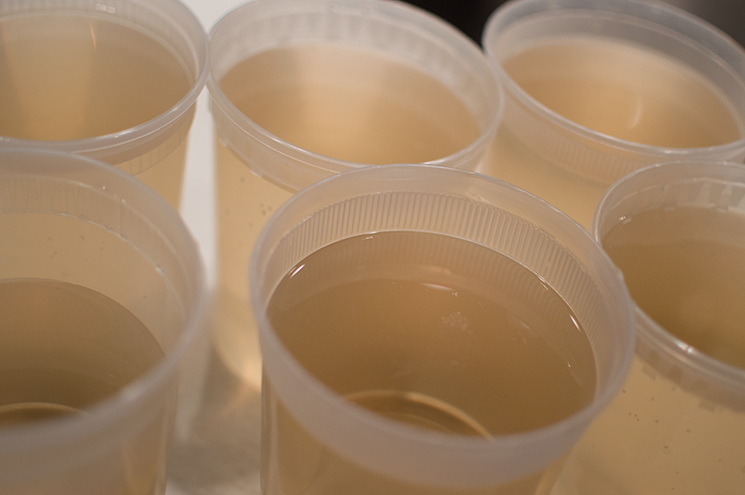 If not using immediately, transfer to quart containers. Allow to cool.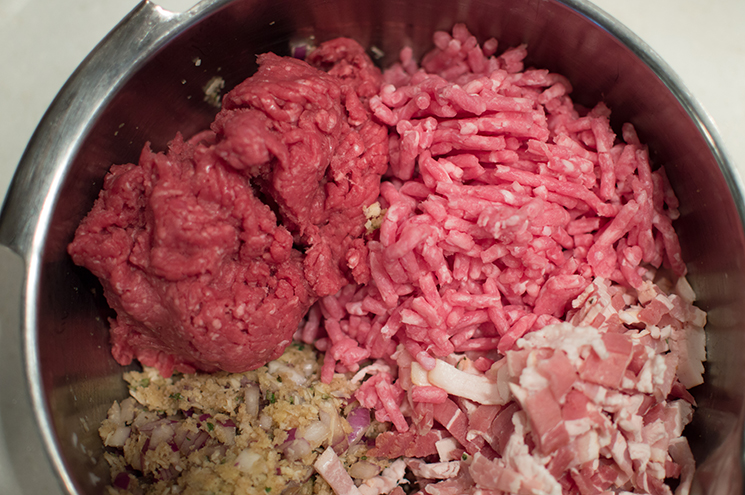 Meanwhile, prepare the meatballs. Combine all meatball ingredients in a large bowl.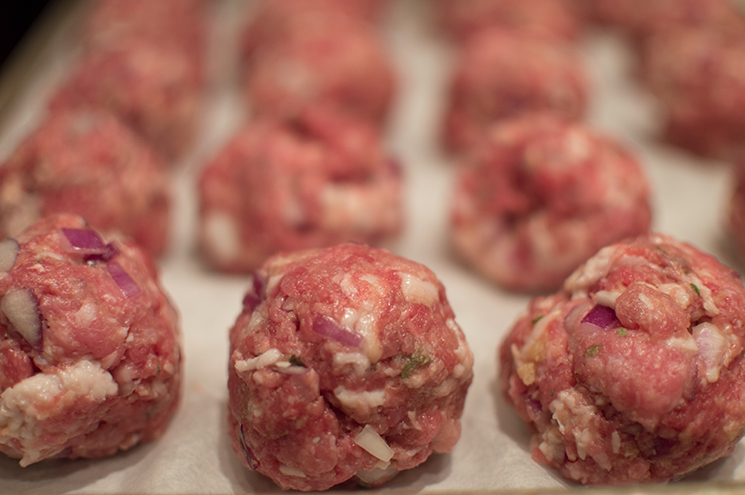 Shape into 20 approximately 3-oz balls and place on a parchment-lined cookie sheet. Cover with plastic wrap and refrigerate.
Open grill vents completely, then adjust grill temp to 400 degrees.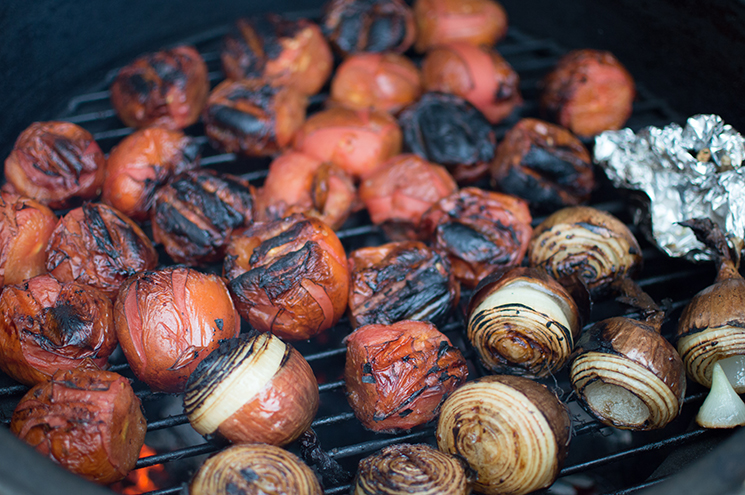 Meanwhile, toss all sauce ingredients in a very large bowl. Wrap garlic heads in foil. Place garlic packet on side of grate. Place onions cut side down on grates. Place tomatoes on grates. Cook 20 minutes. Turn tomatoes and flip onions to their sides. Cook 15 minutes longer.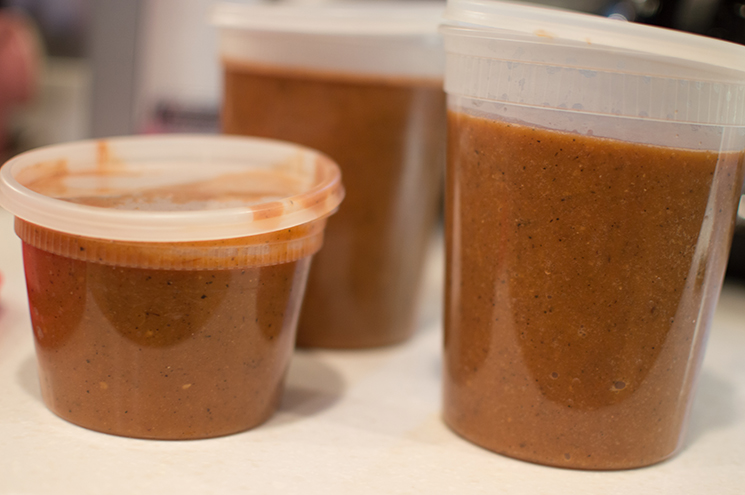 Squeeze garlic cloves from their peels into blender. Peel onions, cutting tops from flesh. Add to blender. Place half of tomatoes in blender. Pulse until liquefied. Transfer to a large saucepan, or if not using immediately, transfer to quart containers for storage. Add remaining tomatoes to blender and pulse to liquefy. Transfer to saucepan (or containers) with remaining sauce. Bring to a simmer. Add salt to taste. Keep warm while cooking the spaghetti and meatballs.
Bring smoked water and 3 tablespoons salt to a boil in a large stockpot. Add pasta and cook according to package directions. Drain.
Grill meatballs at 400 degrees for 3 minutes per side, or until internal temperature reaches 165 degrees.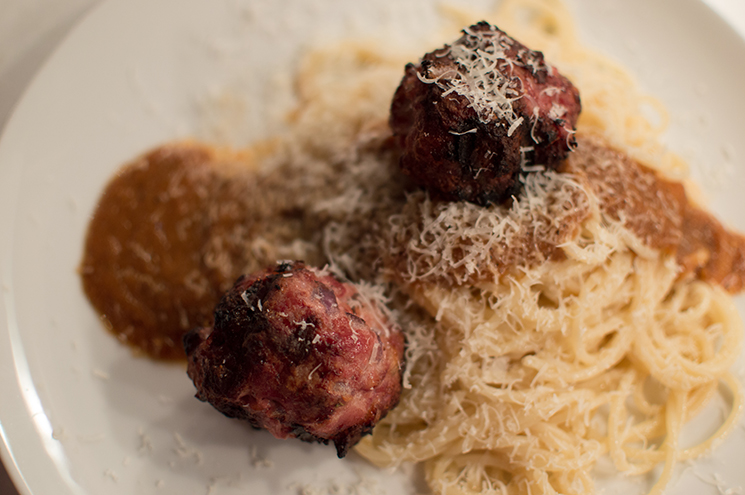 Serve pasta with sauce and meatballs. Challenge … accomplished.
Grill, baby, grill.