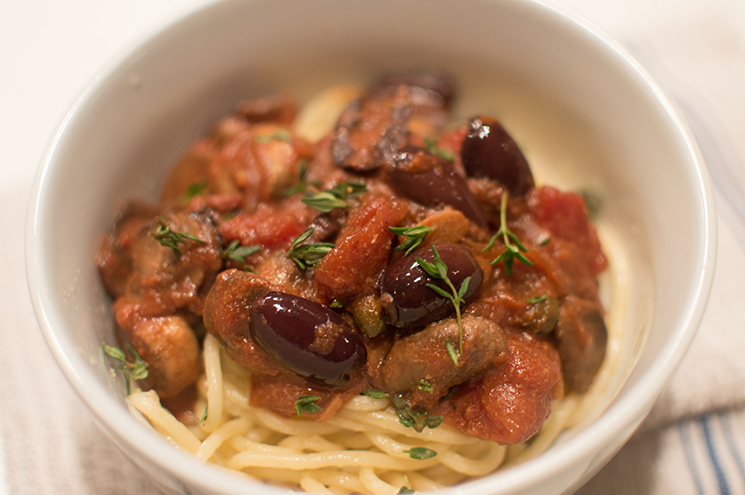 Something's fishy. Wait, is that bad?
That fishy smell and taste are responsible for the majority of the good things in life. Maybe that's going too far. Maybe not!
That Worcestershire sauce-fish sauce-Caesar dressing-kimchi-Miso soup earthiness plays into so many foods that I enjoy — and that stuff's hidden in way more of your fave foods than you probably realize. Ain't nothin' wrong with umami. And that fermented, fishy smell and taste is a great way to get there.
Still, folks seem turned off by the unhidden fishy dishes. Cod, unfortunately, takes the brunt of it. The best way I've learned to deal with an overtly fishy fish, like cod, is to embrace the strong flavor and marry it with similarly strong flavors. Check it out.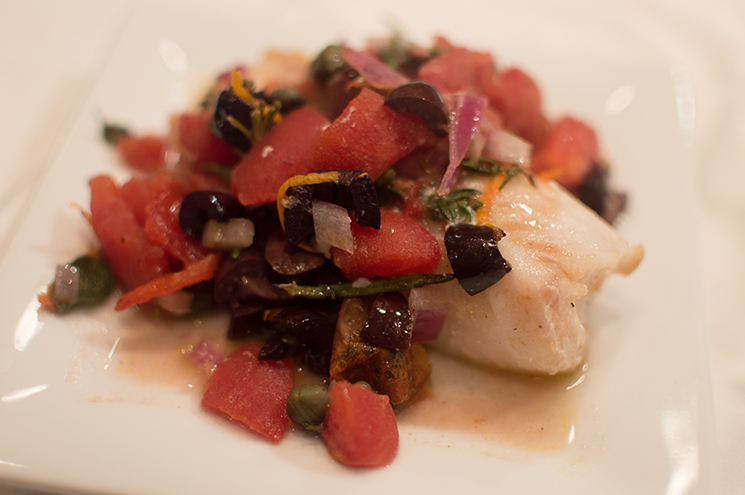 Baked Cod with Briny Mediterranean Sauce
4 (4-6 oz) cod fillets
2 T olive oil
salt, tt
1 (14.5 oz) can diced tomatoes, drained
½ C pitted kalamata olives, chopped
½ C diced red onion
¼ C capers
2 oranges, zested and juiced
1 T rosemary leaves
1 T thyme leaves
1 T oregano leaves
Heat oven to 500 degrees.
Place cod on a sheet pan or in a small roasting pan. Rub with the olive oil and sprinkle with salt.
Combine remaining ingredients in a small bowl. Pour over fish.
Bake 10 to 12 minutes, until fish flakes easily in thickest part. Shave a little Parm over the top if you'd like.
But what if you want the flavor you get from fermented fish, without, y'know, rotten fish?
It would behoove you to embrace other umami-rich foods. What are those foods, you ask? Soy, of course. Also, mushrooms. Olives. Tomatoes. Parmesan. Any of these ingredients look familiar?
There's another, though, that my friend Mary over at The Numbers Chef  introduced me to. Nutritional yeast. You don't have to be super granola-y to appreciate it, either. It's delightful, vegan and available in the bulk food section at your local Whole Foods or co-op.
Let's take that yummy, fishy flavor profile from the cod recipe and make a vegan version of pasta puttanesca with it. Just take out the fish and add the secret ingredient – nutritional yeast.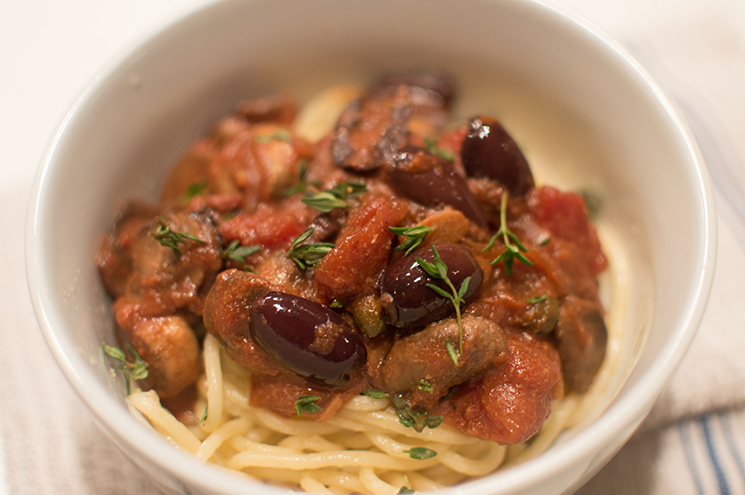 Vegan Pasta Puttanesca
1 Lb spaghetti
2 T olive oil
2 medium red onions, sliced
salt, tt
5 cloves garlic, sliced
1 Lb mushrooms, sliced
½ t red pepper flakes
¼ C soy sauce
1 (28 oz) can diced tomatoes
1 cup olives, halved
2 T capers
3 T nutritional yeast
Thyme leaves, for garnish
Heat olive oil in a large sauté pan over high heat until shimmering. Add red onions and salt to taste. Saute 4 to 5 minutes, until translucent and lightly browned on edges. Add garlic cloves and cook one minute longer.
Add mushrooms and red pepper flakes and continue to cook until mushrooms release juices, liquid is absorbed and mushrooms brown. Add soy sauce and simmer until almost dry.
Add tomatoes, olives and capers and cook until liquid is almost absorbed. Stir in nutritional yeast and reduce heat to low until pasta finishes cooking.
Meanwhile, cook pasta according to package directions, saving some of the cooking water to thin the sauce.
If your sauté pan is large enough to accommodate the pasta, transfer the pasta directly from the pot to the sauce. Don't worry too much about the clinging water. Turn off heat and stir the pasta and sauce to coat well. Transfer to bowls and sprinkle with thyme leaves.
The last fishy dish I'd like to defend is the oft-maligned tuna melt. Canned tuna is basically the fishiest of fishes, even when people aren't finding weird stuff in it, then posting photos on Facebook.
I love canned tuna, but I admit sometimes it makes it hard. I like to take the same approach as the cod – strong flavors can't hurt. A little heat, a little fat, a little soy, some good melty cheese – sounds great to me.
Tuna Melt
2 (5 oz) cans tuna, drained
2 T mayonnaise
2 T diced red onion
1 T Dijon mustard
1 T soy sauce
1 t hot chile oil
4 slices deli mozzarella cheese
8 slices sourdough bread
4 T butter
¼ C Japanese pickles, patted dry
Combine first 6 ingredients in a medium bowl. Spread evenly on 4 of the bread slices. Top with cheese. Top with remaining slices.
Heat a griddle to medium-high heat. Melt half of butter on griddle, spread evenly, then place sandwiches on griddle. Cook until nicely browned then transfer to cutting board. Melt remaining butter on griddle, spread evenly, then place sandwiches, uncooked side down, on griddle.
Serve sandwiches with pickles.
So who's ready to go fishin'?