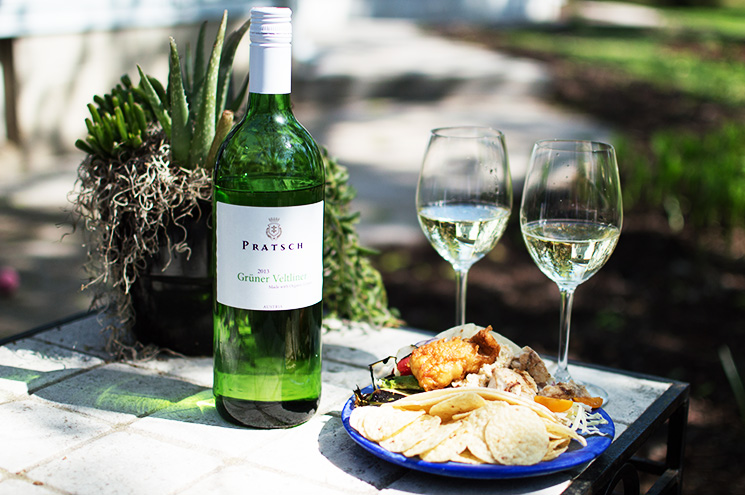 It's that time of year again. That's right, taco time.
Sure, Cinco de Mayo has its day, but let's be honest, tacos are an all-summer jam. Crank 'em up in May and they're still kickin' at the end of August. Luckily, their story arc is echoed by another favorite of mine — tart white wines. Today's tacos were devoured alongside an Austrian Gruner-Veltliner, but a Portugese Vinho Verde (green wine) would be a welcome substitute. They're like the cold beers of the wine world.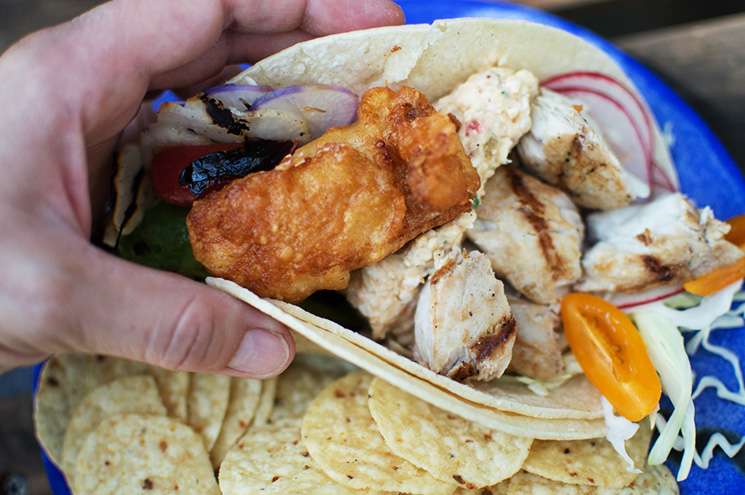 I think it's pretty clear at this point that you can put pretty much anything you want in a taco, but I gotta admit I've got a soft spot for fish tacos. Usually the fish is fried and the toppings are raw, but if we're friends you know I like to mix it up. So, like I do, I decided to play around with the expected. Sure, I made up a bunch of raw toppings, but I threw half on the grill too. And instead of just plain old sour cream on top … well, you'll see.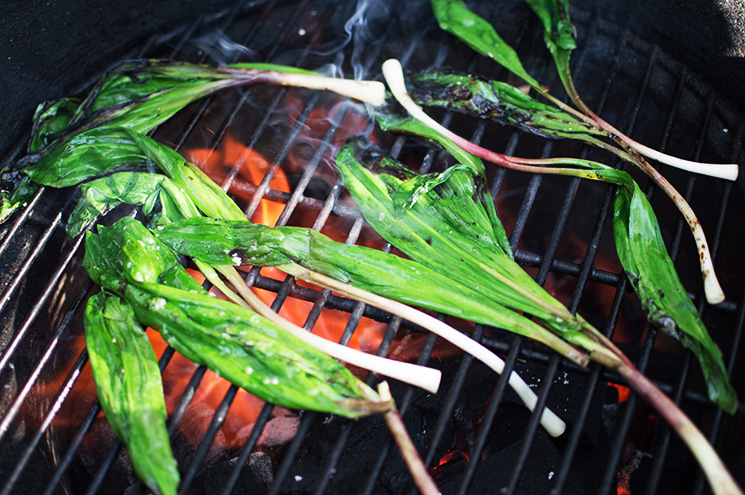 First off, it's ramp season, so it's my civic duty to cram them in wherever they'll fit. And I thought a good place for them to fit would be: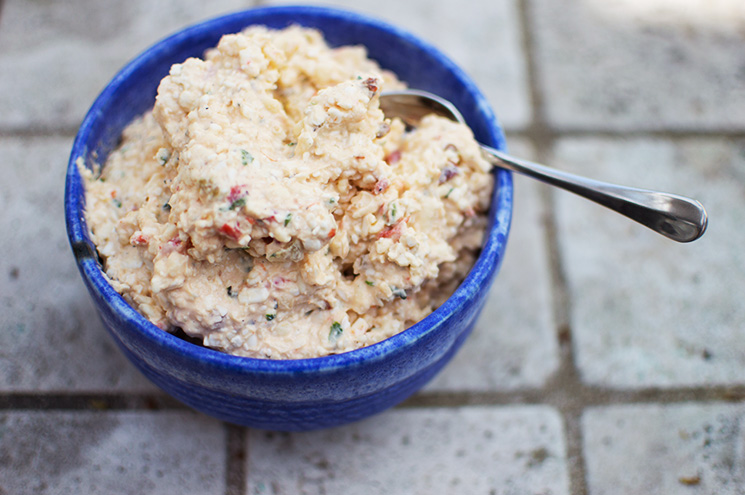 Pimiento Queso with Grilled Ramps
1 C sour cream
1 (4 oz) jar chopped pimientos
3 grilled ramps, chopped
1 chipotle in adobo, chopped
2 T chopped pickled jalapenos
1 T juice from pickled jalapenos
1 T fish sauce
1/2 t crushed red pepper flakes
1/2 t salt
12 oz shredded cotija cheese
12 oz shredded jack cheese
1 lime, juiced
Combine sour cream, pimientos, ramps, chipotle, jalapenos and juice, fish sauce, pepper flakes and salt in stand mixer fitted with the paddle attachment. Beat on low speed until combined. Add cheeses and beat on medium speed until combined and all large chunks are smoothed out. Taste for acid and add lime to taste. Beat again.
So the mayo gets swapped in for sour cream, ramps are taking the place of scallions, fish sauce shows up instead of Wooster, and instead of sharp cheddar and colby, we've got cotija and jack. Oh, and lime instead of lemon. So it's still pimiento cheese, but it's a little more appropriate as a condiment to replace that boring sour cream.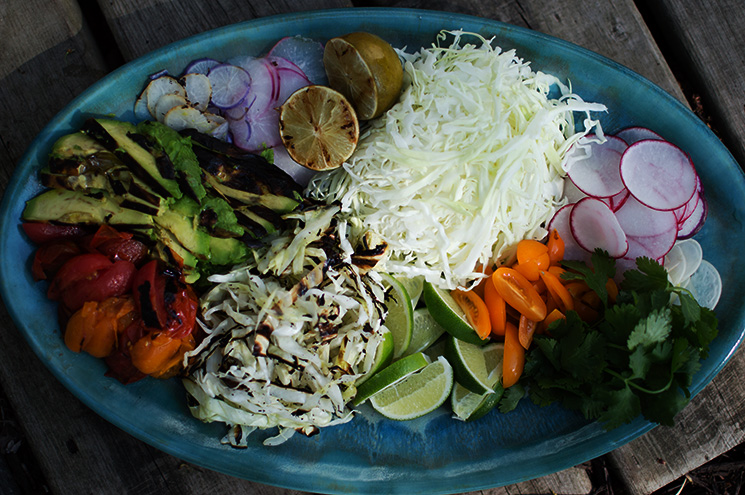 Next up, toppings. We've got cabbage, radishes, cherry tomatoes, limes and avocados. Like I said, half went on the grill, half were left raw. I ended up putting all the avocado on the grill because it was more fun than I expected. Grilled avocado. Yum. Anyway, fresh cilantro photobombed the veggie tray, too. No one was mad.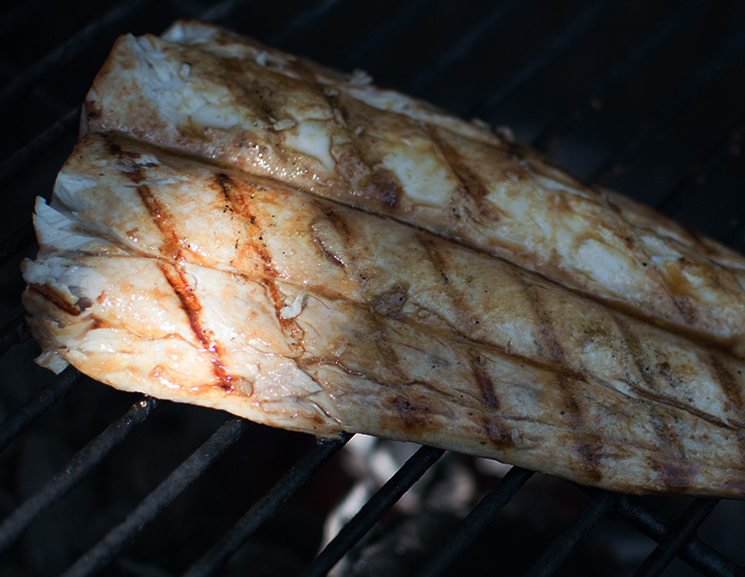 The Mahi was really yummy and easy to grill, but fried walleye is always delicious, so I recommend some of each! Here's how:
Fried or Grilled Fish
3 T soy sauce
3 T olive oil
2 T lime juice
1 pound walleye or skin-on mahi
Whisk together soy, oil and lime in a small bowl. If grilling, pour over flesh side of mahi. If frying, cut walleye into strips and add to bowl with marinade. Toss to coat.
If grilling, grill mahi flesh side down on a hot grill for 2 to 3 minutes, until fish releases easily from grates. Finish on skin side, 4 to 8 minutes longer, depending on thickness of filet.
Tempura
1 egg
1 C flour
1 C ice-cold beer
2 quarts peanut or canola oil, for frying
If frying, heat oil to 350 degrees in a 4-quart saucepan or deep fryer. Whisk together egg, flour and beer in a medium bowl. Let marinade drip off walleye and transfer fish strips to tempura batter. Fry fish in batches, 3 to 5 minutes, until browned and thoroughly cooked through in center.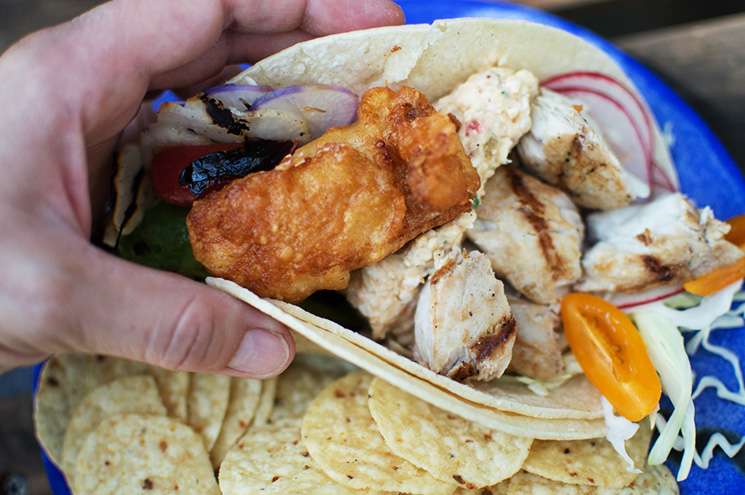 Whether you grill or fry, be quick about tucking that delicious fish into a couple of corn tortillas with your preferred veggies and a hefty dollop of the pimiento queso. May the fourth — and delicious fish tacos — be with you.