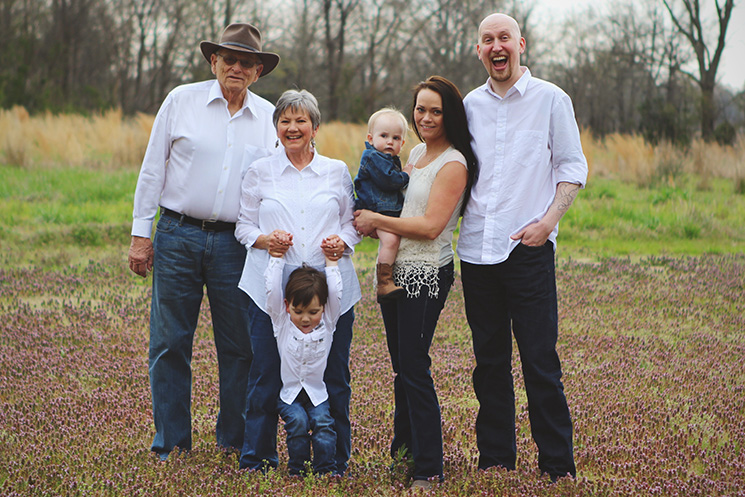 Charles Gilbert Purifoy, D.D.S., AKA "Daddy," far left (Photo by Leigh Carter)
Tomorrow, my daddy will celebrate his 80th year on this earth. To say he's a character is an understatement, indeed. He's celebrated for many things. He served on the Mississippi State Board of Dental Examiners, was a professional angler and is still to this day a consummate teller of dirty jokes. While most people credit my Mama with my interest in the culinary arts, there are a few foods that will always be Daddy's. Pancakes, broiled steaks and dirty martinis.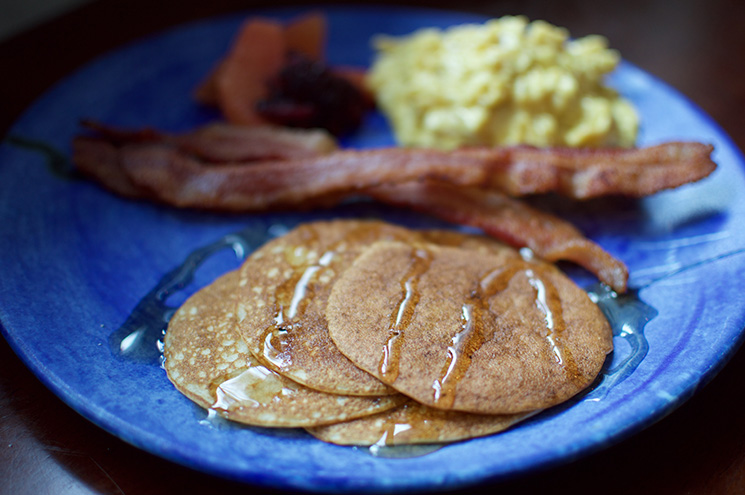 So, pancakes. Daddy was diagnosed with high cholesterol and diabetes when I was still quite young. His version of pancakes used Egg Beaters and Sweet n' Low. This version swaps in egg whites for the Egg Beaters and sugar for the Sweet n' Low, but you still get the thin, crepe-like results of the original recipe.
Daddy's Pancakes
1 C flour
1 T sugar
1 t baking powder
1/2 t baking soda
1/2 t salt
1 1/4 C buttermilk
1 C egg whites
2 t oil
Whisk together dry ingredients in large measuring cup or bowl with lip. Whisk in buttermilk, eggs and oil. Batter will be thin. Spray a griddle or nonstick pan with cooking spray and heat to medium. Pour batter onto hot surface to create pancakes of desired size. Cook 1 to 2 minutes. Once pancakes start to bubble, flip and cook 1 to 2 minutes longer, until cooked through. Keep warm while making remaining pancakes. Serve with syrup.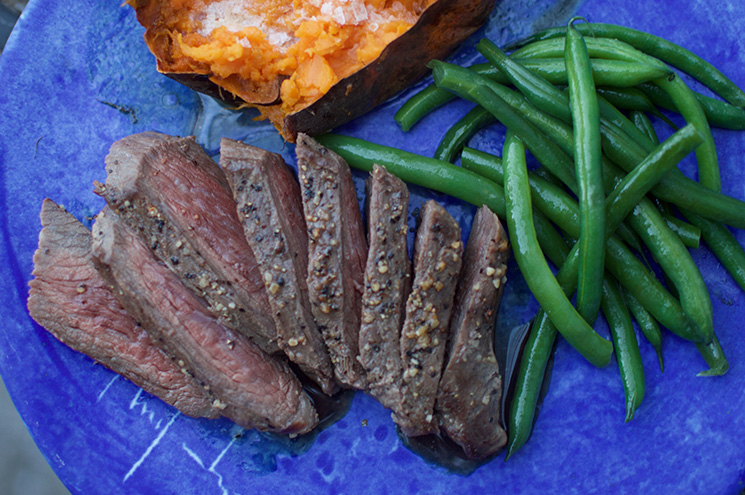 Also important to Daddy, broiled steak. If you've spent much time on my site, you'll know I like to cook steak. But you'll probably also notice I like to grill it. Daddy is not a huge fan of smoky flavors. He is, however, a fan of Accent. Accent is pretty much straight MSG. Before you get all upset and freak out about how terrible MSG is, consider doing a little research. Accent is basically just refined umami. So it's the good stuff you get from mushrooms and soy sauce and cooked tomatoes, but in a convenient sprinkle-able form! If that still upsets you, feel free to use more Montreal steak seasoning in its place. One thing to note, it may seem like a small amount of oil, but excess oil will catch on fire during broiling, so if you decide to eyeball the amount, only use enough to barely coat the meat.
Daddy's Broiled Steak
2 Lb beef sirloin or ribeye, 1″  thick
2 t canola oil
2 t Montreal steak seasoning
1 t Accent
Place oven rack 4″  from broiler. Heat broiler to high. Line a rimmed sheet pan with foil and spray the foil.
Rub steaks all over with the oil, then rub in seasoning and Accent. Place steaks on prepared pan. Broil 4 to 5 minutes on each side for medium-rare (125 to 130F coming out of the oven; temperature will rise up to 5 degrees while resting), depending on thickness of steak. Transfer to cutting board; cover with foil. Rest 5 minutes, then slice, if desired.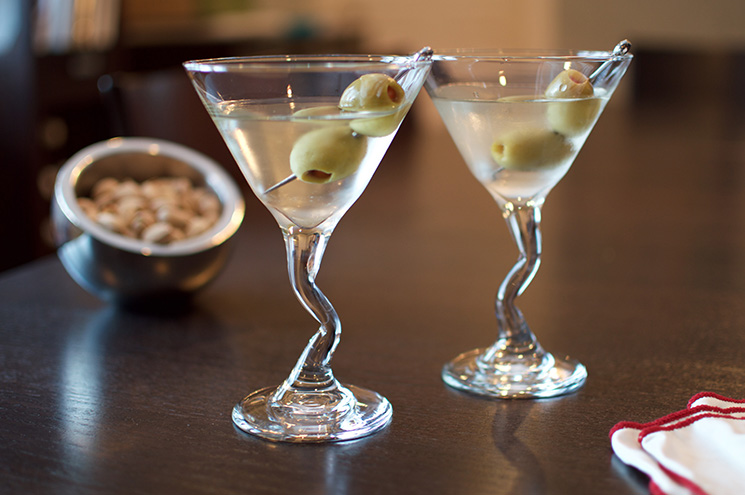 Aaaaand Dirty Martinis. Daddy loves a dirty martini. As someone who hasn't always loved olives, olive juice in pretty much anything is a deal-breaker for me. But there's just something about that funky concoction that just drives my Daddy wild. Here's how to make it.
Daddy's Dirty Martinis
2 cups ice
4 oz vodka
1 T dry vermouth
1 T olive juice
4 green olives, in vermouth
Place ice in tall shaker. Add vodka, vermouth and olive juice. Cover; shake hard until shaker is almost too cold to hold, then strain into 2 martini glasses. Garnish each drink with 2 olives.
I think I mentioned he's a card. I'll let him wrap this up with a poem about his favorite drink.
Happy Birthday, Daddy. I love you the most.