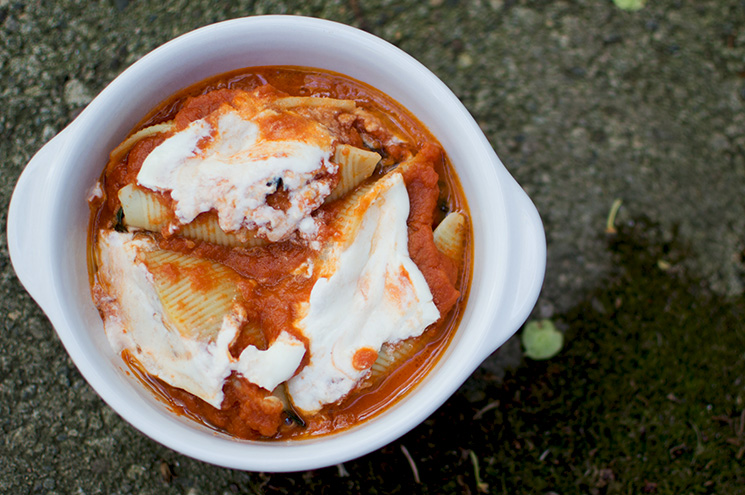 I know, I know. How many ways can you do ramps, shells and cheese? Turns out, at least one more way — stuffed shells!
Talk about comfort food. I love pork, ramps, pasta, tomato sauce and goat cheese, but I hadn't put them all together before. Obviously, that's an oversight that needed to be rectified. So, let's do it.
Stuffed Shells with Pork, Ramps & Cheese
Tomato Sauce
1 T olive oil
3 bunches ramps, sliced, whites and greens divided
2 (28 oz) cans whole peeled tomatoes with juice
1/2 t red pepper flakes
Stuffed Shells
12 oz jumbo shell pasta
1 T olive oil
1 Lb ground pork
1 t Italian seasoning
1/2 t salt
1 C white wine
5 oz shredded Parmesan
4 oz shredded Mozzarella
Goat Cheese Topping
4 oz goat cheese, room temperature
1/4 C heavy cream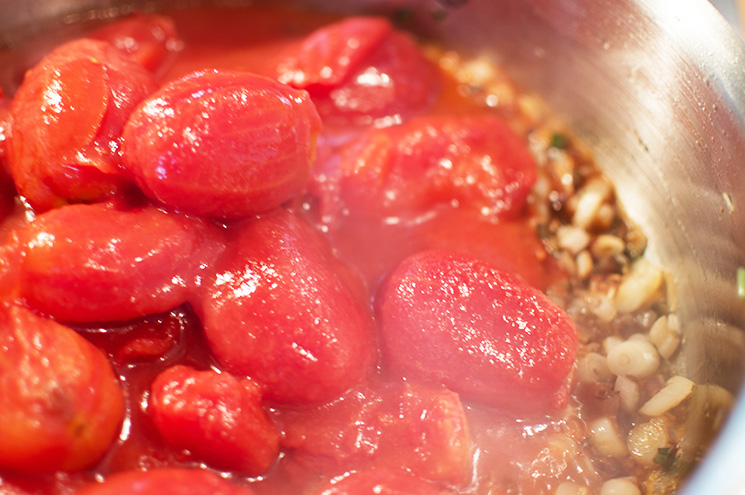 Prepare the tomato sauce. Heat olive oil in a large straight-sided saute pan over medium-high heat until shimmering. Add ramp whites (reserve greens for stuffing) and saute until beginning to brown. Add tomatoes and red pepper flakes. Break up tomatoes with spoon and stir sauce often. When sauce thickens and tomatoes are mostly broken down, transfer to a blender and puree. Set aside until ready to use.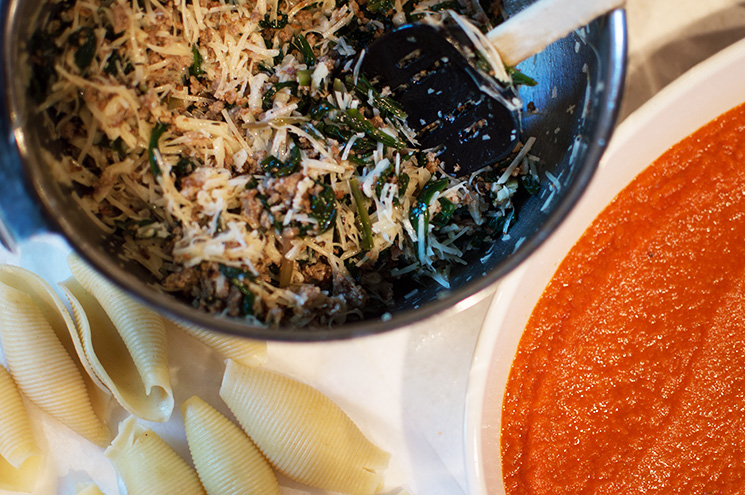 Prepare the shells and stuffing. Prepare shells al dente according to package directions. Drain and set shells on a piece of parchment while you prepare the rest of the components. You will need 20 shells. This means you'll have a good third leftover, but in my experience, many of them break during cooking so it all works out.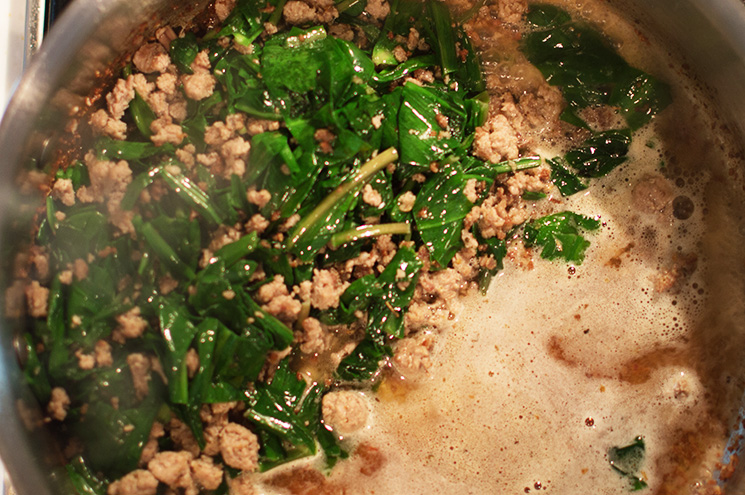 Clean out the pan from the tomato sauce and dry thoroughly. Heat oil for stuffing in pan over medium-high heat. Brown the pork in the oil with salt and Italian seasoning. Once browned, add reserved ramp greens and stir until wilted. Add the wine to deglaze, scraping up browned bits and stirring constantly. When all liquid is absorbed, turn off heat and transfer to a large bowl. Allow to cool until no longer steaming, then stir in cheeses. Divide filling evenly among 20 shells.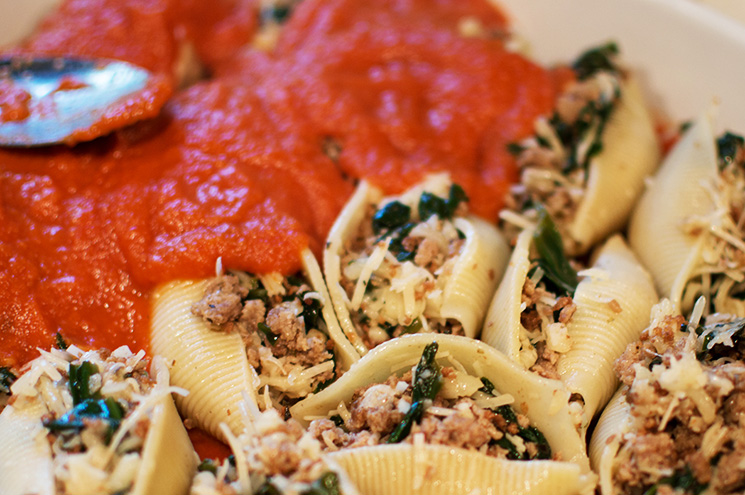 Preheat oven to 350 F. Spray a 3-quart casserole with nonstick spray, then spread half of the tomato sauce on the bottom of the pan. Arrange the shells on top of the sauce, then top with remaining sauce.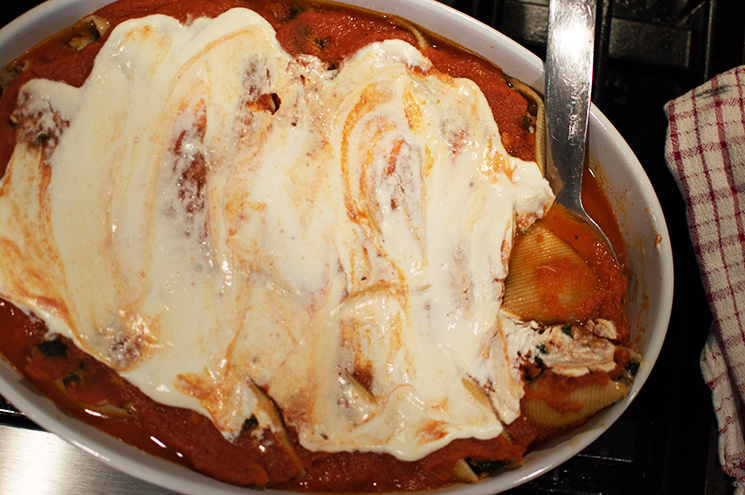 Prepare the goat cheese topping. Whisk together goat cheese and cream until smooth. Dollop over shells, spreading if desired. Cover with foil and bake 20 minutes, then remove foil and bake 5 minutes longer.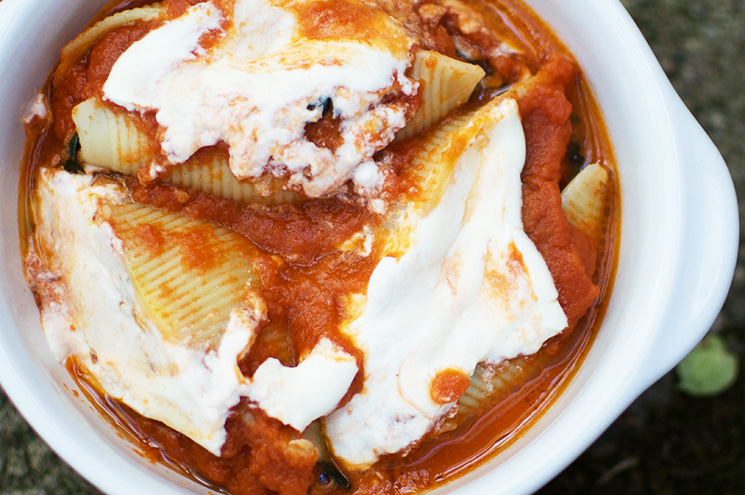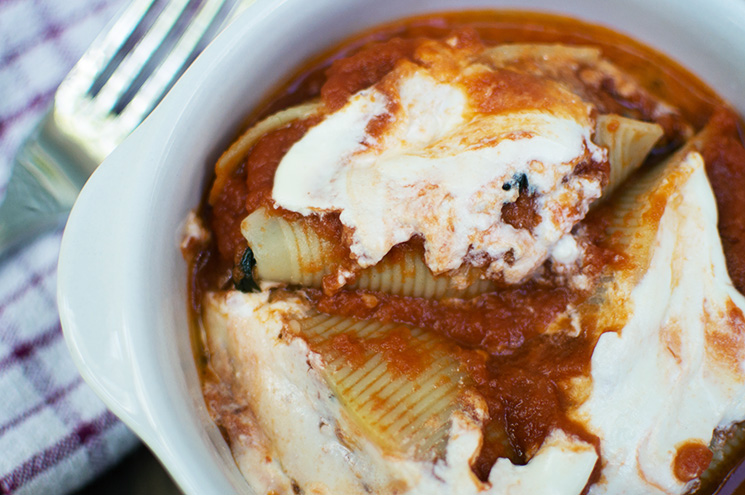 Cheesy, oniony, tomato-y and delicious. Now, what other twist on ramps, shells and cheese am I missing? Hmm…