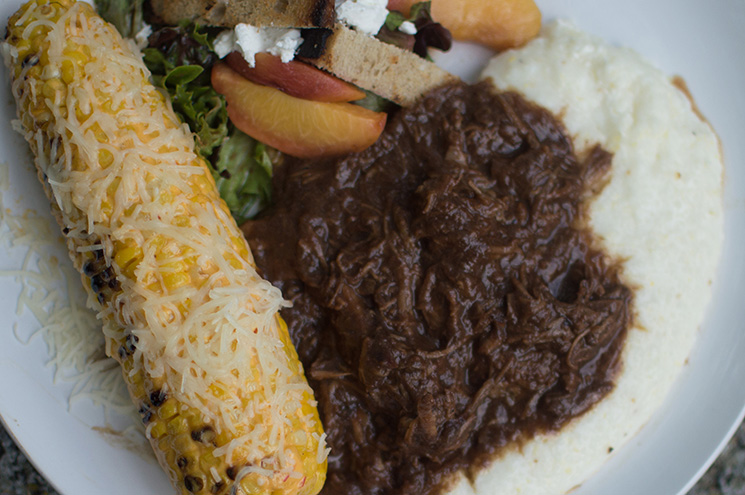 Everybody must get stoned. By the stone fruits, that is. What did you think I meant?
Peaches, plums, apricots, pluots, cherries … fruits of the gods. And it's time. June and July are the months of the stone fruit. They're sweet, succulent and more versatile than you'd think. There are some foods that have to have their sweetness coaxed out. Like the caramelized onions in the pork shoulder, below. But stone fruit — it's ready to go. The sweet is right there at the surface. You can eat it over the sink, juice running down your hand. But if you cook stone fruit, you instead end up coaxing savory character out of a sweet thing, and you get something entirely different. You get complexity.
Check out how I worked those stone-cold foxes into every component of dinner last week.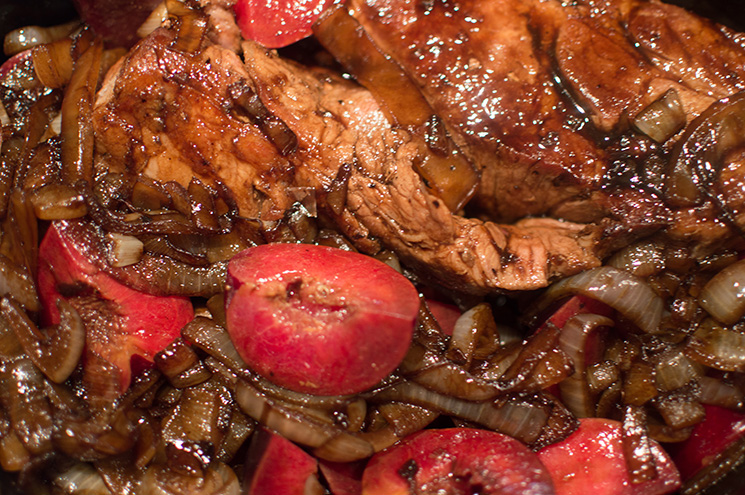 Slow Cooker Soy-Balsamic Pork Shoulder with Plums
3 1/2 # Pork shoulder, trimmed of large chunks of fat
2 T peanut oil
a generous amount of salt
6 plums, pitted and quartered
1/2 stick butter
1 onion, halved and thickly sliced
1/4 C soy
1/4 C balsamic
1/4 C ponzu
Rub the pork shoulder with the oil, then massage in enough salt to make you think you used too much, even though you probably didn't. Get a large saute pan screamin' hot and sear the pork, fattiest side down first, then on all remaining sides, until browned and delicious-looking. Put that puppy in a large slow cooker, add the plums and let them hang out together while you do the rest.
Quickly pour off all the fat from the saute pan. Add the butter and once melted, add onions. Reduce heat to medium at this point and let them go, stirring often, using the onions as a mop to get all that yummy porky deliciousness off the bottom of the pan. Don't wanna lose that.
Once the onions are irresistible, add the soy and balsamic and cook 2 minutes, until all the browned bits release from the bottom of the pan. Pour onions and liquid over pork and plums. Cook on low 6 o 8 hours, until pork reaches an internal temp of at least 180 degrees in center.
Transfer pork to cutting board and let cool. Then shred, discarding any fat as you go.
Transfer cooking liquid, plums and onions included, to a blender and blitz til smooth. Then pour into a large saucepan and reduce by half over medium heat. Stir in ponzu sauce, followed by the pulled pork.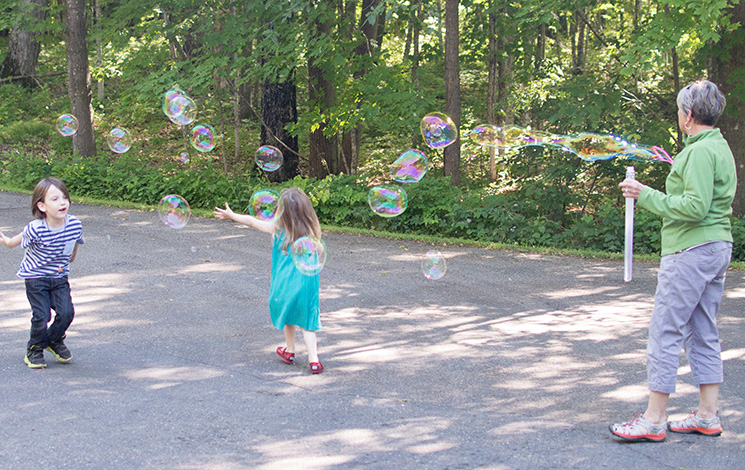 Fire up a grill. Have someone (your wonderful Mama, if you're lucky) blow bubbles to entertain the kids because the grilling is going to take awhile.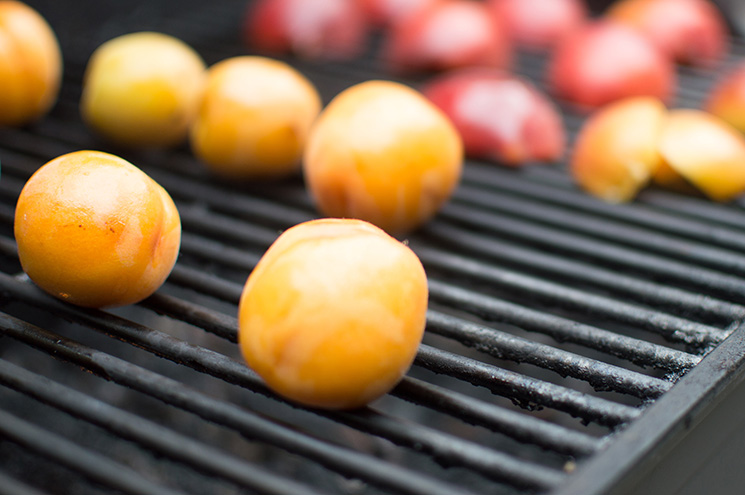 Spicy Grilled Apricot Mayo
6 apricots
1 egg yolk
4 t spicy harissa
1/2 t salt
8 oz olive oil
Throw some apricots on the grill. Get them nice and browned all over, then transfer to a cutting board to cool.
Remove pits and transfer to a blender. Add egg yolk and quickly pulse, then add harissa, salt and olive oil. Refrigerate until ready to use.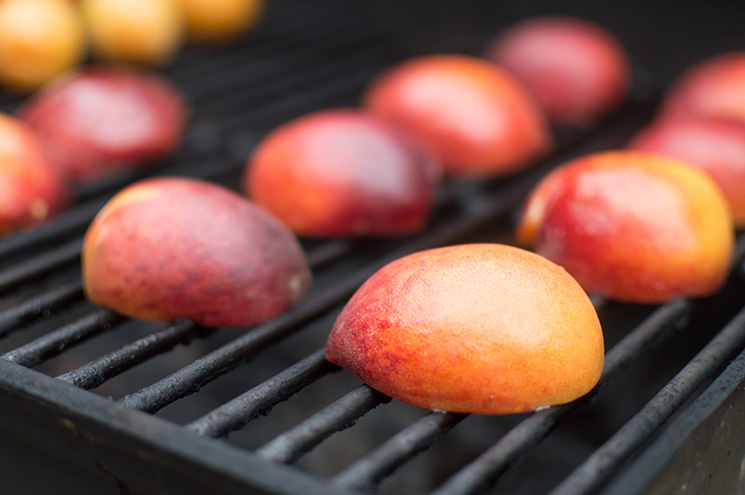 Peaches, you're up! Halve 5 or 6 firm peaches, and remove pits. Rub with a little oil. Grill on both sides, then transfer to a cutting board. Cut into wedges and let cool.
Grill up some corn, then rub it all over with the apricot mayo, then immediately coat with grated Parmesan. It's the best thing ever.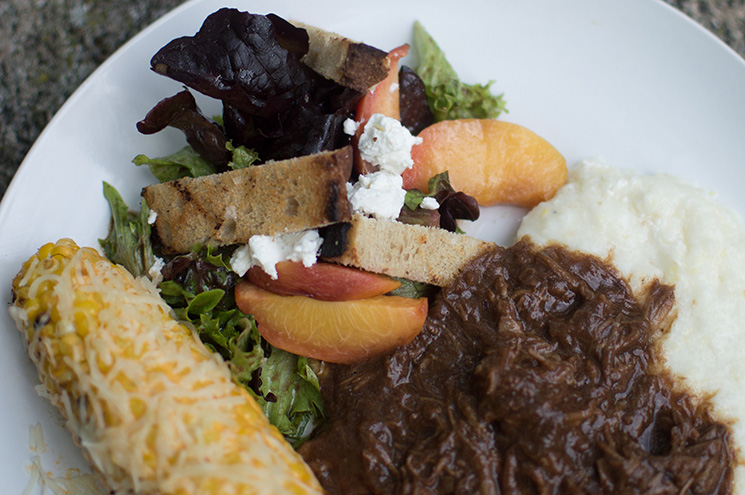 Slow Cooker Plum Pork over Creamy Grits/ Balsamic Salad with Peaches and Goat Cheese/ Grilled Corn with Spicy Apricot Mayo
For the peaches, toss a bag of mixed greens or baby spinach with a little balsamic vinegar and olive oil, plus a good sprinkle of salt and pepper. Transfer to plates. Top with grilled peaches, a little goat cheese and some grilled bread or croutons if you'd like. I also served the pork over creamy grits, but they'd be fine with just the corn.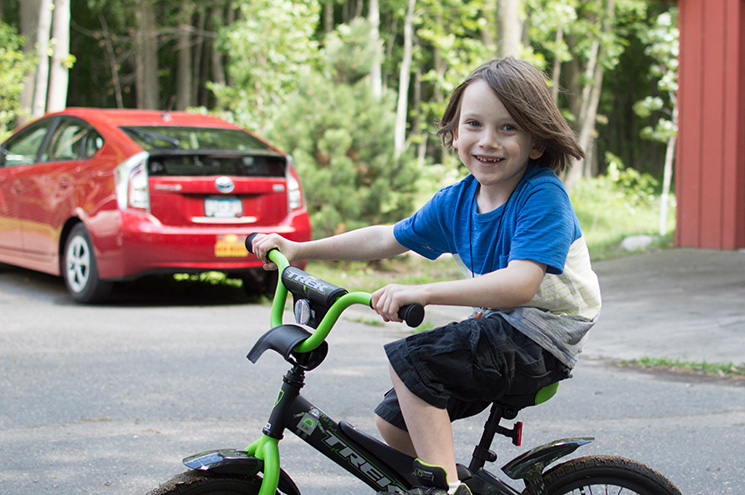 My sweet and spicy Redford, always so full of life.
Don't forget that the sweet can play with the savory, high can include a little low, and sometimes finding the fun can be a bit of a (worthwhile) challenge. Complexity … is good.